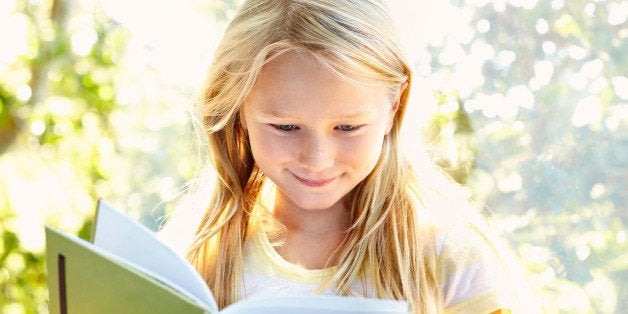 Finding the right book for your kid can be a challenge. But if you guess right and keep new ones coming, you may be on your way to raising a lifelong reader.
Check out Common Sense Media's Essential Books for Kids and Teens guide to find more than 150 of our perennial favorites. Plus, every month, we highlight a few books for different ages -- some exceptional titles that could be the perfect thing to perk your kid's interest, get your reader hooked on a new author, or rediscover an old favorite.
Here are our picks for September:
For kids 5 to 8, there's Year of the Jungle, an autobiographical picture book by Suzanne Collins with cartoon-like illustrations by James Proimos, which hits bookstores Sept. 10. The Hunger Games author shows the loneliness and confusion a child feels when a parent is off fighting in the military, drawing on her own experience as a little girl whose dad was off serving in Vietnam. With so many families affected by current deployments, this kid-centered take on war is certainly timely, and its cute, upbeat heroine named Suzy is sure to draw readers in.
For readers 10 to 12, check out How to Catch a Bogle, the first book in a fantasy trilogy set in Victorian London, in which a little girl is employed to draw out monsters called Bogles from their hidden, dark places like wells and chimneys. With period detail, Dickensian charm, a brave heroine and lots of suspense, this novel could make fantasy lovers out of historical fiction fans, and vice versa.
For teens 14 to 17, there's The Beginning of Everything, a smart, engaging coming-of-age novel that shows how tragedy can divide a life into "before" and "after." Tennis champ Ezra learns this when he suffers permanent damage to his leg in a car accident, loses his star-athlete identity and starts hanging out with the debate kids and film geeks, where he meets and falls for a quirky girl named Cassidy. Their poignant, realistic senior-year romance -- and the novel's many allusions to The Great Gatsby -- make this a perfect back-to-school choice.
About Common Sense Media
Common Sense Media is dedicated to improving the lives of kids and families by providing the trustworthy information, education, and independent voice they need to thrive in a world of media and technology. We exist because our kids are growing up in a culture that profoundly impacts their physical, social, and emotional well-being. We provide families with the advice and media reviews they need in order to make the best choices for their children. Through our education programs and policy efforts, Common Sense Media empowers parents, educators, and young people to become knowledgeable and responsible digital citizens. For more information, go to:www.commonsense.org.