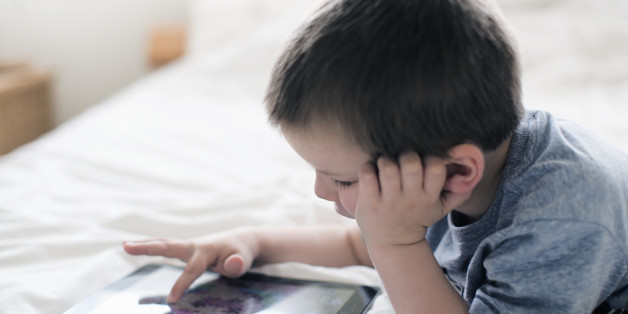 By Ingrid Simone, Senior Apps Editor, Common Sense Media

Is your kid addicted to endless runners? Can't stop flinging birds across the screen? Slicing and dicing is a way of life? These top app genres and themes are popular for a reason: The games are challenging, fun, and super-engaging. But we've found some cool apps that are all these things -- and have good learning value.
If your kid loves Temple Run: Try NFL Play 60.
If your kid can't get enough of Temple Run, Subway Surfers, or Despicable Me: Minion Rush, check out NFL Play 60, which puts a real-world fitness spin on the endless-runner craze. Instead of simply tilting and swiping to keep the runner going, kids get moving themselves by running, jumping and turning. Plus, they'll get tips for healthy eating habits, ideas for activities to keep their bodies moving and fit and examples of active play to do inside or outside, alone, with a friend or with a group.
If your kid loves Diner Dash: Try Motion Math: Pizza.
Time-management games such as Diner Dash and Sally's Spa offer some strategy practice in a fun, fast-paced format. Motion Math: Pizza offers the same but doesn't stop there. Kids who play this game practice mental math and learn about economics as they run a pizza shop. Kids need to set their prices to be profitable but not lose customers, and -- just as in other time-management games -- if they take too long to serve the food, the customers will leave.
If your kid loves Cut the Rope: Try Slice Fractions.
If your kids play Cut the Rope, they're probably already learning a bit about physics and solving puzzles. Slice Fractions also is a physics-based puzzler, but its focus is on helping kids gain a conceptual understanding of fractions. Kids will learn about part-whole relationships, numerators and denominators, equivalent fractions, and more, all while helping an adorable wooly mammoth travel across the landscape.
If your kid loves Angry Birds: Try US Geography With Flat Stanley.
Angry Birds -- and the countless other physics-based apps that involve flinging things across the screen -- can be great for practicing problem-solving and learning about gravity, momentum, and other concepts. In US Geography With Flat Stanley, kids don't hurl the famous globetrotter to knock down structures (ouch!), they pitch him to a target state on a U.S. map. The app can help kids learn the location of each state, along with some state facts.
Here are a few additional popular apps and genres and some alternatives.
Plants vs. Zombies: Try Math vs. Zombies.
Plague Inc.: Try Solve the Outbreak.
Crazy Dentist: Try Toothsavers Brushing Game.
City- or farm-building games: Try Ansel & Clair: Little Green Island.
Pet-care/zoo games: Try Dinorama.
Related Posts:
21 Apps That Teach Kids Real-Life Skills
Making Art? Getting Healthy? There Are Kids' Apps for That -- and More
About Common Sense Media
Common Sense Media is dedicated to improving the lives of kids and families by providing the trustworthy information, education, and independent voice they need to thrive in a world of media and technology. We exist because our kids are growing up in a culture that profoundly impacts their physical, social, and emotional well-being. We provide families with the advice and media reviews they need in order to make the best choices for their children. Through our education programs and policy efforts, Common Sense Media empowers parents, educators, and young people to become knowledgeable and responsible digital citizens. For more information, go to:www.commonsense.org.