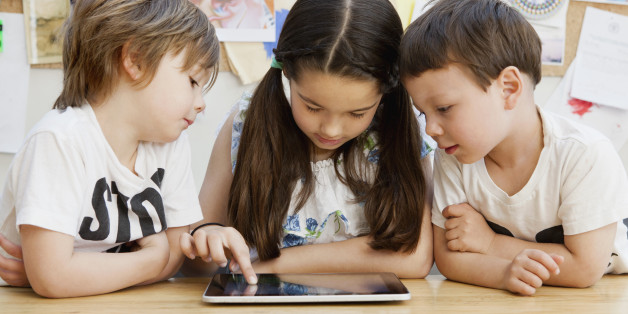 By Caroline Knorr, Common Sense Media parenting expert
This year, the back-to-school season will bring more technology -- both in and out of the classroom -- than ever before.
Navigating this territory will be challenging, exciting and puzzling. Here are some of the top concerns we've heard from parents trying to figure it all out.
Q. What's the right age for my kid to bring a cell phone to school?
A. Nearly 56 percent of kids aged 8-12 have cell phones, according to a July 2012 survey by the National Consumers League. If your kid is in that age range, expect to start feeling some pressure to buy one. Safety is the main reason parents get their kids cell phones -- and it makes sense. A cell phone allows them a bit of independence and gives you some peace of mind.
Kids' technological savvy often outpaces their judgement, so stick to a basic model without bells and whistles. Their ability to follow the rules is a better guide than age. Make sure they're old enough to understand that the phone is a tool, not a toy. These basic guidelines should help:
Check their school's cell phone rules and make sure that your kids understand them and will follow them.
Choose a basic device (no Internet access, no games, no camera).
Set clear expectations for responsible use as well as consequences for noncooperation.
Make sure they keep it charged -- and that they always answer when it's Mom or Dad calling!
Q. What are the rules about using cell phones at school?
A. Every school is different, but most allow students to bring phones as long as they turn them off during class. Check your school's rules -- and make sure your kids are mature enough to follow them. Generally speaking, kids should use their phones sparingly and only when permitted, before and after -- but not during -- the school day, like when they need a ride, if there's an emergency or if their plans change. And always -- always -- answer when Mom or Dad call. (And parents, while it can be tempting to text your kid during the day, resist the urge unless it is truly urgent.)
Students have been known to misuse their cell phones at school. Make sure they know not to use the phone for nefarious purposes like cheating, harassing teachers and videotaping it, taking pictures of kids without permission, etc. Some violations have serious consequences -- and the evidence is all in the phone.
Q. Should students and teachers be friends on Facebook?
A. First, check with your school. Some have strict rules about teachers and students being Facebook friends on a teacher's personal page. (And we've heard from many teachers who frown upon the practice.) But if the teacher creates a class-wide Facebook page or dedicated Facebook Group, then he or she is most likely using it as a teaching tool. Still, you have the right to investigate further to make sure it's all legit.
Some educators are making use of social learning networks like Edmodo, Schoology and Collaborize Classroom for their students to discuss issues, collaborate on projects or just assign and receive homework. Any teacher who requires students to join a social network should send home clear guidelines for how they're using it.
Q. Back-to-school shopping has gotten so commercial. How do I avoid ad overload?
A. According to the National Retail Federation, the back-to-school season is the second biggest "consumer spending event" of the year (behind the winter holidays). The group estimates that most families will spend more than $600 dollars this year on kids in grades K-12. So, yeah, there's a lot of pressure to separate families from their money this time of year.
You may be able to avoid the hard sell at brick-and-mortar stores by shopping online. But that won't solve the problem of your kids getting targeted with back-to-school buying messages through websites, online games, Facebook updates and even YouTube.
Plus, social shopping -- where kids spread the message about their favorite products to other kids online -- is gaining momentum with marketers. Help your kids learn to recognize -- and avoid clicking on -- these types of promotions.
Always keep your family's budget and practical needs in mind as you shop. More and more, kids and teens are influencing their family's purchasing decisions, so if your kids are interested in a product, challenge them to comparison shop and list the pros and cons of an item. Help them figure out what they really need as opposed to what they want (and may get tired of soon).
Beyond that, nurture a healthy sense of skepticism -- what we call "ad savvy" -- so your kids learn to view media critically.
Q. Should I let my child bring an iPod (or other music device) to school?
A. Students with earbuds stuck in their ears are a common sight in the hallways, study halls, lunchrooms and even libraries of many middle and high schools. Today's teachers are pretty tolerant of kids listening to music at times during the day when they don't need to be listening to a teacher. If you decide to let your kid bring an iPod to school, set some limits. Make sure your kid follows the school's rules and that music isn't interfering with his or her ability to concentrate (if grades start slipping, that's a red flag). Remind them to take the headphones off when they're talking to people -- especially teachers.
Hiding behind a wall of sound may not be a great way to make friends, so make sure the music is for entertainment -- not a way to avoid people. And remember that expensive gadgets can wander off, so discuss a replacement plan for theft or loss.
Q. Should I upgrade my kid's iPod Touch -- even though it works fine?
A. High-end gadgets have become status symbols among kids. It's up to us parents to delay immediate gratification and help our kids resist peer pressure. Consider creating a timeline or identifying a single significant goal to achieve before your daughter can upgrade. You can also pass along your old device when you upgrade (it'll be new to her) or simply set up a strategy for her to save for what she wants. She may give you a hard time, but she'll appreciate the device a lot more if she works for it or has to wait for it! And if it's something that's not in the budget, you always have the right to say no.
Q. Does reading on the iPad or Kindle count toward my kids' daily reading minutes, or would it just be considered screen time?
A. As long as they are "really reading," then it's legit. The best way to ensure that real reading is happening is stick to basic e-readers with paper-like screens that don't download apps. According to a 2012 study conducted by the Joan Ganz Cooney Center, print and basic ebooks are better for "literacy-building experiences" than feature-rich, multimedia ebooks.
Bringing ereaders to school is tricky -- they can get lost, stolen or broken. So it might be best to leave them at home or make sure your kid is very careful.
Q. How do I make sure my kids are ready for learning when school starts?
A. Develop a game plan -- with your kids' input -- before school starts. The lure of digital devices can be overwhelming so try to be consistent. That said, different strategies work for different families.
Here are some ideas to try:
Go easy. Allot a certain amount of "unwind" time before homework.
Be strict. Prohibit TV and games until all work is done.
Establish clear boundaries. Set a timer to go off signaling the start of homework time.
Use incentives. Motivate kids with small rewards.
And remember that kids pick up tech habits from their parents, so set limits on your own use: let calls go to voicemail, don't check email at night and don't let digital distractions intrude on family time.
Keep in mind that screen time can be constructive, too. Kids can actually enhance their learning with well-chosen, high-quality digital tools. Check out our Back-to-School Guide for recommendations on websites, apps, and games that boost learning in core skills such as math, reading, social studies and even 21st century skills.
Q. What should students know about sending email to a teacher?
A. Sending an email to a teacher isn't like emailing a friend. Here are some important do's and don'ts. (Learn more manners for the digital age.)
Do:
Use a proper salutation, correct grammar and full sentences.
Clearly state the purpose of the email (didn't understand the homework, forgot the field trip form, etc.).
Save problems, complaints and other issues for face-to-face discussion -- that avoids a lot of drama
Don't:
Be rude
Overuse emoticons
Attach long, elaborate email signatures with images, song quotes, etc.
Click "reply all" and send superfluous messages to everybody in the class or community
Q. Should schools teach responsible online behavior?
A. You've come to the right place. Our free Digital Literacy and Citizenship Curriculum is available for teachers of grades K-12. With lessons on everything from cell phones to cyberbullying, it teaches students to make safe, smart, and ethical decisions. Definitely tell your teacher about it.
We also have a program for families to help parents and caregivers navigate the digital world. These are turnkey resources like videos, tip sheets, and even back-to-school night promotion materials. It's truly everything you need to help your community raise responsible, respectful digital citizens.
Q. What should I know about my school's 1:1 device program?
A. Many schools are integrating technology into academics with programs like a one-to-one laptop arrangement, BYOD (bring your own device), One Laptop Per Child and even iPads in the classroom. Typically, the school loads all of the software that students need onto the device to ensure standardization (which helps keep teachers and students on the same page and aids network administrators in troubleshooting problems).
Common Sense Media offers a comprehensive best-practices guide for educators rolling out 1:1 programs. Our 1-to-1 Essentials offers schools guidance in order to proactively, rather than reactively, address issues commonly faced when going 1-to-1. Definitely recommend it to your school!
One-to-one laptop programs work best when there's close collaboration between teachers, administrators and families. Families should understand how the device is to be used and the teacher's expectations for homework. Most schools have a training period for students to learn how to use the device. Most schools distribute an Acceptable Use Policy so families know what's OK to do on the device and what's not. Many also come with service arrangements or guidelines around maintenance. The most successful programs acknowledge that laptops are just one tool in the learning process.
One-to-one laptop programs represent new territory, so stay engaged in the work your kid is doing on the machine, watch for signs of frustration, and give feedback to the teacher about what's working and what isn't.
Q. Are there parental controls for schools' 1:1 device programs?
A. Most 1:1 programs include all of the software and hardware that students need to do their work, and they can't be customized. Both for educational and for the maintenance reasons, schools often determine and maintain all of the device's settings and updates. (Learn more about best practices from Common Sense Media's comprehensive 1:1 Essentials Programs.)
But while the device is covered at school -- it's using a network with built-in content filters and the teacher is supervising -- home is a different story.
Find out if the device has any preconfigured parental controls -- either in the software or hardware settings. If not, your best bet may be to install an Internet filter on your home network that's similar to the one used by the school. We (and many schools) like the free service offered by Open DNS. Open DNS blocks sites at the router (the device that connects your home machines to the Internet), so inappropriate content never enters your house.
Meanwhile, use the 1:1 program as an opportunity to help your kid learn to regulate his own computer use. Hopefully the work will engage him enough so he won't wander off on a digital trail. Parental controls are one tool to use to help your kid resist online distractions, but they aren't fail-safe.
Q. How can I find the best educational programs to use at home with my kids?
A. Digital learning tools -- including apps, games and websites -- show a lot of potential for helping kids learn. But with so many products on the market (not to mention grand claims made by marketers), it's hard for parents to know where to start, what works, and what's really worth your time and investment.
Fortunately, Common Sense Media makes it easy to find digital learning tools that help kids in nearly every skill and developmental stage, from core skills like reading, math, and science to critical thinking, creativity, and collaboration. We believe that with proper balance and guidance, kids can explore, discover, and learn from digital media in a way that prepares them for skills they'll need to succeed in the 21st century.
About Common Sense Media
Common Sense Media is dedicated to improving the lives of kids and families by providing the trustworthy information, education, and independent voice they need to thrive in a world of media and technology. We exist because our kids are growing up in a culture that profoundly impacts their physical, social, and emotional well-being. We provide families with the advice and media reviews they need in order to make the best choices for their children. Through our education programs and policy efforts, Common Sense Media empowers parents, educators, and young people to become knowledgeable and responsible digital citizens. For more information, go to:www.commonsense.org.