By Joshua Pramis, Condé Nast Traveler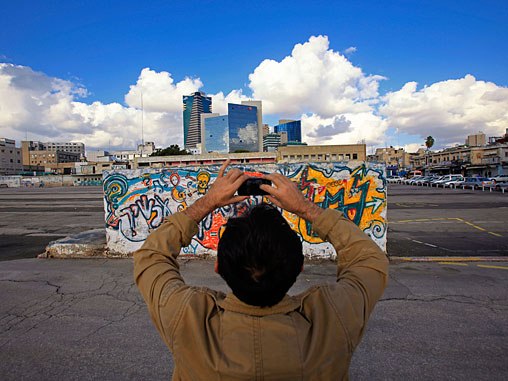 A man snapping with his iphone camera in the old bus station in Neveh Shaanan neighborhood Southern Tel Aviv Israel (Eddie Gerald/Alamy).
Not sure whether to upgrade to Apple's latest operating system? Here are 10 ways iOS 7--and some of its new and updated apps -- can help you while traveling.
Included with iOS7 upgrade
Find My iPhone: The enhanced Find My iPhone allows users to remotely secure lost or stolen devices, rendering them virtually useless to would-be thieves (unless they also have the associated Apple ID and password). This means it has little-to-no market value, which may help reduce theft.
Camera: The new camera app lets you fire away consecutive shots--to the tune of ten per second--which could help avoid missing that once-in-a-lifetime shot. Caveat: make sure to stand relatively still, because the device will not refocus if you move around too much.
Photo Album: Now the photo album beautifully streamlines all your images, making them easy to pull up and share, long after your trip is done. It automatically sorts photos into mini collections sorted by location and date. Or you can scale up and sort by year.
AirDrop: You know how, after a group trip or outing, there's always that one person that takes forever to upload photos to Facebook? AirDrop lets iOS users transfer files to other nearby iOS devices via WiFi and Bluetooth. It's quick, secure, and eliminates that wait time.
Maps: Avoid looking like a tourist while staring at your phone as you try to make your way around an unfamiliar town. The improved native maps app (finally!) offers spoken navigation, so throw on some earbuds and you'll look like a local just meandering around your home turf.
Weather (iPhone/iPod Touch only): Multi-destination trip on the horizon? Just plug in each of your cities and now, not only can you get a quick overview of the weather, but additional information like humidity, wind speed, and the likeliness that it will rain. (iPhone only)
See Also: Why do 26 Million Checked Bags Go Missing Each Year?
Apps with improved iOS7 features
Hotel Booking with Travelocity: The brand new photo-heavy app--designed exclusively for iOS 7--lets you scan your credit card instead of manually entering the information; use the Deals Tonight feature to book last-minute, geo-based rooms; and quickly share reservation information with the new AirDrop feature. (free)
Twitter: For the first time, Siri can quickly perform a Twitter search. So when you pull up the digital assistant, you could say, "Check tweets for NYC museums," or "What is Twitter saying about California vineyards?" and it will pull a list of recent tweets, if applicable. (free)
LoungeBuddy: Have an extra long layover? This newly released app lets you find the best airport lounge option based on access requirements, cost, amenities offered, hours, user reviews, and more. It currently covers more than 700 lounges in 60 airports around the world. (free)
Foodspotting: Foodies rejoice! The updated social meal finder now lets iOS 7 users search by category and can quickly scour for eats anywhere in the world. However, some features, like Guides and Hide, are currently on hold, but should eventually be reinstated. (free)
More from Condé Nast Traveler: