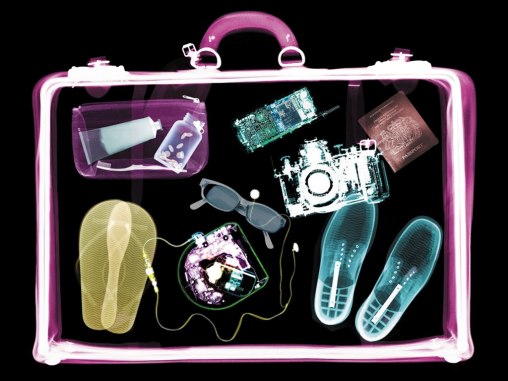 By Wendy Perrin, Condé Nast Traveler
If the fashion police in Condé Nast Traveler's Style Department were to peek inside my luggage, they would have me arrested. They'd find few if any designer labels or logos-only inconspicuous clothing that helps me blend in at my destination; if drab is what the locals wear, it's what I wear. They'd find no expensive jewelry or watches that could turn me into a target of petty thieves or customs officials. They'd spot few primary colors or patterned fabrics; most of my travel clothing is solid black, khaki, or white, so I can mix and match and thus pack light and avoid checking luggage.
You can't be a slave to the fashionistas when you're a slave to the overhead storage bin. No way will I pay a fee to check baggage, or let a weighty carry-on slow me down. That's why the closest I'll ever get to a gorgeous leather duffel with gold buckles is the Gucci catalog. The style police will just have to cite me for the water-resistant ballistic nylon that covers my unchic and well-worn carry-on wheelie and my even more unchic combination pocketbook/laptop case/camera bag. As for what's inside the wheelie, forget bulky toiletry kits, designer jewelry cases, or padded lingerie pouches. Ziplocs are this girl's best friend. You'll find a bunch of these weightless, bulk-less, transparent, zip-top bags in my wheelie, holding everything from toiletries to extension cords to camera batteries. And, instead of some fancy garment holder, you'll find my business clothing and formalwear encased in plastic dry cleaner bags -- the best wrinkle preventers I know.
See Also: Why do 26 Million Checked Bags Go Missing Each Year?
My system may not be stylish, but it has stood the test of hundreds of thousands of air miles. Not only can I fit all my casual outdoor clothing, dress-up attire, and considerable electronic gear into one wheelie and one laptop bag, but I can find anything at a moment's notice and nothing gets wrinkled. For those of you who value utility over fashion, here is the unvarnished truth about what my wheelie looks like when you open it . . . and how yours can look that way too.
1. Use a carry-on with few structured compartments or other doodads.
I'm all for manifold zippered pockets in a laptop bag, but I've found them-along with internal straps, sleeves, hangers, and other organizers-to be a drawback in a wheelie. Wide-open space lets you squeeze more in and weighs less. My 22-inch Travelpro Rollaboard -- which I have been forced to check only rarely, on certain flights between or within foreign countries -- has external expandable zippered compartments, and that's about it. In those outside pockets I place garments that I will need easy access to in transit-typically my jacket, sweater (for warmth on the plane), and pashmina shawl (which doubles as an airplane blanket) -- and that I can throw on, should the bulging pocket ever cause the carry-on to exceed the allowed dimensions (not all airports, airlines, security stations, and gates use the same size restrictions or enforce them consistently).
2. Think of the zip-top bag as the Swiss Army Knife of your packing system.
All of the stuff that other travelers place in the aforementioned internal compartments, I place in Ziploc bags. One holds my liquids, gels, and creams in containers of three ounces or less. Another holds dry toiletries, another my makeup, another electronic accessories (cables, chargers, anything I don't need at my fingertips in my handbag). I carry a couple of spare Ziplocs for use during the trip-say, for holding a wet bathing suit. If I've made purchases and need to free up space in the wheelie, I'll roll up some wrinkle-free clothing (e.g., a wool sweater), stick it in a gallon-size Ziploc, squeeze out every bit of air, and -- like magic -- the sweater's size is halved. I even fill a sandwich-size Ziploc with stuff I may need during the flight (eyedrops, nasal spray, hand cream, lip balm, earplugs, eye mask, vitamin C-my version of a business-class amenities kit) and place it inside the Ziploc that holds my three-ounce liquids, then remove it post-security and place it in my handbag for the flight. When I'm not on the road, the Ziplocs holding my travel-size toiletries sit at home in the closet. I never empty them; I just save them for the next trip.
3. Stick to neutral colors, and limit patterns as much as possible.
The inside of your luggage should not look like a Jackson Pollock painting. I pack a lot of black (partly because you can't tell if it's dirty) and then add color or pattern in the form of an accessory such as a scarf or shawl-a snazzy silk one in warm weather, a pash­mina in cold. I'll keep it in my handbag and use it as needed throughout the day, depending on whether I'm in a poor area (in which case I take it off) or checking into a hotel (in which case I put it on). I can wear it on my head if it starts to rain or if I'm entering a mosque in the Middle East or a Catholic church in Ireland.
Read the rest of Wendy's tips here
More from Condé Nast Traveler: