by Cynthia Drescher, Condé Nast Traveler
The first tiki bar, Don the Beachcomber, opened in Los Angeles in 1933; it started a sensation as celebrities were regularly spotted sipping mai tais, eating pu pu platters, and listening to ukulele tunes. Thankfully, the glamour of retro travel (and unapologetic kitsch) is alive and well in these, the 22 best tiki bars in the United States. Break out the scorpion bowls...
1. The Tonga Room and Hurricane Bar
San Francisco, CA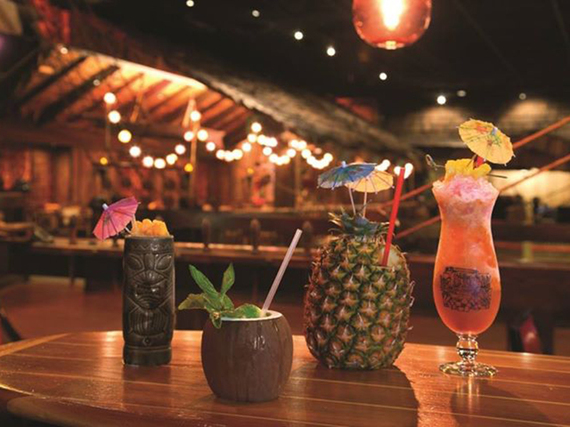 Courtesy The Tonga Room and Hurricane Bar
Opened in 1945 within the Fairmont San Francisco hotel, the Tonga Room evolved around the hotel's old indoor swimming pool. Transformed by Mel Melvin, the set director at Metro Goldwyn Mayer, it became a lagoon with floating music stage and "tropical rainstorms" every evening. Reservations are accepted for full dining on Pacific Rim cuisine, or drop in for a drink and dancing (there's a $7 cover charge on Friday and Saturday nights). The difficulty isn't in choosing a cocktail, but in picking which of the Tonga Room's 50-plus varieties of rum goes into it.
2. Three Dots and a Dash
Chicago, IL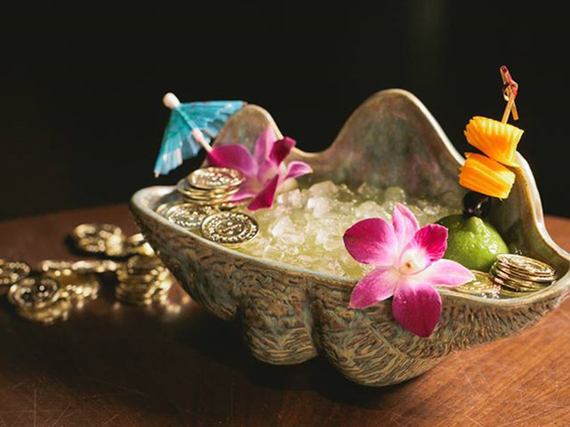 Courtesy Three Dots and a Dash
First you'll have to find Three Dots and a Dash (the morse code "V" for "victory"), as it's a literally underground bar and filled with mid-century tiki-chic from top to bottom in an homage to the great tiki bars of Chicago's past. Once you're snuggled into a circular booth or on a stool under the palapa-topped bar, wade through the extensive menu of cocktails both classic (using traditional Don the Beachcomber recipes) and new (by Three Dots' own Paul McGee). Try the "Poipu Beach Boogie Board" (rye whiskey, Lemon Hart 151 rum, maraschino liqueur, demerara syrup, and pineapple) or the "Pieces of Eight" (pictured), a shell bowl holding enough Caribbean rum, passionfruit, lemon, and falernum for 2-3 people. No plastic cups here; all of Three Dots' barware is real-deal ceramic or glass and often specially designed and produced for the bar.
3. Mai-Kai Restaurant
Fort Lauderdale, FL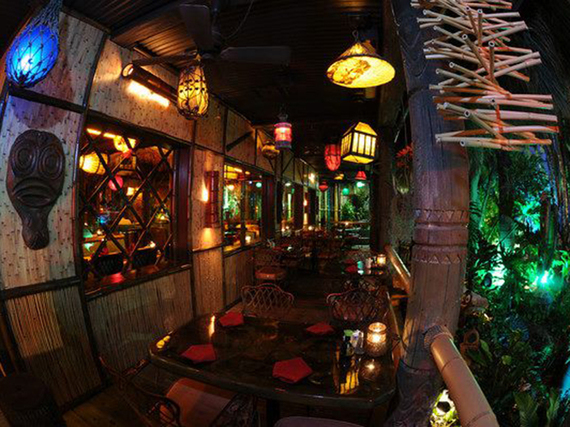 Courtesy Mai-Kai Restaurant
The Mai-Kai opened in 1956 and hasn't stopped the tiki torches, garden waterfall, live shows of Polynesian dance, and flaming scorpion bowls since. Guests can feast on a full menu or simply come for cocktails, the menu for which is divided into three categories: mild, medium, and strong. The Mai-Kai, now listed on the National Register of Historic Places, also plays host to the annual Hukilau, a 4-day celebration of tiki culture.
4. La Mariana Sailing Club
Honolulu, HI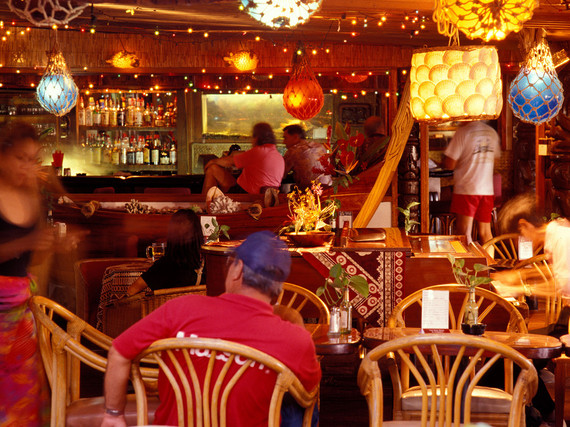 Photo Resource Hawaii / Alamy
Tucked away within a private sailing club (the bar is open to the public), La Mariana is a Honolulu landmark. Open since 1957, the bar may or may not have been a favorite of Elvis during his days of filming on the islands, and the menu hasn't changed much since. Stop in during "pau hana," the Hawaiian version of happy hour, for a giant umbrella-topped Mai Tai and a pu pu platter of sashimi and ahi poke.
5. Bootlegger Tiki
Palm Springs, CA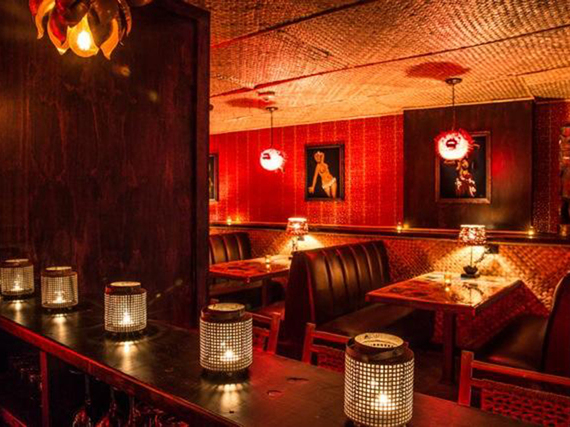 Courtesy Bootlegger Tiki
One of the first of the original Don the Beachcomber tiki restaurants debuted in Palm Springs in March 2, 1953. Today that very same location is home to Bootlegger Tiki, which nightly lights the torches out front, and pufferfish pendant lamps above booths, inside. Try the "Pod Thai" (rum, Thai basil, lime, cardamom lemongrass syrup, and coconut cream) or "La Florida" (Stumptown coffee, cognac, and creme de cacao).
6. Forbidden Island
Alameda, CA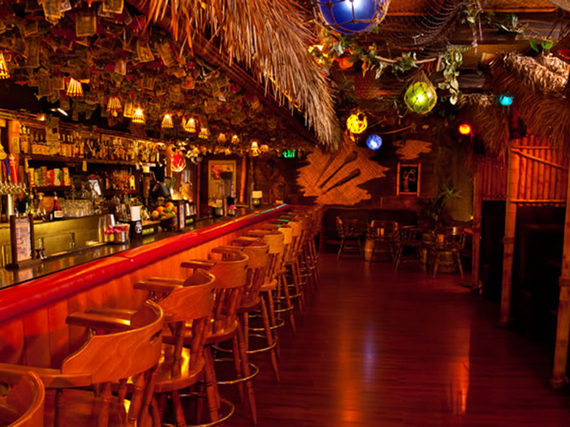 Courtesy Forbidden Island
Located near the old Naval Air Station Alameda, Forbidden Island is a little haven of World War II-era South Seas romanticism, opened in 2006 by a former Trader Vic's bartender. The menu is strictly booze, but the bar is BYOF (bring your own food), welcoming take-out tacos and more from other local eateries. Try the "Monkey Pod," a rum cocktail with coconut and tamarind, or skip straight to the "Pools of Paradise" menu, with bowl-size tiki drinks made for sharing.
7. Enchanted Tiki Room
Disneyland, Anaheim, CA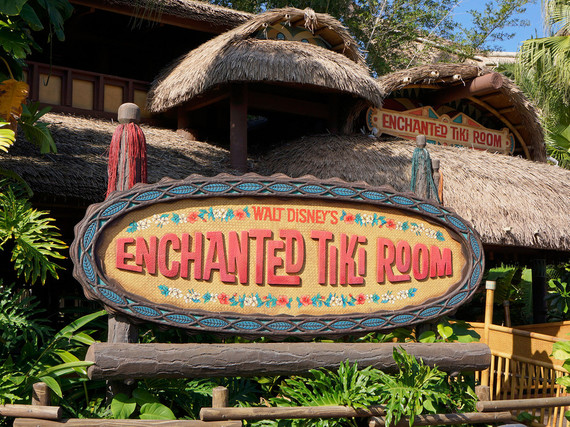 Helen Sessions / Alamy
Yes, this tiki bar is located within Disneyland, but no, it's not technically a bar. The Enchanted Tiki Room is an attraction for all ages, which offers (non-alcoholic) Dole Whip pineapple treats to enjoy during a "10 minute South Seas musical celebration" within a strikingly detailed (and air conditioned) tiki hut. The colors are vibrant, the soundtrack is extraordinarily catchy, and the history is palpable; the Enchanted Tiki Room opened in 1963 and was the first attraction to use audio-animatronics. The roaring popularity of the Enchanted Tiki Room eventually caused Walt Disney World in Florida to open one of their own.
8. Adrift
Denver, CO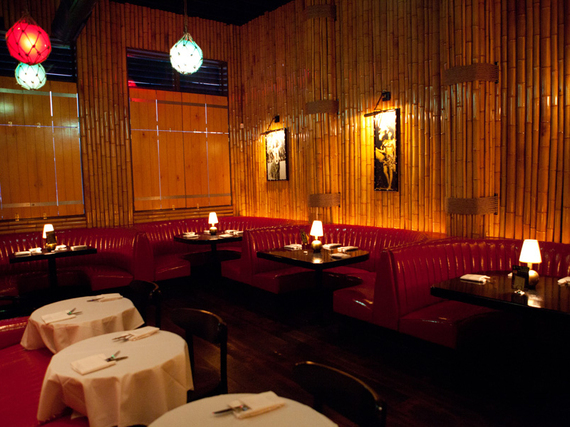 Courtesy Adrift
Adrift specifically calls out Don the Beachcomber and Trader Vic's as its inspirations, reviving the earliest days of tiki style into a completely new Denver restaurant and bar. Try the "Spam Mi" (a spam version of the Vietnamese Banh Mi sandwich) if you're hungry, or hop straight to the cocktails with a "Macadamia Nut Chi Chi" (pineapple, coconut milk, Trader Vic's macadamia nut liqueur, and vodka). Adrift even opens for Sunday brunch, with a menu of standard breakfast dishes livened up with drinks like the "Coffee Grog" (rum, Grand Marnier, Danger Monkey coffee, coconut, cinnamon, and clove).
See the rest of the best tiki bars in America on CNTraveler.com
More from Condé Nast Traveler:
These Are The Best Cities in the World
15 Places You Won't Believe Exist
The World's Most Dangerous Trips
Private Islands That Cost Less Than an NYC Apartment
BEFORE YOU GO
PHOTO GALLERY
Vintage Tiki Bars to Visit this Summer