By Wendy Perrin, Condé Nast Traveler
This article originally appeared in The Perrin Post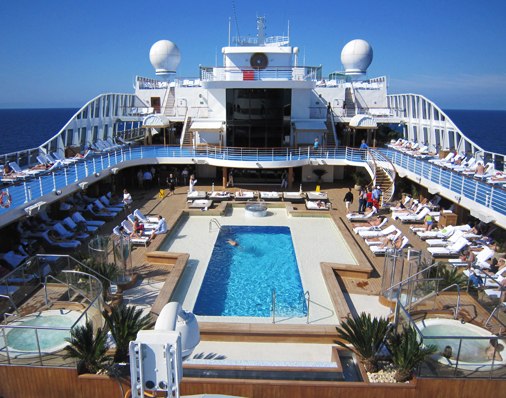 Question:
Wendy,
My partner and I are planning our first cruise. We are leaning towards a Northern European cruise with Oceania in the summer of 2015. Most likely, it will be on the Marina. Since this might be a once-in-a-lifetime cruise for us, I would like to splurge and get a penthouse suite. You recently took a cruise on the Marina and I was hoping to get your opinion.
Thanks for all of the great travel advice throughout the years,
MATTHEW S.
Answer:
That's a very hard question for me to answer, Matthew. On the one hand, the penthouse suites are lovely -- they're more stylish than what you normally find on cruise ships -- and an added bonus is that you'll get priority treatment when it comes to dinner reservations (meaning, you can get into the first-rate specialty restaurants more often and dine at the time you want). On the other hand, the difference between the penthouse suites and standard cabins onboard Marina is not nearly as dramatic as the difference is on larger ships. When I sailed on the Marina last May, the passengers in standard cabins seemed very happy with their rooms and the service they were getting; they did not feel they were missing out by not having a suite on a higher deck.
I was in a concierge-level cabin (on deck 9) -- meaning, I was in a room that's somewhere in between a standard cabin and a suite -- and I did not think that having a club lounge with a dedicated VIP concierge significantly enhanced my experience of the cruise. I barely used that club lounge. They had snacks in it, but you can order room service for free, so the food was not a draw. As for the concierge, I got better service when I made requests at the front desk.
Also from Condé Nast Traveler: The Friendliest and Unfriendliest Cities in the World
Matthew, since I'm naturally a bit biased against splurging on a suite in general -- I'm simply the sort of person who would rather spend my money on as many trips as possible, staying in basic accommodations, than on one once-in-a-lifetime trip with fabulous accommodations -- I figured I ought to get you a second opinion, so I went to one of my favorite travel agents who specializes in cruises, Tom Baker of CruiseCenter. Tom has also sailed on Marina and has a somewhat different take than I do on the merits of upgrading:
The biggest difference [between the penthouse suites and other staterooms] is more space in the bedroom, living room, a larger bathroom, and a wonderful walk-in closet. I love the attention Oceania showers on its penthouse guests. For example, the butler brings snacks nightly before cocktail hour and asks what you want. Is it shrimp cocktail tonight, or a cheese and fruit platter, sir? ...

The concierge-level rooms are nice but limited in benefits other than the nice concierge lounge shared by lots of other folks, upgraded Bvlgari bath amenities (from L'Occitane), a laptop if needed (although internet is intermittent at best), and added alternative restaurant reservations. Penthouses have all of this plus each has priority embarkation/disembarkation -- though that's not a big deal on a 1,200-passenger ship. It flows quite quickly anyway.
Since it's your first cruise, Matthew, I recommend strongly that you book it through a savvy travel agent like Baker who specializes in cruises. As for the intermittent-internet problem, I should add that the best spot on the ship for both a fast Internet connection and an ocean view simultaneously is the small sitting area between Barista's coffee bar and the computer center -- plus there are free hors d'oeuvres at the library entrance right around the corner. (I spent a lot of time blogging from that spot!) Bon voyage!
More from Condé Nast Traveler: