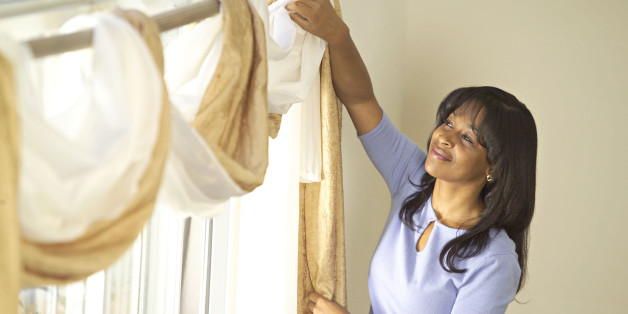 A great space that fits your needs and taste is easier to attain than it might think. It doesn't matter if you rent or own, if it's a dorm room at college, apartment you rent, or home that you own. Large or small, it's something that can be attained. It doesn't take a lot of expensive items -- in fact, until you're a home owner, it's better to wait on making big investments on things like furniture or appliances. These items aren't typically designed to be toted around a city as you change places, or move. But, you can absolutely make wherever you live, at any stage in life, all your own. Here's how:
1. Assess The Space -- The first step to styling any room is to assess the space to see what you've got to work with. Size dictates everything in regards to what you can do (or not) with it. It doesn't mean you'll need to take formal measurements of the dimensions, etc. But having an idea of what you have to work with is key to getting started. Take a few pictures on your smart phone -- this will be helpful later on when you're shopping for items as you can pull up the photos whenever you're considering pieces.
2. Think About Your Needs -- Next, you'll want to think about what your needs are for the room you are decorating. There are of course the obvious -- you'll need a place to sit in the living room, a place to eat in the dining room and so on. But what about storage? Will you need anything specific such as a desk for tackling work or keeping organized? Determining what you want or need to get out of the room is an important second step to decorating it.
3. Find Your Style -- We grow up getting dressed every day, so over time we develop an idea of what we like or need to wear. But we don't grow up styling a room every day, so you may not be sure what your own taste is as you embark on decorating. Believe it or not, having an idea in advance of any work in a room can make the project easier. Take a little time to get an idea of what you like and do not like in terms of interior style. A good way to do so is to go on sites like Houzz or Pinterest and spend a little time looking at the different types of decorating options available. Take a look also at home decorating magazines, either at a newsstand or online. You can also check out home and house retail stores to help get a sense of your taste too.
4. Develop A Vision -- Now that you've got a sense of what your needs are and what your decorating taste might be, go back into the room and think about how you'd like to style it. Start with the largest item that will ultimately go into the room (bed, couch, table, etc.) and work from there. Keep in mind your needs as you go! You'll want to make sure your environment is going to meet your unique, individual needs.
5. Take Measurements -- Now is the time to measure. First, measure the space as a whole so that you've got an idea of what you are really working with. Next, measure the areas within the room that you want to put items -- for example, if there is a part of the room you'd like to put a bed, see how much space you can realistically take up with it. Doing so will help you avoid buying items that are too large or too small to fit. You can also measure windows at this time if you plan to buy curtains or other window treatment.
6. Decide On Color -- Color might seem like a small element, but deciding it in advance can also make shopping and decorating easier. You don't have to necessarily commit to what you have in mind -- you might be inspired to go a different direction once you start shopping. But at least having a few hues in mind at the start is good. It can be virtually anything you want -- the sky is the limit when it comes to what can work. Big, bold and bright colors, prints, patterns, neutrals, whatever. If you need ideas and inspiration, go back to the sources you looked at above for a second look at how color is used specifically.
7. Make A Shopping List -- Now you'll want to get a good shopping list going of what you want to put into the space. For example, if you want to have a table in the dining room or dining area, plus a buffet or other storage item, and a centerpiece of some type, take notation of it. Having a list helps a lot when shopping -- plus you'll be less likely to make impulse or unplanned purchases. Don't forget items like bedding, pillows, and decor as you make your list.
8. Start Sourcing -- Before you shop, look around for what stores have the items you are looking for. The Internet makes this really easy. You can do so by search via Google or another search engine, or you can look at home retail stores individually. As you go, keep a note or create a Pinterest board of what you've looked at and liked. Keeping this in order can help you minimize your offline shopping time significantly and make finding what you need much easier.
9. Compare And Shop -- While the Internet brings a great abundance of shopping online for home items, things like couches and chairs or beds can be tough as you won't get to touch, feel or sit on the items. If you can do an offline shopping trip, do so for these. If you can't, many online resources have reviews where you can hear from other shoppers about their experience. Once you've found the items you want, compare prices, look for deals and special sales. Aim to buy the best quality you can within the price you can afford -- don't assume that spending a lot of money on items is necessary, especially if you're renting, may move out of state or other factors that may come up where you won't need or want your furniture.
It's possible to sell unwanted or unneeded furniture items, but you generally won't get what you paid for originally, even if it's still relatively new and unused. But thankfully, stores like Home Goods, Ikea, Target, etc. can offer decent furniture for shorter term needs. Just remember to watch for quality and do a little homework before making purchases.
10. Put It All Together -- The fun and easy part of the process is putting it all together. As your furniture and other items are purchased, the space will start to take shape. Once it's put together, see if there is anything you want to add to it that will make it more comfortable, functional or uniquely yours.
To see more home styling ideas, and all of this month's edition of Condiment magazine, visit www.getcondiment.com