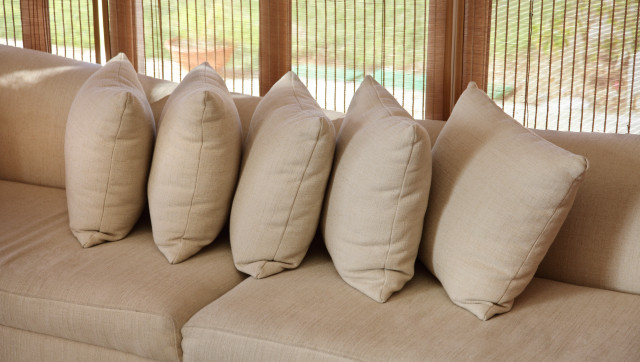 According to a study earlier this year from off-price home fashions retailer Home Goods, 51 percent of Americans spend most of their non-sleeping time on the couch in their living room. Which, when you think about it, makes the couch you choose serious business. After all, any place you spend half of your time (or more) should be an amazing experience.
While on average a couch will run a minimum of $600, depending on what you choose, it doesn't mean you can't get away with this elemental piece on the cheap. It all depends on what you need in terms of use and where you are at in your life. Understanding this is the key.
Space dictates everything when it comes to home decor, second to this is need. Investment pieces don't necessarily need to happen at any stage. It all depends on you. Figure out where and what the couch means to you in advance, plotting out the use, is it temporary or a forever piece, then go from there.
While the Home Goods survey cites that 46 percent of Americans describe their home style as 'traditional,' whatever your style is doesn't have to fit into any specific mold or style. It's all about who you are, what you like and what you need, regardless of age. The top level in the industry is somewhat focused on contemporary and modern but there is plenty of other styles in couches to be found and had.
Don't rule out buying second hand but if you do, keep a few best practices in mind. Inspect the piece thoroughly. If you're in a city where bed bugs have been an issue in any instance, be specifically cautious. Bed bugs can live upwards of 18 months without a 'host' (meaning humans). When in doubt, have a piece treated outside of your home or apartment before bringing it in.
Once you've got your ideal piece in your space, be it contemporary, modern, traditional or what not, keep it in good working order by cleaning it regularly with a vacuum, or if its leather or faux, wiping it down. Switch up any cushions or pillows that can be moved about to distribute wear similar to rotating the tires on your car. Little steps like this can keep your piece looking and wearing in well for many years.
Fabrics, upholstery, shape, size, style all play a huge part. Measure a space BEFORE you buy. Think about use and need. Chenille covers might not be the best option if you've got a one year old or small children, pets, etc. Just the same, leather can be somewhat a discomfort if you're on your couch as much as the Home Goods study suggests.
At the end of the day, where and who you are in your own life, and what's going on around you, indicates where and what you should buy for this monumental, well-used item in the house. Go with that first.