It's only fitting that I begin as a Huffington Post blogger soon before Halloween, a spooky holiday, when many of our country's adults feel that it's un-American NOT to give out sugar-loaded candies.
In fact, this year, adults are expected to fork over an estimated $1.89 billion for candies which they'll pass out to young trick-or-treaters, according to a new study from IBISWorld market research firm.
style=float: left; margin: 10px"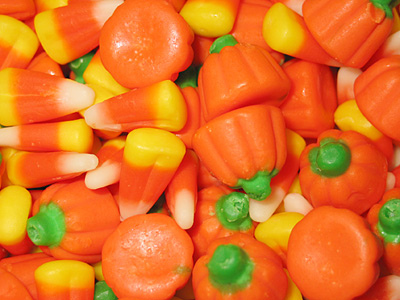 Indeed, despite the obesity epidemic and the tough economy, sales of these blood-sugar-bouncing "treats" this year are up by 6.8% over last year.
Curiously, it seems that economic challenges and other tribulations often boost people's appetite for calorie-filled, nutrient-lacking sweets. (As my clients often complain, when times get rough, they're more tempted to turn to sugary "treats," but they find that the "comfort" they get is only temporary.)
Sadly, candy buyers and givers throughout the United States--who I think are more aptly dubbed "sugar pushers"--are either consciously ignoring or blissfully unaware that too many candies can not only lead to obesity, but to heart disease, cancer, high cholesterol and more than 100 other ailments.
What's curious is that people are spending almost as much on candies as on costumes, according to the new IBISWorld projections. In fact, the $1.89 billion expected to be spent on candies is just shy of the $2.2 billion in projected sales for fanciful outfits. In all, consumers will spend about $6 billion on Halloween this year.
Another scary development is that American adults, who are supposed to set healthy examples to their unsuspecting children, can't even wait until Halloween before delving into their sugary stash.
In fact, according to the National Confectioners Association, 41 percent of American adults admit to National Confectioners Association, 41 percent of American adults admit to sneaking a few pieces of candy from their own trick-or-treat bowl before the ghosts and goblins show up on October 31.
Meanwhile, the candy association also found that:
62% of adults plan to give candies because "it's a personal favorite" or a household tradition.
90% of parents admit they sneak "goodies" from their kids' trick-or-treat bags.
Talk about sugar-obsessed people!
Lest you're tempted to buy or pig out on candy corn--as seen here--I invite you first to learn the nutrition facts. For instance, according to Brach's, 22 pieces of these candies gives you 140 calories.
All those candies also contain 75 mg of sodium, 36 grams of carbs and 31 grams (7.75 tsp.) of sugar. They also have no fiber or protein (as in 0 grams).
The ingredients contain sugar, corn syrup, salt, honey, confectioner's glze, gelatin, dextrose, artificial colors (titanium dioxide, Yellow 6, Yellow 5, Red 3, Blue 1), sesame oil and artificial flavor.
After learning about its contents, are you still tempted by the candy corn?
Stay tuned for tips to have a healthy Halloween.