Nine women are joining ONE this week on a listening and learning tour through Ghana and Sierra Leone. Here is my report from the trip:
We started our day early with a visit with Ghana's first lady, Mrs. Ernestina Naadu Mills. It was a wonderful way to kick off our week of this listening and learning tour and in particular, today's focus on health issues. Despite major progress in the fight against poverty and disease over the past decade, the health of women and mothers remains one of the most pressing challenges in poor countries like Ghana. We were wholly impressed with "Madame First Lady" and her ideas and openness about improving Ghana's government in her newly acquired role. Ghana is in the enviable position of having a relatively functional, effective, and peaceful government, and she hopes to make it even more so with her husband as president. Her comments suggested how, in Africa, if the governments can systemically help themselves, they will exponentially improve the lives of their people. Most important in accomplishing this, Madame Mills emphasized, is "education, education, education."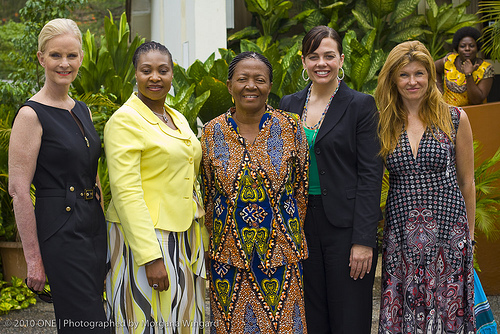 Cindy McCain, Yvonne Chaka Chaka, Nancy Brady, and myself with First Lady Mrs. Ernestina Naadu Mills after meeting with her to discuss important issues effecting women in Ghana.
Following our visit with the first lady, we spent the morning at Ashaiman Health Clinic, where money from the Unites States' President's Malaria Initiative is supporting Ghana's campaign to reduce malaria rates by 75% by 2015. As is true across Africa, pregnant women and children are the most vulnerable to malaria and the least capable of fighting it. It was stunning to see the numbers of women who came to this center to educate themselves. Thanks to funding through PMI and other donors, the clinic is providing intermittent preventative treatment during pregnancy and also insecticide-treated bed nets to help mothers protect themselves and their young children from malaria. Still, the sight of a 25 year old woman lying on a cot, sick with malaria, despite the fact that she owns a treated bed net - left unused because it makes for a hot night's sleep - was a reminder that this disease is still a danger and a killer, and emphasized again the imperative of "education, education, education"!

From Ashaiman we went to Tema Hospital to learn about their efforts to prevent mother to child transmission of HIV. Ghana's total HIV rate of 1.9% is lower than many other countries in East and Southern Africa. The trouble here is the stigma associated with HIV, which is actually worse than many African countries, very possibly because the percentage of people with the disease is so low. We met a woman and her baby, both with HIV, who didn't want to be photographed by our camera crew; she sells in the market and if she were "seen on TV" people would discover she has HIV and not buy from her.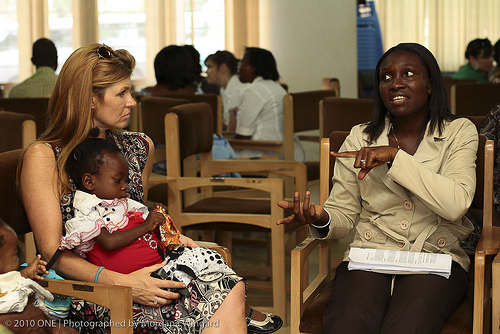 Me listening to an overseer at Tema General Hospital speak about HIV/AIDS in Ghana and prevention of mother to child transmission.
Still, the numbers of HIV-free babies born to mothers with HIV has been dropping here, a good sign in general that progress is being made in this country's battle with AIDS. In Ghana, women make up 60% of HIV-positive adults. With help from the Global Fund to Fight AIDS, TB & Malaria, Tema is now offering treatment and counseling to HIV-positive women and mothers, all pregnant women are encouraged to get tested, and women who test positive are given drugs (depending on the stage of their virus) and their babies are given treatment once they're born. Now the challenge is to get the men in to test, a much trickier feat. Again: "education, education, education"!

Today we met the most powerful woman in Ghana, along with many women who are leading the fight to demolish the impact of these diseases in Africa. But perhaps the most powerful and courageous women of all were the ones who were seeking education and treatment for themselves and their families. They truly have the capacity to change the landscape of this country.