Though 2012 may have been a high-water mark for gays and lesbians on the political stage, Hollywood didn't get the memo. In fact, the gay story this Oscar season is the lack of gay stories. The Academy didn't nominate a single actor who had played an LGBT character this past year in the Best Actor, Best Actress, Best Supporting Actor or Best Supporting Actress categories -- a rare occurrence in the past decade, happening only in 2008: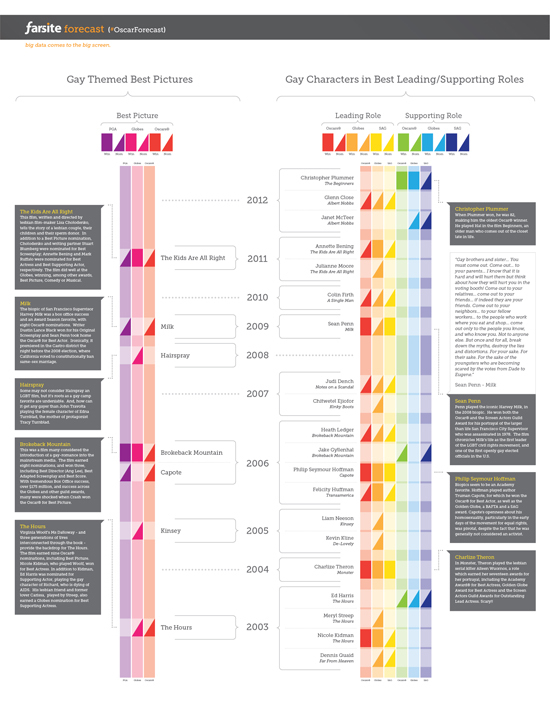 (Click to enlarge.)
Historically, playing gay, particularly in a compelling biopic, has been a great way to get into the field of Academy Award nominees. In 1971 Peter Finch became the first actor to be nominated for an Oscar for playing an openly gay character, in Sunday Bloody Sunday. It would take another 14 years for an actor to win an Oscar for playing a gay character, when William Hurt won for Kiss of the Spider Woman in 1985. Eight years later Tom Hanks made a memorable acceptance speech after winning for his gay role in Philadelphia. And it isn't just men: Hilary Swank was named Best Actress in 1999 for her performance in Boys Don't Cry. Nicole Kidman won in 2002 for her portrayal of Virginia Woolf, and one year later Charlize Theron won for Monster.
In the last 10 years in particular, there are 13 identifiable LGBT roles that have received Oscar nominations, and quite a few more that have picked up SAG and Golden Globe nods. Nominated characters range from the iconic (Sean Penn as Harvey Milk in Milk, and Philip Seymour Hoffman as Truman Capote in Capote) to the ordinary (Christopher Plummer in Beginners and Annette Bening in The Kids Are All Right). But although we seem to celebrate the straight actor or actress taking on the daring challenge to play gay, consider the fact that no openly gay actors or actresses have ever won an Oscar, and very few have even been nominated.
We should include a few caveats. Gay actor John Gielgud won for Best Supporting Actor in 1981 for Arthur, and he was nominated in 1964, as well. However, despite a gay scandal in the British tabloids in 1953, Gielgud's sexual orientation was not well known or publicized in Hollywood at the time.. And recent newsmaker Jodie Foster has won twice and has been nominated four times, but until this month's Golden Globes, her identification as a lesbian was Hollywood's worst-kept secret. In fact, she turned that fact into a punchline in her Golden Globes speech. Meanwhile, Sir Ian McKellen has long been out and proud, but despite multiple Laurence Olivier Awards, a Tony Award, a Golden Globe Award, five Emmy Award nominations and two Academy Award nominations, Sir Ian has never taken home an Oscar.
With no gay characters or actors in this year's major categories, we are left digging for other Oscar-worthy LGBT stories. Lincoln, the darling of the Academy, was written by openly gay writer and activist Tony Kushner. He very well may win for Best Adapted Screenplay. He would follow in the footsteps of a handful of winning gay writers, including Dustin Lance Black (Milk), Bill Condon (Gods and Monsters) and Alan Ball (American Beauty). Lincoln's Sally Field, up for Best Supporting Actress, is a PFLAG mom and a vocal supporter of LGBT rights. Her speech at the annual HRC dinner was a viral hit last year. And Best Documentary nominee How to Survive a Plague tells the story of the AIDS epidemic and would certainly be considered a gay-themed film. But the most interesting story for gays at this year's Oscars may be the most underappreciated: ParaNorman, a 3D, stop-motion-animated comedy/horror film is up for Best Animated Feature. One of its lead characters is gay, a first for a major animated film, and certainly for a Best Animated Feature nominee.
So although there are no out human characters in contention for Oscars this year, at least we have a cartoon to cheer for. In Hollywood there will always be a sprinkle of rainbow come Oscar night.