 In an era where there is too much noise, authenticity is now king, engagement is the new barometer for successful capitalism and the smart phone is now the television, phone and computer. In an ocean of information, streams of influence are powerful. How do independents artists rise?

Top 7 insights for emerging artists from the bands of South By Southwest, 2013

How does treasure not bury itself or become unburied? Now that everyone with a touch screen phone or computer has the technology to be a musical artist, musician or D.J., how does one cut through and connect? What is my path? I went to South By Southwest (SXSW) -- an annual music, film and interactive conference held in Austin, Texas to speak with other artists and get answers.
Lesson 1: Anybody who tells you "how" to succeed doesn't know how to succeed.
Being discovered, what does that even mean anymore? It appeared that Austin might hold some clues, so into the belly of the beat I jammed. I sat in a few keynotes and panels that were descriptively vague and gained nothing, but a cutie's digits, a flash drive and some yogurt-covered pretzels. Everyone wants to tell young and emerging artists "the way" to build their career, but the truth is -- no one really knows. As artists of today -- we control our image, sound and every other aspect of our band. We put the band in brand and are band ambassadors. There are many tools for connecting with fans directly, but it is a double-edged chord. Have we become tools to technology? When is updating social media a form of expression and when does it become a chore that is performed with a lack of enthusiasm - where we camouflage our insincerity? I had hoped that I would return home with more than a hangover and high-waist jeans, but it was not looking good (except, of course -- my new Levis).
Artists of all sounds, ages, colors, shapes and sizes are breaking through the gates. It is a new era of engagement and the world of music has been democratized. We have gone from being a pushed-based to a pull-based culture. We evolved from a one-to-many communication model, where content was pushed at us through one-way communication like print, radio and television to a many-to-many model -- where we pull content from our peers through social media and media that's social. Now, we choose what to like, order á la carte and talk about it. It's a water cooler world and we're water cooler girls. There is a sea of competition and artists must swim hard in order to be heard.
Day two, I bolted down Red River Street to say hello to my not-so-little friend, Action Bronson, a fiery-bearded hip-hop artist from New York, who spits rhymes like spiders spins webs. A friend of his asked to take a photo of the two of us -- we indulged. Little did I know that the friend was none other than Macklemore. He was popping a snap for his personal Instagram -- where he announced "This is a contender for best pic at SXSW." Had I known where the photo was going -- I might have changed into something a little more colorful. Within two hours there were more than forty thousand views on the photo and I was getting emails, Gmails, she males, tweets, beaks, treats and Facebook messages from all over the globe.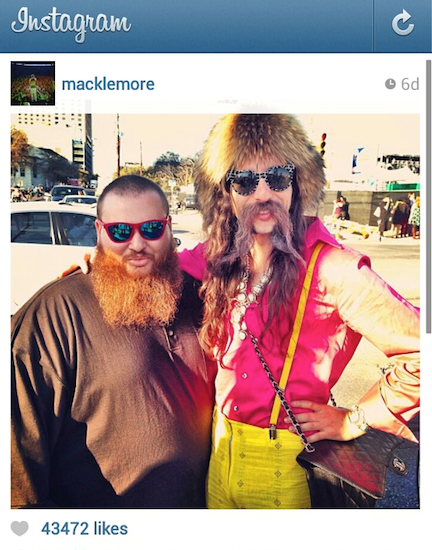 Lesson 2: Less is Macklemore: You are the captain of your capital
Macklemore is an independent artist with an independent manager (Zach Quillen), whose Gmail address is on his client's Facebook fan page. This is very interesting considering the rapper's level of success. One of the accelerators that boosted Macklemore to sequined-stardom was a music video for "Thrift Shop". The man himself co-directed the video and it is close to breaking two hundred twenty-five million views on YouTube. Brands and fans now go directly to source. Today's artists are accessible and in this case -- so are their managers. Let the mountain come to Macklemore or in my case -- let the Macklemore come to Conquistador.

Macklemore Social Stats
• Twitter 690k+ followers
• Facebook 1m+ likes 93k+ talking about this
• Instagram 650k+ followers
• Soundcloud 296k+ followers
• Thrift Shop 2.7m+ plays on Soundcloud.
Lesson 3: Put this in your hash tag and tweet it
The tweet that launched a thousand ships and a Norwegian indie pop quintet's career: "Beautiful music from @Highasakiteband at @oyafestival #oya2012" holy shit this was a crazy band! I loved it!" This tweet is brought to you in 108 characters by Bon Iver.
Strawberry-sonic dream-scapers, HighasaKite got their break from a tweet made by Bon Iver's Justin Vernon. Both bands were playing the Øya Festival in Oslo, Norway. Justin returned to the stage to pick up his guitar, saw the hottie warpaint-ed ladies and stayed for the band's entire set. Talented they are, but luck was a lady friend (as my grandpa likes to call them) that night. Bon Iver's Twitter account has over three hundred and forty thousand followers and Justin's tweet rang far and wide. The Norwegian press, Paste Magazine, many other influencers received the Bon-Iver message of approval and their star began to rise.

There are many unrealized social media metrics -- leaving: companies, brands, venues, booking agents, managers, publishers, labels and others with lack of a whole-istic perspective. These decision makers are making decisions based on incomplete data. A like or a follow is not necessarily engagement. Daytime Disco-dabblers, Poolside have over half a million plays on their cover of Neil Young's "Harvest Moon" on soundcloud, while their Twitter following is slightly over five thousand and Facebook "likes" are nearing 21,000. If the band was and evaluated solely on their Twitter and Facebook following, they would be grossly undervalued and misjudged.
Lesson 4: Inspiration creates music: perspiration gets people to hear it. (SXSW NEEDS MORE DEODORANT SPONSORS. Someone help. PLEASE!)
South By Southwest truly is a springboard for emerging artists. Arpeggio synth-santana-nistas, Kinky recalled playing SXSW in 2001. They played three shows in one day. Their last show's attendance was sparse, but the talent booker for the Late Show With David Letterman happen to be in the audience and booked them to be on the show. That was their big break.
Kinky Social Stats
Twitter 150k+ followers
Facebook 807k+ likes · 6k+ talking about this
Soundcloud 1k+ followers
Intoxícame plays 45k+ on Soundcloud
Lesson 5: Passion, tenacity, and authenticity are a common thread in every successful artist.

What all these artists seem to have in common are passion, tenacity and authenticity (the third of which fans can sniff out from miles away). With it, you stand a chance. Without it, apply for Cosco's training program, marry the heir to the Bengay fortune or apprentice with a Croc shoe bedazzler.

Lesson 6: "Connection" is critical -- and there are many ways to achieve it.

It is the year of the snake, season of the social... and the goal for most of us is connecting to people, keeping the conversation going and converting them to fans. Some artists like dark-steady beat trafficker, TokiMonsta and rain-glow-hemian goddess, Kerli harness the power of everything from Vine to Instagram, where other artists like nu-sixties songster Hayden and twang-troubadorables, The Giving Tree Band focus primarily on the music. There is no right or wrong way and everyone's trajectory is different.
TokiMonsta Social Stats
Twitter 29k+ followers
Facebook 66k+ likes · 2k+ talking about this
Instagram 11k+ followers
Soundcloud 94k+ followers
Eight And A Half - Scissors (TOKiMONSTA Remix) 86k+ plays

Clicking like or follow on Facebook/Twitter does not mean people are listening to your music. Only listening to music is listening to music. TOKiMONSTA is killing it on the Soundcloud front and she has more followers than artists with one million plus likes on Facebook.
Lesson 7: Blaze Your Digital Trail: Good Things Take Time
There are many paths leading to the top of the mountain. Everything does not happen overnight. The Tontons released an E.P. titled Golden in mid 2011, but did not release a music video for single - also titled "Golden" until the end of 2012. It is now 2013 and their song is just beginning to blip on the global-indie radar. Electro-tropic experimentalists, Jamaican Queens had only been a band for a few months- when they received their golden ticket - inviting them to perform at SXSW. Vaporous Badlanders, Grandchildren played SXSW four times and even netted a write up in Spinner before receiving an official invitation perform. Both Poolside-rs, Filip and Jeff were involved in dozens of projects before finally hitting the jackpot. Now Poolside can afford to live poolside.
The gatekeepers of old have fallen. The gates to the kingdom are open, but now the kingdom is overpopulated. A tweet, a stumble, Soundcloud, Instagram, post, poke, video or vine can grant us entry. There are many ways to get in. It is up to each of us to find our own path. So, plot your points and plant your seeds. For those of us who are talented, persistent and fortunate -- our points will eventually connect and seeds will sprout... into a beanstalk and climb we shall.
Obscenester SXSW 2013 Mix