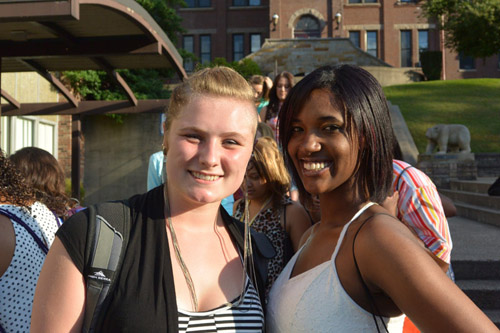 I watched with compassion as a girl dropped her head to hide tears spilling down her face after reading her 10-minute writing exercise to other high school students, and the Yale Alumni Service Corps volunteers who had come to West Virginia to coach them on college applications. The girl's story was a description of anguish and love between a child and her alcoholic mother -- a mother who did not want her child to go to college and leave her behind. The next student nervously read her story which featured the most influential person in her life, her grandmother, a woman who had been a shut-in for 20 years. Another student wrote of a beloved uncle who died young of a drug overdose, leaving behind confusion and grief. These stories represented some of the obstacles that the students in Western Appalachia face when considering their futures, and our task was to help them overcome these roadblocks in order to understand their value and extraordinary potential -- in only four days!
As the producer of this summer program, I had arranged a partnership with College Summit, an organization formed to help unprivileged students attend college. Our 40 volunteers would work with local students to give them college counseling and writing coaching. After a few sessions I noticed that the students had limited understanding of the college application process and seemed to underestimate their abilities. Many of them were the first in their families to even consider going to college, and it was a scary process to them. These were talented, high-achieving, hardworking students who, in any other setting, would have just expected to pick from top colleges and knew they had the capability to be successful, but not in West Virginia.
Carolyn Long, president of West Virginia University Tech, where the college sessions were hosted, verified my concern that this sense of powerlessness was a state-wide phenomenon. Many cultural factors contribute to this situation and coal mining, the primary industry of the state, has to take some responsibility. Before we started training, the Yale volunteers had toured a coal mine and historic company store to get an understanding of the background of the students. Our guide, a former coal miner with black lung disease, a condition that still kills up to 1500 people a year, described the horrendous mine conditions: The men worked in shifts of 10 to 12 hours a day, often six to seven days a week, in shafts that could be under five feet high, and they had to contend with rats, thick mud, water seepage, loose electrical lines and, of course, the deadly coal dust.
One Yale volunteer had grown up in a coal mining camp and both of her grandfathers had died by electrocution in the mines. We were told that back then when a miner died, his wife had 10 days to remarry or she and her children would be driven to the train depot and left without belongings or money. The mining companies also often paid their employees in scrip rather than cash, and the company store, the only place to use the scrip, could arbitrarily raise prices and potentially keep a miner in debt as well as trapped in the area. But even if the mining industry has a history of exploitation, this has only seemed to tighten its workers' bonds to family so that a child who wants to leave home for college may not be encouraged. Many students had been reluctant to attend the college session, some had not followed through after signing up and a couple left after the first day. Those who stayed however, were won over and captivated by the college experience.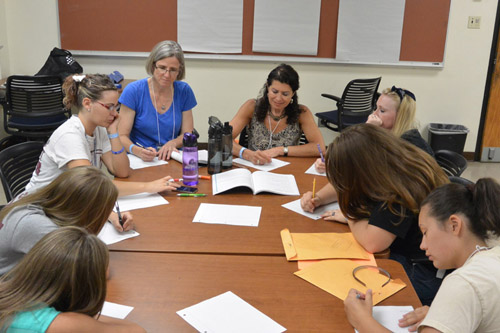 One writing session with a team of five students had opened with an ice breaker called, "Two Truths and a Lie." Each student, who initially had seemed rather average, began to reveal fascinating depths to their character with clever statements and unique interests. I had given my list as:
One: I built my own house on a cliff.
Two: I sail in regattas.
Three: I wound up at Yale because I was rejected from Canadian colleges.
The group could not decide which was the lie until I revealed it was item Two -- I do sail but not in regattas. I also explained that because I had failed a college entrance exam in Canada I had wound up at an American university, and eventually made my way to one of the world's best schools for my master's degree, showing that failure just means there may be another route to achieve what you desire. I had given this same talk to high school students in both North and South Carolina to encourage them to dream big, but these West Virginia students had complications in their lives that I had not encountered to the same degree before.
So the College Summit professionals and Yale volunteers began to work with the students. They did exercises to help the students open up emotionally, and understand leadership and deal with personal challenges. The students began to blossom, gain confidence and bond with other peers and volunteers. They now candidly exhibited their bountiful intelligence, ambition and heart. By the end, they were well on their way to completing their college applications and were empowered to encourage others to also attend college. These smiling, enthusiastic students who came out of the sessions were well armed with information, leadership skills and an essay that they could be proud of.
On the last morning everyone formed circles, gave thanks to each other and shared hugs. This time, the tears shed were for accomplishments and new friendships. There was a pervading sense of hope at the final gathering of students and mentors and I believe that during these few special days, lives were changed.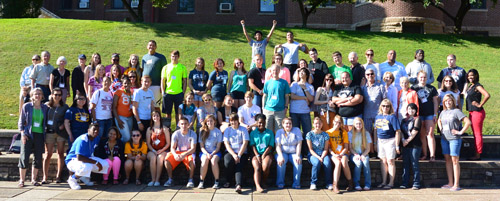 See the video of the Yale Alumni Service Corps West Virginia 2013 program here.