Since launching his label in 2003 fashion designer Derek Lam has become the darling of all American style, but always with an elegant twist that makes him stand out from the rest of the fashion pack.
Crane.tv went behind the scenes at Lam's S/S 2012 runway show at New York Fashion Week to steal a few precious moments of his time, and of course pick his brain about all things fashion.
"What's great about fashion is that it can permeate through more than one culture and can span the globe," Lam told us. "Culture and tradition has always been a part of my life and always had a very strong emphasis, but I think the work that I do now is much more about my experiences of growing up in California, and coming to New York and trying to understand how we all live in the moment," he continued.
For S/S 2012 Lam's models strutted down the runway in ladylike collared shirts, panelled jackets, shift dresses and tunic tops in silks and leathers, encapsulating the prim qualities that we've come to expect from the San Francisco native, who admits that he favours designing dresses.
And for anyone looking for some sartorial inspiration, Lam has a few tips on dressing of his own. "A new way of proposing how a woman can dress starts off with a great knitwear piece and a leather jacket and ends with a gown that looks like a jumpsuit."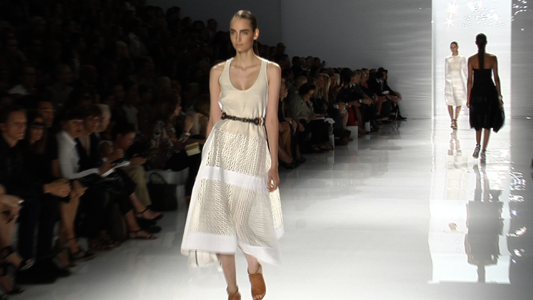 Text by Holly Fraser for Crane.tv
Crane.tv App now available for Nokia devices from the OVI Store