Starting his career painting on the corner of a New York City street, Brian Ermanski wanted to bring his work to the people. To get by, the destitute struggling artist would sell off clothes that he had collected over decades of vintage shopping with his dad, but never his art. Yet through this hard time his ambition was to bring his work worldwide.
A few years down the line and an MTV reality show under his belt, Ermanski is now known as the bad boy of the New York art scene. His paintings are raw with emotion, revisiting the joy and the pain of past failures, triumphs and loves. He paints about what he knows. If it happened to him yesterday, it is likely to be strewn across a 6-foot canvas the next day.
Some people find Ermanski's work shocking. But his provocative, loud, urban pieces have gained him huge success and notoriety as an artist. New York City just can't get enough of him. And that's not to mention some major collectors on either side of the pond whose interest is piqued by the artist in eyeliner and a top hat, toting a hand painted boombox wherever he goes.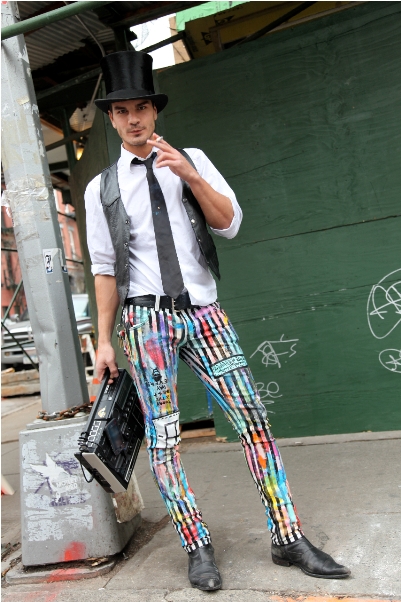 Ermanski's work has appeared in the New York Times and Vogue. He has been involved in more than a few interesting projects, including painting a room at the Hotel Des Arts in San Francisco and showing at New York's Le Jungle Gallery. Some of his pieces now command price tags upwards of $10,000, but as Crane.tv found out, it was not always an easy ride. We showcase the personal, inner workings of the man, who oozes undeniable charm and infectious charisma. There is something so wrong about him, it's right.

Text by Hannah Watson for Crane.tv