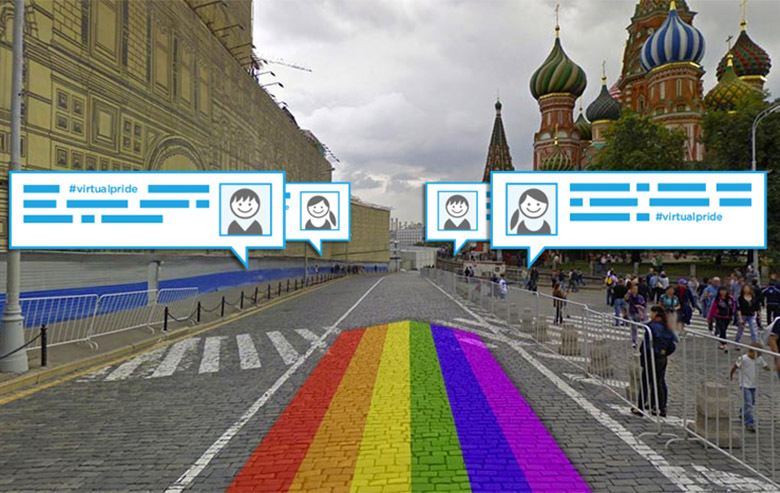 Last year, a law was passed in Russia that made it illegal to hold LGBT pride parades for 100 years. Yes, you read that correctly: one hundred years. But that's not stopping our LGBT Russian comrades, or any of us outside Russia, for that matter, from lining the streets of Moscow to celebrate all things LGBT -- virtually, at least.
Thanks to an amazing, tech-magic partnership between NYC Pride, the nation's oldest pride celebration, and advertising powerhouse M&C Saatchi New York, we can all join together to say "nyet!" to the parade ban.
On virtualpride.org, a virtual pride parade will march through Google Maps Street View of Moscow in exact step with the parade in New York. Every time the NYC parade takes a step, the online parade through Moscow will step forward in real time.
In fact, the 2.02-mile parade route in NYC, which starts in Midtown Manhattan and ends in the gay West Village, has been precisely matched with a 2.02-mile route through Moscow that starts on Prechistenka Street and ends in Red Square, passing several famous landmarks along the way.
Here's how we can all participate: Starting now and through the end of the live NYC parade, tweets of support using the hashtag #virtualpride will appear as thought bubbles along the route's sidelines, allowing each of us to virtually attend as stand-ins for actual spectators.
Organizers are encouraging everyone to start tweeting now to "pre-load" the parade route and ensure that the streets of Moscow are as packed as those in NYC for the live event on Sunday. Once the parade goes live, new posts will be added as they come in.
The folks at M&C Saatchi will be marching in NYC alongside the RUSA-LGBT float, the Russian-speaking LGBT group, who will have a screen onboard live-streaming the #virtualpride march's location in Moscow.
What a remarkable use of technology to show the world and our LGBT brothers and sisters in Russia that basic human rights are something that should be enjoyed equally, regardless of sexual orientation -- or location.