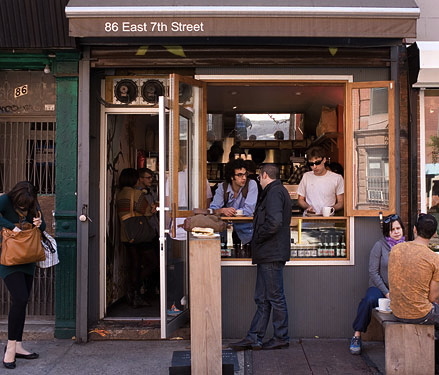 I went looking for Abraço for the coffee, and came back for the espresso and French toast. This small café in Manhattan's East Village is definitely worth the search, although finding it can be as elusive as Harry Potter locating the Hogwarts Express on Platform 9¾. But it's worth the hunt, for the slim storefront on East 7th Street off 1st Avenue offers some enchanting enticements.
Abraço means 'hug' in Portuguese, and this is just the warmth you feel from its welcoming chef/owners and their sweet and savory delights. The guilt-free olive oil cake (pound cake without the butter) slides down with ease. The veggie frittatas are light and scrumptious. And the lovely pain perdu folded over fresh ricotta is worth lining up on the doorstep at 8 a.m. to get it soft, warm and steaming off the grill.
Once in the door at Abraço, you can shuffle a few steps right and forward to place an order, but keep your elbows in -- the space is about the size of a walk-in closet. Nice weather finds the front windows thrown open, and benches and a high counter set out on the sidewalk let customers stand basking in the sun, sipping, munching, and dropping lemon cornmeal cake crumbs on the sidewalk. Later in the day, diners stand dipping crispy olive biscuits into bowls of baked beans simmered with tomato and dill -- a tasty light lunch.
The vibe is hip and friendly, and much of the crowd a loyal clientele of familiar faces. But, even visitors from the other side of the world can find Abraço; one morning over espresso I met the sleepy members of the Australian band, The Cat Empire, whose easy sidewalk banter inspired me to go hear them play that night.
Presiding over all these happy patrons is the personable Jamie McCormick, grand vizier of what I believe is the best cortado in Manhattan. Whether brewing the house Counter Culture coffee or a single-origin Ethiopian bean, Jamie's magic touch imparts each cup with a full-bodied but smooth brew. Eliza Quijada works her magic in the kitchen, serving up comfort food with invention and flair. If you're south of 23rd Street, it's a great way to start the day.
For a while Jamie had a rubber mat over the double hatch doors in the sidewalk leading to the cellar. On it he had penned, Do not move. I'm fixin' a hole where the rain came in. I was tempted to add, Platform 9¾.