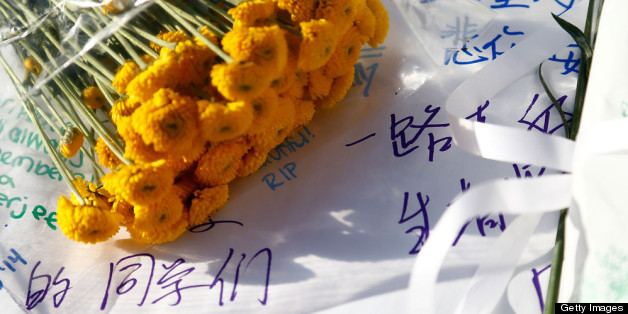 For the first time since we moved to China in 2007, my husband and I attended the Boston Marathon, introducing our daughter to the wonderful city where we attended college and hope to raise her one day.
I'm not a Boston native, but as President Obama so movingly reminded us in the wake of the marathon tragedy, Boston is an adopted hometown for many of us, especially "students all across America and all across the globe," those like 23-year-old Lu Lingzi, the Boston University graduate student who was killed while watching the marathon with friends, and who, like so many students before her, had fallen in love with the city on the hill.
While I did not know Lingzi personally, she is from China's northernmost region, famous for the warmth, strength and trademark sense of humor of its people, one that my closest Chinese friends, teachers and colleagues are also from. Having worked with and befriended many wonderful people from this area, her loss is one that struck especially close to home for me even though I'm not Chinese.
Since her death, a recent picture of Lu has been widely circulated on the Internet, showing a beautiful young woman full of life and promise. In the sweetness of her eyes, I see reflected the love that our beloved nanny, who hails from Lu's home province, has for my baby daughter. In the beauty of her smile, I sense the kindness and loyalty that characterizes my friendships with a handful of close, female friends, all from northern China. In the descriptions of her from professors and peers, I recognize the intelligence, work ethic and resolve embodied by so many Chinese students, including a friend's son who attends college in Lu's hometown of Shenyang.
Of course, Lu was an individual, and no amount of generalities, no matter how true, can perfectly embody the unique beauty of who she was as a student, friend and daughter. I like to imagine, however, that when she was a little girl, Lingzi's parents shared the same simple childhood anecdote with her that a friend from Shenyang also taught me when I first arrived in Beijing: "If you have two apples, you always give the larger apple to your friend and keep the smaller one for yourself. That is friendship."
In a statement issued by Lingzi's family, her parents had the presence of mind to thank everyone from around the world who offered them "compassion, caring and love" this past week and to express condolences to the families of the other two victims. The letter is heartfelt and dignified and convinces me that they raised not only a beautiful one-of-a-kind daughter, but also a 'typical' Dongbei girl -- generous and kind, warm and alive, one whom I would have been honored to have as a friend.