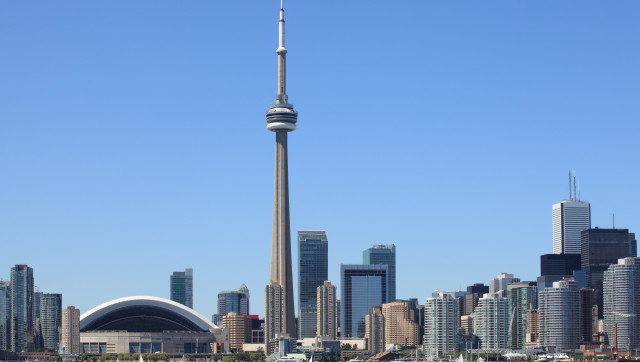 I feel very fortunate to have been born and raised in Toronto. And with so many things to do in Toronto with kids, I feel very fortunate to be able to raise my children here too. We explore the city every weekend, and in the summer months we always enjoy a Toronto staycation. These five places always play a part in our family's adventures.
The Art Gallery of Ontario
Recently renovated, with spaces designed by noted architect Frank Gehry, The Art Gallery of Ontario is home to some very impressive collections. But on weekends it's all about Off The Wall: The Dr. Mariano Elia Hands-On Centre. The AGO's youngest visitors (aged 2-10) are encouraged to draw, sculpt, and create their own masterpieces in the over 1800 square feet of play space. Watch out, Group of Seven!
The Royal Ontario Museum
Located in the chichi Yorkville area, The Royal Ontario Museum is host to a wide variety of exhibits - from the gallery of textiles and costumes to the many hands-on exhibits, and a most impressive collection of dinosaur skeletons. Kids and parents alike will enjoy the mummies, the real, live, bat cave (not of the Christian Bale variety), shrunken heads, samurai warrior armor, the lunar meteorite, as well as the interactive Gallery of Biodiversity where you can try on field gear and handle specimens of flora and fauna.
Riverdale Farm
With free admission, and open every day except Christmas, Riverdale Farm is one of our favourite places to visit. Set your toddler free to run with the herd of other kids in this tiny working farm in the middle of the city, then watch a cow being milked, count the goats, spy on the chickens, and enjoy freshly baked oatmeal raisin cookies. Riverdale Farm is maintained by the city, and there's a weekly farmer's market on Tuesday afternoons from May to October. In summer months, the park outside the farm has a city-run wading pool - freezing cold but clean, and fun for a splash.
Centre Island
During the summer months, Centre Island is another of our favourites, though you can visit year-round. After a ten minute ferry ride, from the dock it's a quick stroll to Centreville - a little amusement park perfect for pint-sized patrons. I loved it as a child and love that my daughter loves it now too. Toddler-appropriate rides are plentiful and there's a little farm to explore as well. If you've had your fill of Centreville (or it's past Labour Day), rent a bike (standard, tandem or quad) and explore the greenspace at your own pace.
The Toronto Zoo
World-renowned and well worth the trip to the 'burbs, The Toronto Zoo has good transit links to and from downtown. The Children's discovery zone at the Toronto Zoo offers icky things your kids can touch, plus a fantastic sandbox for digging up dinosaur bones. The grounds are huge and this is truly a day trip. Pack a picnic lunch and don't miss the majestic giraffes in the African Savannah - our favourite walk.
Corinne McDermott is the founder of Have Baby Will Travel, an award-winning website about travel with babies, toddlers, and young children. Born and raised in Toronto, she counts herself lucky to have so many wonderful Ontario resorts at her doorstep, as well as direct flights to much of the world. Connect with her on Facebook and Twitter.