Co-authored by Suzanne Pinckney
Sustainability represents a multi-billion dollar revenue opportunity, along with a healthier and happier existence for us all. sAs offers 7 Simple Steps to Sustainable Business Growth.
Stay tuned here for playful, practical and profitable advice every week.
sAs Step 2: Begin at the End
If you think you are too small to make a difference, try sleeping with a mosquito.
-Dalai Lama XIV
Knowing where you want to end up is the best way to ensure you'll get there.
Imagine you've kicked all the nasty habits we talked about last week. How'd you do it? Luckily, the folks at The Natural Step have 4 simple care instructions for the planet that help us envision a sustainable future.
Even if you've seen it already, stop now and watch The Natural Step's 2-minute care instructions for the planet.
So, a sustainable future means we need to:
Reduce use of fossil fuels and heavy metals
Reduce use of synthetic chemicals
Reduce destruction of nature
Ensure we are not stopping people globally from meeting their needs
These 4 care instructions mean we'll have to reinvent some wheels. But maybe it's about time. After all, we've been using the same industrial model since the cotton gin.
So, about that wheel...
Action: Create a sAssy Vision
The year is 2025: What are Fast Company and The Huffington Post saying about your company?
Keeping in mind the 4 care instructions, what are you doing or not doing in this sAssy future?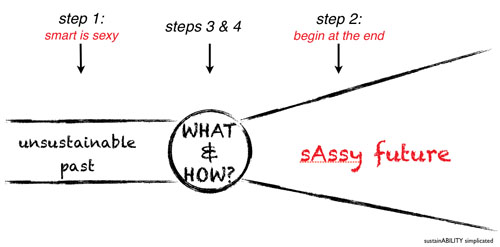 Join us next week to start moving toward this vision. And leave a comment below telling us what Fast Company and The Huffington Post are saying about you in 2025.
Don't be bashful. Dream big and be audacious. This is the future of the world we are talking about after all!