The public school system in Newark -- the largest in New Jersey -- is no different from most urban school districts across the country. Challenged by such issues as uneven student achievement, cuts in funding and growing mandates, our schools have failed to deliver on the promise of providing a high quality education to every child.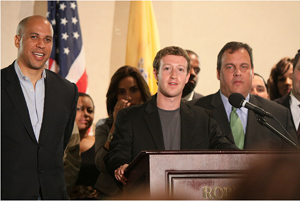 Newark has made some progress in recent years: several nationally recognized Blue Ribbon Award-winning schools, a thriving charter school sector, and a new district uniform policy. And our hallways and classrooms certainly do not suffer from a shortage of heroes whose tireless dedication and personal sacrifice positively impact the lives of thousands of children each year.
Still, by most objective measures, our public schools produce student outcomes that are well below the standard of a great American education and what we in Newark know is possible. Almost half of our students do not graduate high school. Like our city's ongoing efforts to improve public safety and to create a fiscally stable government, the systemic and enduring transformation that is needed in our school district will require our collective courage and commitment over the long term.

Amongst all American cities, Newark now has an unprecedented opportunity to break the cycle of failure and low expectations in public education. It is with tremendous hope and confidence in our potential that we announced a generous $100M grant from Facebook CEO Mark Zuckerberg to support Newark public schools -- the largest investment in a school district in our State's history. With the support of Governor Christie and Secretary Duncan, leadership from Newark's School Advisory Board and the active participation of our entire community -- parents, clergy, elected officials, union, business and nonprofit leaders alike -- I am confident that our city will meet the challenge of ensuring that all Newark students achieve academic excellence.

In the coming weeks, I will join with other elected leaders to launch a community engagement effort to solicit input from every voice within our city. From community forums to focus groups and online surveys, we will create various ways for every Newarker to participate in developing a shared vision to guide a new mandate for our public schools. We expect different views to be voiced about the sources of our problems and the paths to effective solutions. But what we must do is unite around our common principles and join in a collective commitment to do what it takes to provide a great education and a promising future to our young people. And, going forward, we must hold ourselves more accountable for delivering results for our kids; when it comes to ensuring that every child has access to an excellent education, no one gets a pass.

To move forward, we must accept the hard truths about where we are today and the obstacles we face. No longer can we let the good excuse the bad. Yes, we have made some gains in student outcomes, but we are not even close to achieving excellence for the majority of our students. Newark has exceptional schools but we also have some poor ones that have been tolerated for far too long. We have many talented principals and teachers in every neighborhood of our city but frankly we also have some adults who are failing our kids every day. Somewhere along the way it has become convenient to ignore failure -- even at the expense of precious young minds and taxpayer dollars. If we continue to avoid talking openly and honestly about the challenges within our schools then we lose the opportunity to explore alternatives and discover solutions that can transform education in Newark.

Working together, I believe that Newark, New Jersey can become one of the first American cities to solve the crisis in public education. It will not be easy but if we commit to joining in this effort -- putting the interest of kids first -- there is no doubt that we will prevail. We now have the opportunity to play a much greater role in shaping the future of our public schools and to define the destiny of our city; let us unite in support of our kids and give them every opportunity possible to fulfill their greatest potential and manifest their true genius.