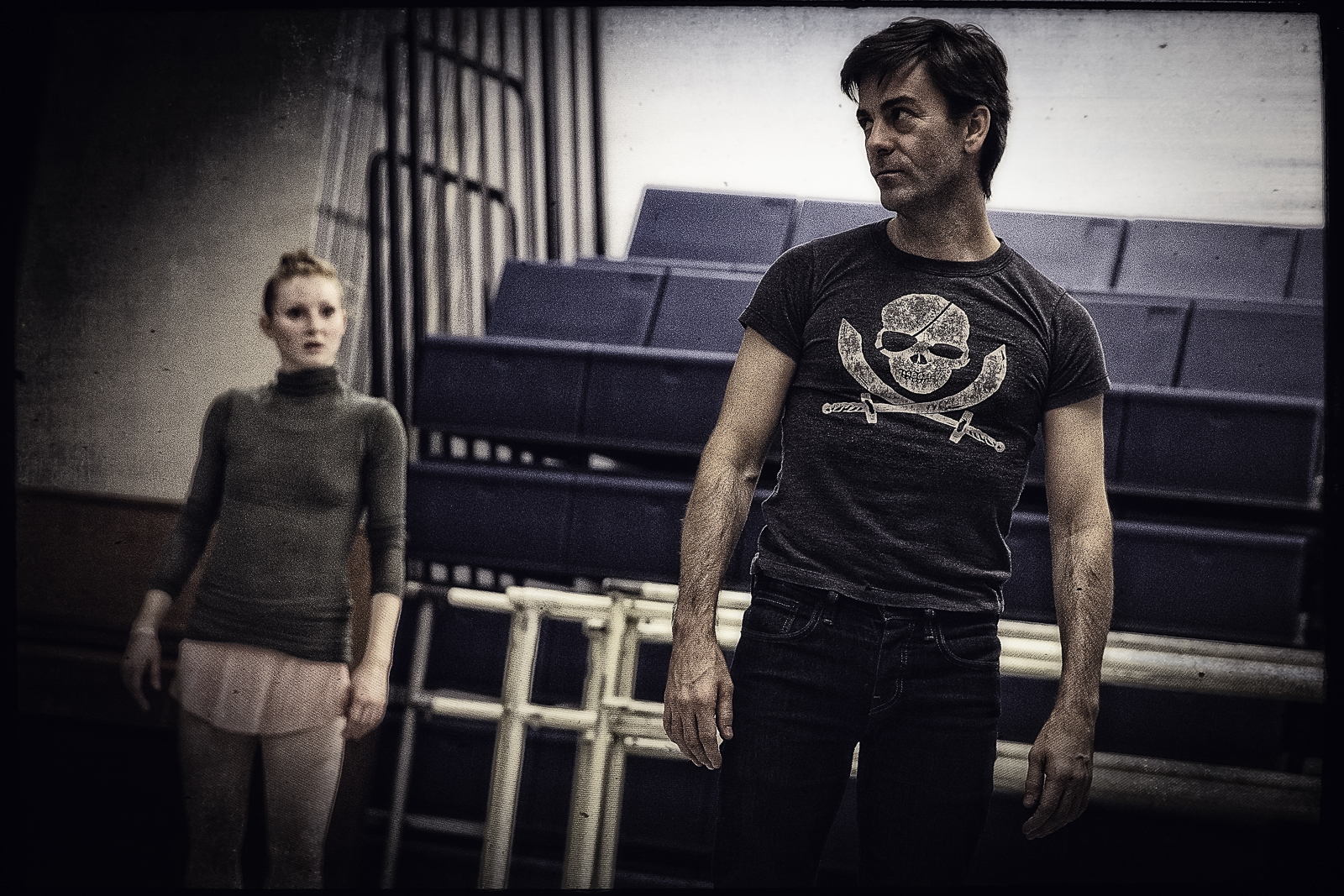 Photo by Brian Krontz
On Tuesday, Jan. 29, Tom Gold Dance will present the world premiere of Some Kind of Romance at the eighth edition of Dance From the Heart, a New York City showcase for some of today's most diverse dancers and choreographers. The fundraiser benefits Dancers Responding to AIDS, a nonprofit program of Broadway Cares/Equity Fights AIDS.
I recently sat down for a cup of coffee with the company's founder, a former soloist of 21 years with the New York City Ballet, and we talked about his upcoming project, the creation of his dance company and his philosophies toward his life and work. The morning of our interview, as Tom Gold entered the café, he waved to me from the door and then sweetly asked for permission to take the seat across from me -- not exactly the actions of a prima donna.
Court Stroud: I can tell this is going to be a fun interview because your humility is touching.
Tom Gold: I had this friend Lourdes Lopez, and she was the director of Miami City Ballet. She was dating this man one time, and I met her on the street. She introduced me, and then he came to the ballet, and she goes, "You know, it's really funny, because when he met you on the street, he thought, 'He must be a nice, little chorus dancer. He's not very impressive.' And then he saw you onstage and was blown away." I am by nature a little bit shy and self-deprecating.
Stroud: Where do you think the self-deprecation comes from?
Gold: Probably from my mother, because she was always like, "Don't have an ego. Have great manners -- and don't be an asshole." So I always downplayed my achievements, because I like people, and I want people to like me.
Stroud: How did you get involved in ballet in the first place?
Gold: My mother didn't really know what to do with us children. I think she wanted us out of the house, so she enrolled me in ice skating, tennis lessons, arts and crafts, and then she took my sister to ballet. I remember going with my mother one time, watching, and I'm like, "That's amazing! I could do that." It wasn't something I thought about it; it was just something I had to do.
Stroud: How was it for you when you came out?
Gold: I never really came out. I feel very fortunate, because when I was 7, I was taken into Chicago for a role in this huge production of The Nutcracker. So from the age of 7, I was always surrounded by gay people, role models, beautiful men. I was very comfortable around it. It's not like I said to my parents, "I'm gay." They just sort of knew, and that was it.
Stroud: There's a belief that the ballet is a safe haven for gays.
Gold: It's so false. If you look at ballet companies now, I would say 75 percent of male dancers are heterosexual.
Stroud: Seventy-five percent?
Gold: It's a high percentage. Most people think they must all be gay. It's not like that. People are always shocked when I'm like, "They're all straight. Sad but true."
Stroud: Has being openly gay affected your career as a dancer and choreographer?
Gold: I don't think so. I've always just been myself. I think that if I can be the best person I can, who is caring and loving, then creative people are drawn to that more than my sexuality.
Stroud: How is your experience been moving through the gay world and the ballet world after your 20s?
Gold: I'm much more comfortable with myself being out of the 20s. I never feel like a person is formed until you're 25 and above. You need those years to find yourself. Ballet is a very young profession. You start 16, 17, 18, and for most people, it's over by the time they're 30. Most of us who are lucky -- if we have longevity and move up in the world -- we can end at 35 or 40. It's a very unforgiving profession, because it really is about shapes and lines and technique. Ballet is just... yeah, it's about that ideal of perfection. But I feel it's two different trajectories. With ballet, you have to let that go. But being a gay male, you just embrace your age even more as you get older. There are so many other things life has to offer: deeper relationships, friends, intelligence...
Stroud: Tell me a little bit about opening up the Tom Gold Dance Company.
Gold: So while I was at the company...
Stroud: "Company" meaning the New York City Ballet?
Gold: The New York City Ballet, yes. In 1998, I was at a cocktail party, and this woman came up to me and said, "I have this property in France. Would you like to bring a group and put on a performance?" So I said, "Sure," and it was really successful. I started doing my own choreography, because there were only so many Balanchine ballets, so many Robbins ballets, and so many Tharp ballets...
Stroud: Your next event is Dance From the Heart on Jan. 29, featuring the world premiere of your new work, Some Kind of Romance. Can you give us a sneak peek about what to expect?
Gold: This is an organization I've wanted to work with for a long time. When I was at the New York City Ballet, I was the chair of the New York City Ballet AIDS Walk for 10 years. I want to give back to the community. When the organizers of Dancers Responding to AIDS finally asked me if I would be a part of it, I said, "Of course!"
Stroud: What music are you using?
Gold: On iTunes I discovered this band called the Vitamin String Quartet, and I found their cover of Lady Gaga's "Bad Romance" -- and it's amazing! We start with "Paparazzi" and then go into "Poker Face" and then "Bad Romance," a suite. I should go into that restaurant that her parents own, Joanne Trattoria, and just say that I'm doing this AIDS benefit and I'm using your daughter's music -- I don't know -- because she's a big AIDS activist. Wouldn't that be amazing if she came and played?
Stroud: What else should people know in advance of the show?
Gold: The guys are in, like, nude bikinis with rhinestones. The girls have little dresses, because I wanted them to wear bikinis, but they were self-conscious about their bodies. I was like, "Are you kidding me? You guys are like this big" [holds up a finger and laughs].
Stroud: Sounds like a great way to make people who are not familiar with ballet more receptive.
Gold: That's what I like to do. So much of ballet has this stigma of being heteronormative and isolating and elitist and inaccessible. My whole goal with classical ballet -- because people are so scared of it -- is to entertain but also educate.
* * * * *
Dance From the Heart takes place Tuesday, Jan. 29 at 6:30 p.m. and 8:30 p.m. For more information, visit dradance.org/DFTH_2013.
Founded in 1991 by former Paul Taylor Dance Company members Denise Roberts Hurlin and Hernando Cortez, Dancers Responding to AIDS is a program of Broadway Cares/Equity Fights AIDS, one of the nation's leading industry-based, nonprofit AIDS fundraising and grant-making organizations. By drawing upon the talents, resources and generosity of the American theater and dance communities, since 1988 Broadway Cares has raised more than $195 million for essential services for people with AIDS and other critical illnesses across the United States.