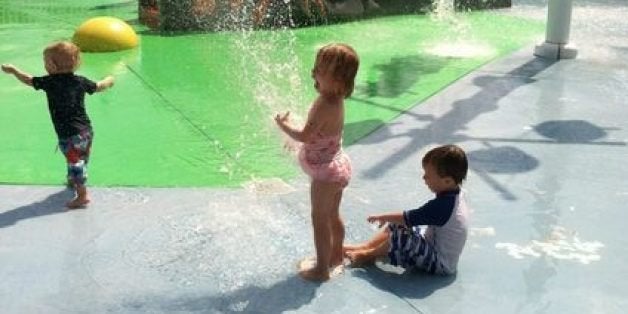 In 2013, I started a blog page. I felt really alone as a stay-at-home mom to three kids (4 and under), all of whom have delays and medical issues. I was and am beyond sleep deprived and wondered if anyone else was too.
This past year, I realized I am not alone in this journey.
We moved and the kids (and I) had a hard time adjusting.
Owen took his first steps and said his first word right before his 2nd birthday.
We had three EEG's, an EKG, CT scans, MRIs, two autism diagnoses, genetic testing, two surgeries, four sleep studies and way too many doctor appointments.
Aaron had a congenital eye mass that was surgically removed and inexplicably grew back. Waiting on the biopsy results was a nightmare. Thankfully it was cancer-free and the second eye mass (equally mysteriously) came out in his sleep.
I realized more with each passing day that my kids got their neurology from me and that we share the same sensory and social challenges.
There were a lot of long days, tears and meltdowns.
There were also plenty of belly laughs and firsts that we never took for granted.
I wrote a lot of blog posts. Many were never published or finished.
I had surgery in August and a really tough recovery.
I was reminded that life is precious when my daughter and I were in a serious car accident last month. She was randomly sitting in her twin brother's car seat in the middle row which saved her life. I felt thankful and angry at the same time.
There were friendships made and lost. Some people just can't handle everything we have going on and that's OK too.
I had about a thousand "me too" moments while talking to other friends, moms, autistic adults and reading so many great blogs and statuses.
I attended about 10 IEP meetings.
A lot of toys were thrown, things broken and my kids fought.
I lost my patience and apologized.
I promised to try harder. I'm a work in progress and a tired one at that.
Some days I gritted my teeth through bath time and counted the hours until my husband came home.
I also hugged my kids a million times and told them I loved them constantly.
We went to story time at the library and lasted five minutes.
Between my three kids, I changed about 5,000 diapers.
I fought insurance companies and the state we live in nearly every week for the things my kids needed. Sometimes daily.
Owen was diagnosed with asthma and a seizure disorder, and had an abnormal MRI.
The Walgreens pharmacist knows me by my car and doesn't need to ask our name.
People on my blog page who were strangers have become friends and family. Whoever said Internet friends aren't real friends was wrong. Sorry.
I shared things I could never imagine sharing with many people I have never even met which is not my personality at all.
I worried too much about anything and everything.
I perseverated on things when I should have been sleeping.
I spent many hours looking for lost items and forgot so many things.
I worried a lot about the toll sleeping two to three hours a night for four years has taken on my body.
I cried a lot because my kids deserve a mom who isn't tired all the time.
I was reminded that I am exactly the mom they need and that they are loved unconditionally.
We watched a lot of Mickey Mouse, Chuggington and Curious George.
We raised autism awareness, loudly, nearly every place we went.
My husband and I slept on the floor of our kids' rooms a lot and woke up with sore backs.
Aaron kissed me for the first time ever on Christmas Eve.
Scarlet and Aaron started special ed preschool for the first time ever.
We rode a lot of elevators.
Aaron pressed the fire alarm on many of those elevators and the call button on others. (I cancelled it before anyone came out)
We spent way too much on co-pays.
My husband and I argued about lack of money and whose turn it was to get up with whichever kid was waking up.
He also made me laugh at least once every day with the same sense of humor that I found funny when we were in ninth grade together.
Our marriage isn't perfect, but no one's is. We've been through a whole lot and are still standing strong.
I had a lot of moments where I felt like I could not take one more thing piled on.
Many times I felt guilty because people have it worse and I felt I had no right to complain.
I let guilt over needing help keep me from asking for help for more than four years; then the levee broke.
So I posted about our family's severe, unending, debilitating lack of sleep.
People responded in amazing ways:
A total stranger offered me their sky miles to fly someone in to help with the kids (we didn't take them up on it, but still).
A fellow blogger reached out to a local friend who reached out to me. Thanks to that, I made an amazing friend who has come over to visit and become like a part of the family.
An extremely generous mom on my page bought Owen a weighted blanket and sent it to me.
People took time out of their busy lives to send me suggestions, offer support and an ear to listen.
Another incredible friend wanted to start a GoFundMe to help with our medical debt (we didn't do it, but the fact that she wanted to meant so much).
Another amazingly selfless mom is making my two older kids weighted blankets and won't accept any payment.
A blogger who was a stranger is now someone I tell nearly everything to, whether she likes it or not.
The Internet can be a funny place. People can be ruthless behind an anonymous screen. They can also be incredibly generous and kind.
I am thankful to the friends who still call and text and try to include me, even if I can't usually come to dinner or wherever. It still feels good to be asked.
I have learned so much from veteran moms of autistic kids and other autistic parents and adults.
So even in the midst of such a challenging and exhausting year, I have a lot of blessings to count. My kids are amazing and I am really thankful.
Autism is amazing, overwhelming, all-encompassing and it's our messy, perfectly imperfect life.
In all seriousness though, I would be cool with more sleep in 2014.