Searching for new music, and finding new music blogs, just got a lot more awesome. Shuffler.FM, which launched August 17th 2010, launched a new version this week with updated functionality and 1,000 new music blogs worth of sweet tunes. The site works by allowing users to pick channels like "Electronic," "Lo-Fi," or "Indie" and then surfs through over 2,600 global music blogs. Similar to a Pandora or StumbleUpon for the music blogosphere, the service not only helps users discover new music, but also drives targeted traffic to deserving music blogs. Win-Win.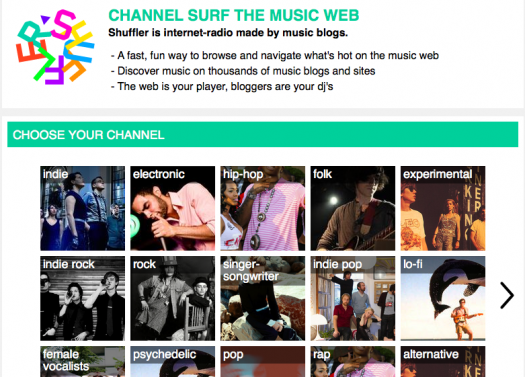 "We wanted to show off the quality of all the sites out there. We wanted to make it visual and put them in the spot light," says co-founder Tim Heineke.
Using Shuffler.FM is easy: simply go to the website and pick your channel for an instant jam session. The drop down channel menu remains in the top left corner in case MGMT's Flash Delirium becomes a little too much at 11am. (Switching to Indie Rock now.) It's also easy to skip songs, go back to songs and "like" or share a song via Twitter, Facebook and e-mail. They've also created blog channels so when a user lands on a blog or site they enjoy, they can surf just through that page. Check out the internal blog shuffling here.
Shuffler uses Last.fm's API to assign genres to songs and music bloggers can submit their sites via e-mail at we@tone.fm. Currently, Shuffler adds over 1,000 tracks a day to its repertoire. The site's new functionality supports both SoundCloud and YouTube, which has tripled the amount of available tracks. And as an added bonus, unlike HypeMachine, Shuffler.FM doesn't cache songs. The Alpha version is currently free to use but Heineke says they will play around with different payment models (including adding advertising) with the release of an iPhone and iPad app in the not-so-distant future.
Shuffler.FM is an Amsterdam based start-up with 5 co-founders, who are self-described "music technologists." There are three developers, a designer and Heineke. Previous to Shuffler.FM, Heineke and friends founded Twones, a plug-in that acted like a Friendfeed for music. "It did too many things," says Heineke, "And it never did one thing very well."
Amsterdam is a city of advertising agencies with a small, but growing start-up scene. But despite its Cannabis Cup, its vibrant bike scene and spring time Tulip fields, we got the feeling that Heineke and his friends are hoping to make the jump across the pond soon and expand business in New York's Silicon Alley. Or maybe they just want to bike around Brooklyn in the autumn time. The team, who has "bootstrapped it till here" is also in the mood for some funding.