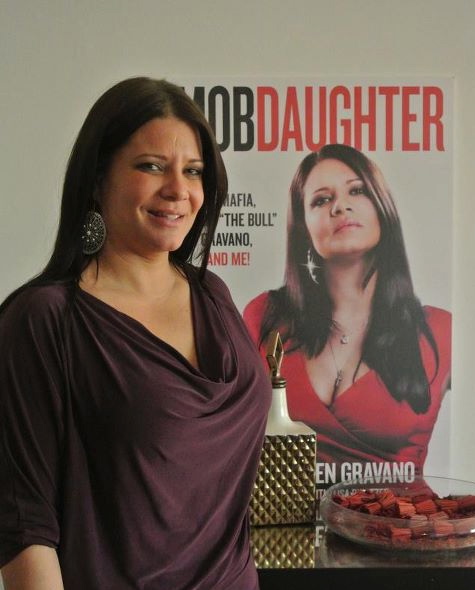 Like so many, I am a fan of VH1's breakout hit, Mob Wives. As a New York born and bred kid, for me it's less about some Mob fascination and more about a grittier -- and perhaps more genuine -- version of other reality shows revolving around women. So while I love me some RHOBH, I get more laughs out of these buck wild Staten Island women. Karen Gravano, daughter of the infamous Sammy The Bull, recently came out with a book, co-written by Lisa Pulitzer called Mob Daughter. On a trip last week to Miami, it proved to be perfect beach reading. Really? Yeah, really! This is not a book about the mob -- this isn't really even a book about Gravano's uber-famous underboss father. This is about a family, plain and simple. It's also about how Karen dealt with her own identity and found her way after the family was ripped apart following her father's cooperation with the government. To a certain degree, she is still finding her way. I was surprised at how human the story was and I wanted to meet her. And so a meeting was arranged and I set off for Staten Island yesterday morning to Karen Gravano's apartment to talk about her life, her family, her book, her home and all those crazy bitches!
When Karen opened the door, I was met with a petite brunette with flawless skin and a mellow persona. I found her to be cordial and polite and not a whole lot like her on screen persona. But, in less than a half hour we were shooting the breeze, laughing and cursing like sailors. Oh, thank God! As we sat down on her ginormous red couch and settled in, we spent a lot of time talking about how she dealt with her father's decision to testify against the mob and how it affected her life. "My whole life I was Sammy The Bull's daughter. That was my identity." While she certainly has a strong personality, it is clear that going from being the daughter of a mob big wig to being labeled the daughter of a mob rat (a term which she loathes) was understandably a difficult cross to bear. That said, she told me that her family was always treated fairly and, in spite of being socially ostracized by some, "We were never held accountable for my father's actions."
When I asked her why she wrote the book, she told me it was about telling her story and not from just the angle of a "gangster story." I think you will be surprised by this story and perhaps empathetic to Karen Gravano. This is the story of a daughter's struggle to come to terms with her life at home and the image the public only knows as a murderous mafioso. To most, Sammy The Bull is a criminal, a murderer and a ruthless gangster. But, to her this is her father. A father who loves her and still maintains an active relationship with her today from prison. We also talked about her daughter Karina, whom she hopes to bring back to Staten Island in the near future. Her face lights up when she speaks of her, much like any other mother who adores her little girl. As she spoke of her brother, nephew and mother I forgot who I was talking to, and we were just two girls shooting the shit about our families.
There was no way I was getting out of there without dishing about Mob Wives. When I asked her if all the brouhaha on the show was legit or trumped up for the cameras, it became pretty clear those fights are real. Make no mistake, Karen and Drita are not secret friends off camera. Furthermore, Karen is still pissed off Drita says she put her in the hospital, a fact which Gravano vehemently denies and showed me the paperwork from the hospitals to prove it. How the hell did I get smack dab in the middle of that one I have no idea, but it was hilarious! The girl's got the paperwork and I saw it. I even have the photos to prove it ... and just like that, as if the Reality TV Gods were reading my mind, Karen's BFF Ramona appeared from the other room all white teeth and big Chanel sunglasses. I was in heaven! These two really are very good friends and it was obvious from the moment Karen yelled affectionately, "Ramona, come the fuck out of the room you fucking bitch!" Ramona told me she was on her way to work but stayed a few minutes to chat and I found her to be very nice, well spoken and bright. I would venture to say she has Karen's back any day of the week and twice on Sunday. All I have to say is expect the drama to continue on camera ... you'll see.
After Ramona left, Karen and I sat talking about her apartment and her style and her home back in Arizona. We talked about barbecues and celebrity status and how we could update her dining room. In spite of her on screen brawls and her father's infamous crimes, at the end of the day she's a daughter, a sister and a mother.
And she will always be a Mob Daughter. It's just who she is.
XO
Courtney
Check your local TV listings and magazines for more of Celeb Designer, Courtney Cachet's style ideas and tips! You can catch her frequent appearances nationwide on TV, where she dishes out all the latest in celebrity home and lifestyle! Keep up with her on www.courtneycachet.com or Facebook and join the conversation!