As a decorator to the rich, the famous and often eccentric I swear I've heard it all. I've been asked to decorate around a painting, a chandelier, a pet dog and even a chair. This month marks a first. I was asked to decorate around a writer. A writer, you say? Yes, but not just any writer!
I was asked to revamp a little boy's room in a day around his favorite books by Dr. Seuss. Since Dr. Seuss is everywhere right now celebrating 75 years of story telling I could be on to something. Maybe... let's see. Boys' bedrooms are never at the top of the "Must Decorate Now" list, but after taking a look at the Dr. Seuss Collection at Pottery Barn Kids, I thought I'd give it a whirl! It's playful and classic and had great primary colors. Plus, I love to read too, so off to Pottery Barn Kids I went! The collection features bedding, bath and tons of accessories. Well priced from $15 to a couple of hundred, it was a no-brainer. Even though I went with a theme which is usually a Cachet No-No, I kept it simple and clean and versatile. I also liked the fact there were tons of accessories in the collection, so you could achieve the look with a little or a lot. Smart and the outcome was fabulous!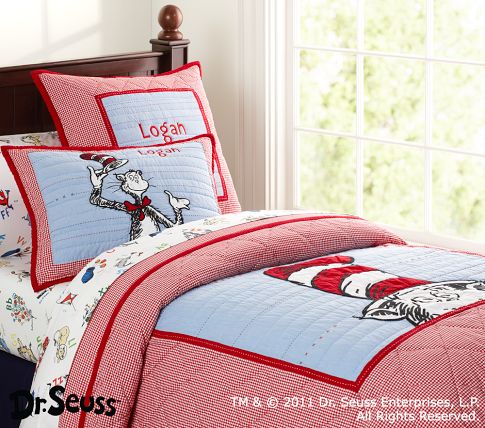 Here's what we did. We primed and painted (including ceilings) a shade called Honest Blue from Sherwin Williams that I matched from the bedding. Matching and going a shade lighter is how I do it. The room was 12x12 with little architectural details so painting the ceiling just pulled it altogether.
Don't worry about working in a small space, just keep it simple. I got the Thomas bed and dresser from Pottery Barn Kids. Sturdy quality and very boyish with an old school WASPy feel, they're definitely pieces the family will have for awhile. Then we added the Dr.Seuss bedding, a red and blue striped rug, a red valance and a few accessories. You could have a lot of personalization done on the bedding, which I loved also!
Throw in some toy bins and a cute red lamp and that's a wrap! Who knew Dr. Seuss could be so fab? The family loved it. But, what I think they'll really love about it is even when they get bored of the look, the basic pieces we gave them are so versatile they can work around them for awhile. Let's break it down. We purchased the Thomas bed and dresser. We added the Colin rug, valance, quilt, sheets and the shams for a full size bed. We found red bins and a lamp in another room in the house, so those were free. Without the furniture, we spent $596.49 which is a great deal! By adding the furniture, we added $1,848 to our bill. Still awesome pricing for an entire room!
Here are my 3 Tips For Decorating a Little Boy's Room:
1. Pick a Theme. While I am not big on themes, they work here. Whether your theme is a sport or a superhero, let that be your starting point. Find one piece and use it as your inspiration. Personal collections can inspire a decorating framework, as can a cherished object like a souvenir baseball.
2. Choose a Basic Color Scheme. For our room, we chose light blue, red and white. This worked well withour theme, but will also work looking ahead. Lighter and brighter colors are best for kid's rooms. Think happy, cheerful with lots of color!
3. Make It Adaptable. Kids are fickle. Today's superhero can become as stale in the same way last season's Prada does to us.Trust me. Make your theme lend itself in bedding and accessories rather than wall murals and expensive pieces.
And as this wise man once said, "Today you are You, that is truer than true. There is no one alive who is Youer than You."
Words to live by. Rock on Dr. Seuss. Rock on.
Check your local TV listings for more of Celeb Designer, Courtney Cachet's style ideas and tips! You can catch her frequent appearances nationwide on TV, where she dishes out all the latest in celebrity home and lifestyle! Keep up with her on www.courtneycachet.com or Facebook and join the conversation!