Since the beginning of the MTV Jersey Shore era, I've been documenting the "house tours" along with a design critique. After Seaside Heights, Miami and Italy, I thought I had seen it all. But, then along came Snooki & JWOWW, MTV's latest spinoff of the mega-moneymaking franchise. In case you tragically missed the premiere episode last night, I didn't want you to miss out on how these young women live. This season, they depart their usual beach house digs for a converted firehouse in Jersey City. Sounds good, actually even a little chic! I'm thinking industrial cool a la Real World Seattle days, right? Yeah, not so much. But really, you must take a peek.
So, thanks to my friends at MTV, you won't miss out. Let's step inside for a moment, shall we?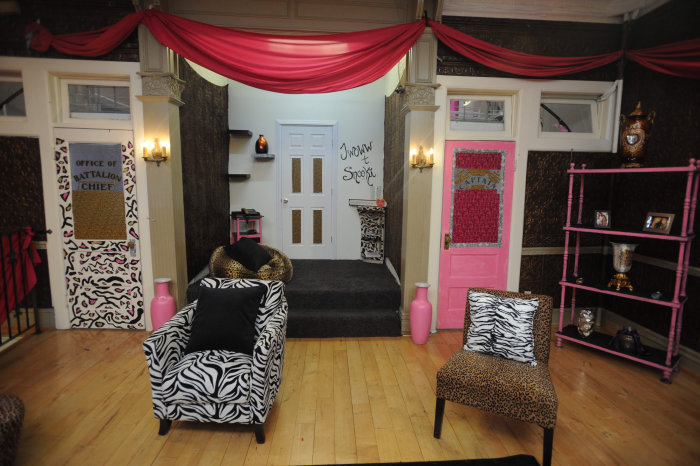 Wow. Where to begin? It feels like the Bronx Zoo threw up on a Forever 21. The pink, the multiple animal prints in what is most certainly some variation of chenille or poly blend is just too much. The magenta fabric swooped across the room is puzzling -- and is that a Sevres reproduction on that shelf thing? Oh my, I feel faint. The saving grace here is the leopard slipper chair. On its own it would be fine. A girl can dream, can't she? May I speak to the captain?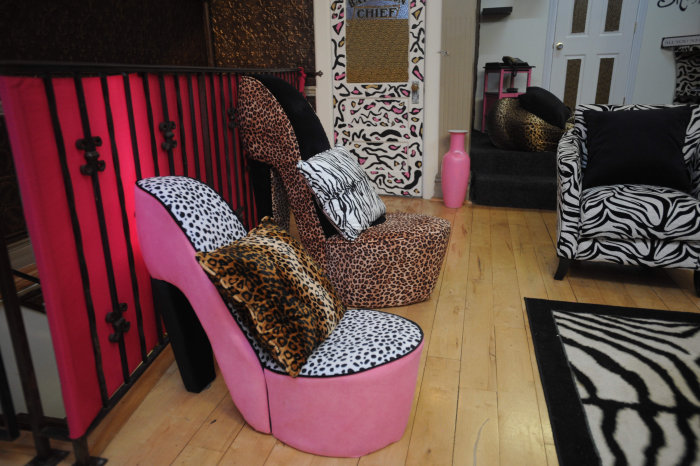 But wait, there's more! Check out the custom seating, where Snooki can rest her tired and pregnant self after a long day of whatever it is she does. Ah, yes! I have always longed for a chair that looks like stripper's footwear! I wish I could say it was mod or fun or young, but sadly I cannot. I'd rather see a Bob's recliner in there than this pair of stiletto horrors. Just a side note -- don't you think those pillows come with stuffed animals in some zippered pocket? Totally.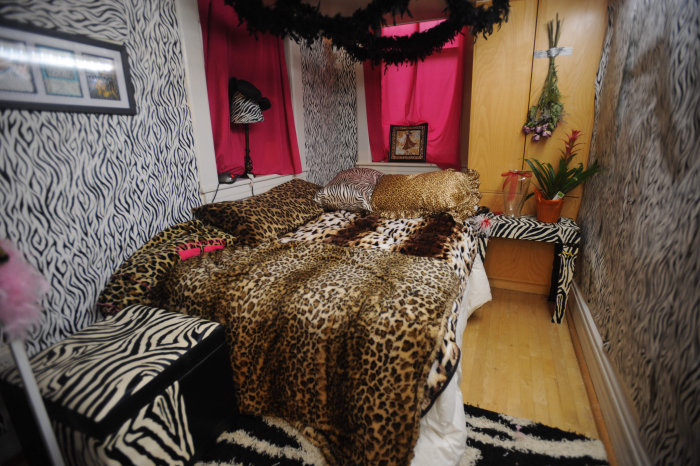 Okay, time for Snooki's boudoir. This is a good time to go grab a drink. Well, so much for pampering yourself in serene surroundings to nurture the body and soul when expecting your first child. Yeah. I guess Jionni (Snooki's fiancé) wanted her to keep things sexy during the pregnancy. Ooh, sexy. Sexy like a room at The Bunny Ranch. I feel like Air Force Amy from Cathouse is going to jump out of the closet any minute. The sheet-as-a-curtain look is definitely a recurring offender throughout all the Jersey Shore abodes. The peeling wallpaper distracts you from the $10 lamp on the windowsill. The feather boa, the end tables and the pillows all trump the upside-down dried flower arrangement attached to the wall. Wait, is that duct tape? Perhaps they were a moment of her first due with the baby daddy? Aww!
Call me crazy, but this kid might be born thinking it's going to grow up in the jungle. Maybe they'll let me decorate the nursery. Stay tuned!
For more of Snooki and JWOWW's inspiring lives and fascinating decorating choices, you can tune in to Snooki & JWOWW MTV on Thursdays at 10p.m.
XO
Courtney
Check your local TV listings for more of Celebrity Designer, Courtney Cachet's style ideas and tips! You can catch her frequent appearances nationwide on TV, where she dishes out all the latest in celebrity home and lifestyle! Keep up with her on www.courtneycachet.com or Facebook and join the conversation!