I accidentally started a blog two years ago. It wasn't intentional, and at first, I didn't think anyone would read it. I was right. However, it was a great outlet for me. After a few months of writing on my blog, the 10 to 30 people who read my words said, "Wow! You're a good writer! You should write a book!"
In time, I researched blogging. I studied and did the things they said to do. I joined Twitter, Blog Her, SITS, Tumblr and moved my blog to a self-hosted site. I created a Facebook page and even had 50 people follow it. I spent a lot of time reading blogs and commenting on others. I did what I was told by the experts, but still didn't have many readers. I applied for writing jobs and submitted essays to various places for publication. I heard lots of silence and "No" a lot. One editor said that my writing was too personal. I was not interesting to the public, so let her know when I changed my style.
I was just about to hang up my hat and decide that I wasn't a writer that anyone would read when a tiny incident changed everything. A blogging friend added me to a Facebook group. I don't remember why she offered it to me, but she did. In this group were writers and bloggers of all types. The writers in this group ranged from the known to the unknown.
At first, I just watched the group from afar and interacted very little. I felt inferior and would have left, except I wanted to learn from these successful women. One writer wrote a book and looked for bloggers to promote it. I raised my blogging hand and a few days later, her book appeared in my mailbox. We all worked together to promote her book, which also built my blog following. I worked with these writers many times to promote other books and do giveaways. While all of these things built my following, that is not where my tribe became the most important part of pursuing my writing dreams.
A few months after getting added to this group, my life turned upside down. My husband was diagnosed with cancer. Not just cancer, but this rare form of cancer that he had NO ODDS of beating. I wanted to disappear. My heart was broken and I knew my life would never be normal again. I figured it was time to officially give up my dreams: I had a husband fighting cancer, a son with autism and a daughter who needed me.
Writing about my feelings helped keep me going, which is why I didn't quit. Then, an online parenting magazine found a piece I wrote and asked to feature it. I asked my Facebook group if they could help promote it, since I had a small following and wanted to impress the editor. That is when they learned about my husband's illness.
Within a few days, the ladies were messaging me about what I needed. They wanted to know if I needed guest posts or if they could recommend me to their readers. I don't know if I even responded since I was so overwhelmed with this illness, my son's autism and my returning to work. However, my readership grew and all I had to do was write and post, when I could.
One day, we received a box from an unknown address. Inside were toys for the kids, candy and a very generous gift card, which we used to have fun on the days Scott felt well enough to live. I was in shock.
As my husband's illness progressed, these ladies continued to promote my writing and encourage different endeavors, even though I gave them little in return. (Don't get me wrong, I tried to help them out; I just didn't have the resources they did.) They were my tribe, my writing friends, who wanted to help one of their own. They didn't care that my following was in the hundreds and they were in the thousands or hundred thousands. They believed in me, even when my life was in shambles.
When Scott spent most of July in the hospital, they sent a gift card for a dinner at a gluten-free restaurant close to the hospital. They also sent flowers. When those flowers died, they sent more. They sent cards and love. With every gesture, I was deeply touched.
This past August, when my husband's body finally gave up, despite his HARD fight and determination to live, I broke. I cried and was completely terrified. He had the good job. He had the insurance. He had my heart. He was gone and I was afraid.
These women, on their own, found my mom. She shared with them my fears and they did what they do best: They gathered their resources and tried to show me that I wasn't alone. They raised enough money to pay off my husband's medical bills, his funeral and enough to pay for our insurance for another year.
Since his passing, these writers have offered me so much love and support, personally and professionally. If I have a question about writing; I ask my tribe. If I have a question about parenting; I ask my tribe. If I need to know if my reaction to a real life situation is crazy; I ask them for validation or support. (They even let me know when I am thinking crazy thoughts.)
We are a real group that shatters the jealous women stereotype. There's no gossip, no jealousy, and no competition among the members. If we notice theft, we work together to have the wrong made right. If we need a sounding board for weird ideas, we give our honest opinions. We read each other's writing and promote each other as much as possible. Every share and compliment is genuine from the members involved. There's no stopping this strong-willed group of writers.
They've recommended writing jobs and showed me countless writing opportunities. They've supported my quest to get published. They told me to submit to the anthology, I Just Want to Be Alone, which will contain an essay I wrote. Many of these women make money off their blog, their writing, have self-published books and some have contracts with publishers. They appear on TV, write for NickMom, and have conquered many other amazing feats. Now, they're putting on a conference with the intention to connect bloggers with each other. This conference is called The Blog University Conference (BlogU).
As crazy as it sounds, my life changed when I connected with these women through blogging and writing. Together, we build each other up and supply resources. The support is real, and helps us each move forward with our own endeavors. We celebrate the good, and send words of encouragement through the bad times. I would have given up writing, my blog and trying to pursue my lifelong dream of getting published if it wasn't for my blogging tribe.
If you're a blogger/writer, whether you're big or small, you should come to BlogU this June to learn how to be better. Most importantly, you can meet and connect with other writers and bloggers. Once you find your tribe, you'll learn that anything is possible.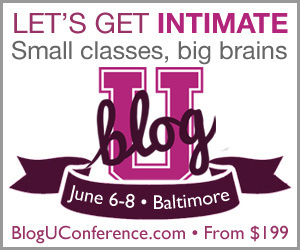 This post is part of a series produced in partnership with BlogU and The Huffington Post for the upcoming BlogU conference in Baltimore, MD, this June 6-8, 2014. For more information and to register go to http://bloguconference.com.