New York-based artist/photographer
Adrian Wilson transformed his chic LES storefront
(151 Ludlow) into a "Jeremy Scott Free Inspiration Gallery (or copying if you do the same to them)."
On Wednesday, May 18th, an eclectic group of New Yorkers gathered at Wilson's 151 Ludlow Street estate for The Fashion Law "Fashion vs. Street Art" event.

The event was held to prompt discussion about "what legal protection for graffiti means for the fashion and art worlds." The discussion, led by The Fashion Law Editor-In-Chief Julie Zerbo, included New York-based artist/photographer Adrian Wilson (Gallery Owner), a graffiti artist and Eriq Gardner, a Senior Editor at The Hollywood Reporter.
The need for this conversation was sparked by the onslaught of copyright allegations faced by beloved designer Jeremy Scott.
If you are not up to date on the case, here is a summary:
On the heels of settling a copyright infringement lawsuit with famed graphic designer, Jimbo Phillips a few seasons ago, designer Jeremy Scott was been slapped with yet another infringement lawsuit. This time, Scott and Italian design house Moschino are on the receiving end of a lawsuit filed by Joseph Tierney, the street artist referred to as "RIME", in connection with more alleged copying by Scott, who serves as the creative director for Moschino and his own eponymous label.
True Crime:
Via the fire escape (pictured above), Eriq Gardner, Senior Editor at The Hollywood Reporter addressed the crowd with his analysis on the latest developments in the pending litigation:
The defendants are making a new argument that artistic works that are the product of illegal conduct are not entitled to copyright protection. Summary judgment papers (read here) open with discussion of the famous murder:

"As one of the greatest unsolved mysteries in Los Angeles history, the Black Dahlia murder continues to stir the public imagination and, in this case, provides a useful illustration of the most essential thing Plaintiff is lacking: a valid copyright," writes attorney John Tehranian. "The Black Dahlia's killer was, no doubt, a felon. But was he also a valuable copyright holder as a result of his illegal activities?"

Tehranian explains that Black Dahlia's murderer hacked up the bodies of his victim in "a particularly original and artistic way" and suggests it would be ludicrous if "photographs of the killer's criminal handiwork" set off a copyright infringement lawsuit from that murderer.
Eriq Gardner's article "A Famous Murder Mystery Comes Up in Graffiti Artist's Lawsuit Over Katy Perry's Met Gala Dress" is available in its entirety at The Hollywood Reporter website.

"Question Everything" - Adrian Wilson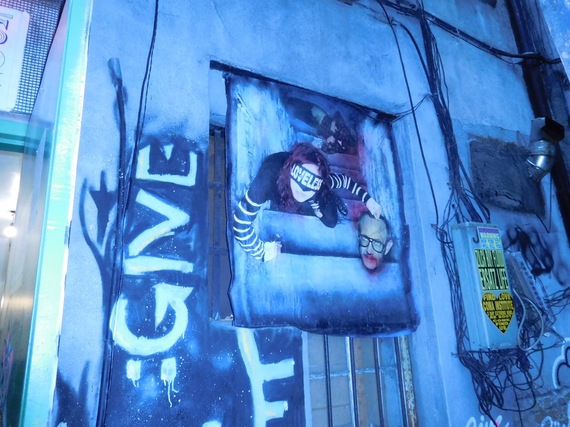 Justice for Terry Richardson by FLOODCLUB. This art is one of many works visitors will find in Adrian Wilson's graffiti-doused LES outdoor garden. The garden is the backyard of the storefront property, currently known as the "Jeremy Scott Free Inspiration Gallery"
Teaching America's youth to like or dislike things based on their own opinion and conclusions instead of taking up the stance of their peers to fit in is very important. Adrian Wilson, the gallery owner, aims to get people thinking about why they do and say the things they do. For example, he shared with me a story about his son coming home from school saying he did not like a former president. He asked his son why to see if he had formulated his own opinion or just repeated what he heard others say. I enjoy asking people why they hate the Kardashians for the same reason. This interview with Gallery Owner, Adrian Wilson is a great read.
More informative and entertaining news about the intersection of law and Hollywood: Be sure to follow The Fashion Law (@TheFashionLaw) and THR Esq. @THREsq. Follow the gallery owner, Adrian Wilson, on Instagram. For more The Hollywood Reporter articles by Eriq Gardner, start with "Why Hollywood Should Pay Attention to Biometric Privacy" The article explores potential legal issues relating to face-scanning technology, such as the Isreali app "Shakash" which is essentially a Shazam for celebrities on your TV screen.