Texans know a thing or two about entertaining. They plan big, they pull out the stops. The annual Kappa Kappa Gamma Tablescapes Charity Luncheon in Dallas inspires entertainers and hosts with fresh ideas before holiday season commences. I will share with you some creative ideas from this year's event, table setting tips AND five entertaining pointers from Alex Hitz, the keynote speaker.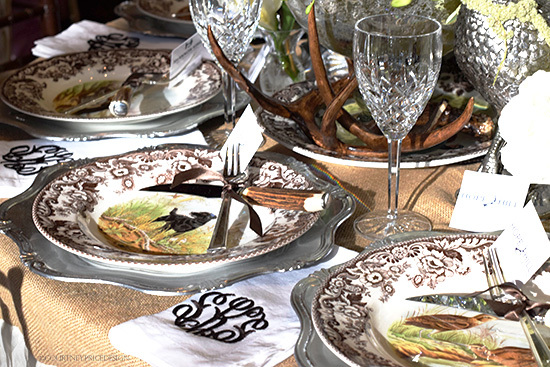 TIP: Be creative with the silverware, think outside the standard table setting. These horn handled knives enhance winter holiday theme, and the forks serve as place card holders. Brilliant. The crossover on the plate frees space between plates to highlight the monograms on the napkins, giving every element of this table it's visual weight.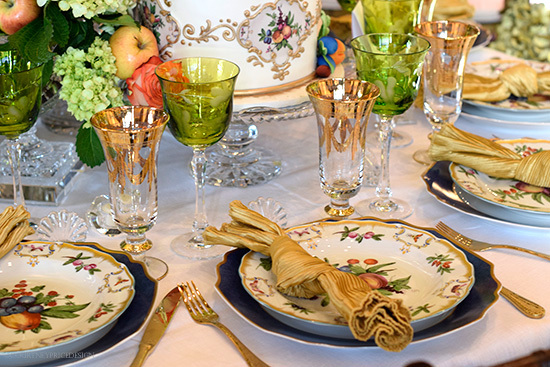 Tip: Be creative with the napkins. These knotted napkins add an eye catching visual twist to the table.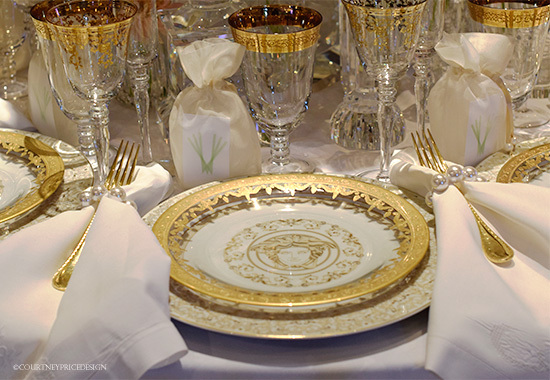 Tip: The pearl napkin rings add appropriate bling to any Versace look.
Tip: Tucking the forks into the napkin rings introduces the forks into the table design, cleverly continuing the gold and white theme around the table.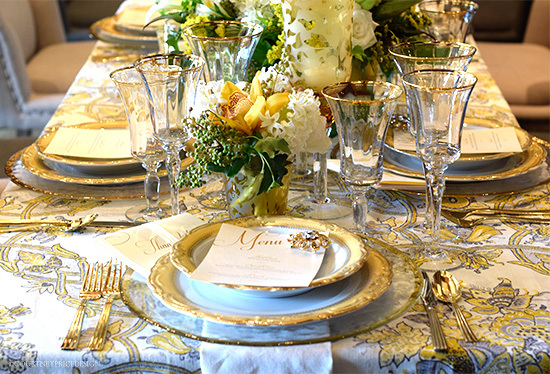 Tip: Let your menus be part of the table design.
Tip: Weight them down with an unexpected object. These menus are bejeweled by what likely came from a high-end passamentarie store.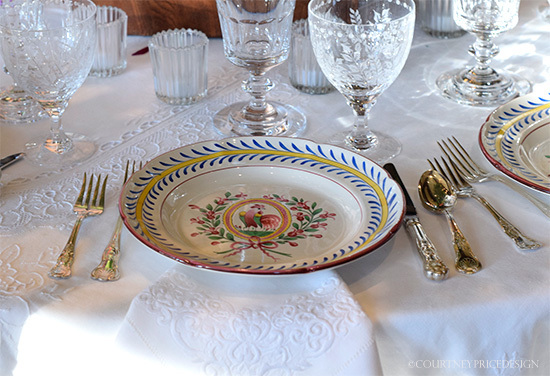 Tip: Classic linens, china, silver and crystal will always maintain their charm.
Tip: Napkins under the plates make the overall look of the table less fussy.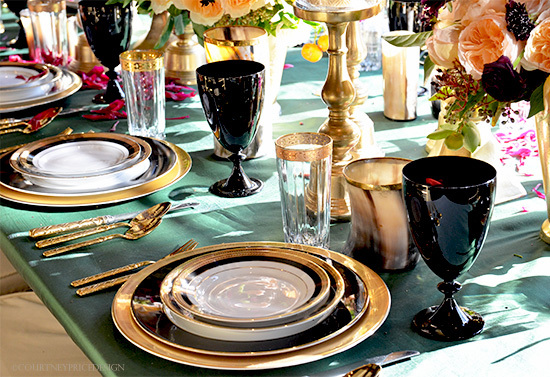 Tip: - This table cloth is actually wrapped around the table.
Tip: Scattered flower petals from the arrangement have become a design element.
Tip: If you are planning table design around two strong colors, consider incorporating a mid-tone. The handsome use of black and gold incorporates the mid tone of horn to blend the look. Very handsome overall, this one appears to be more casually constructed than it actually is.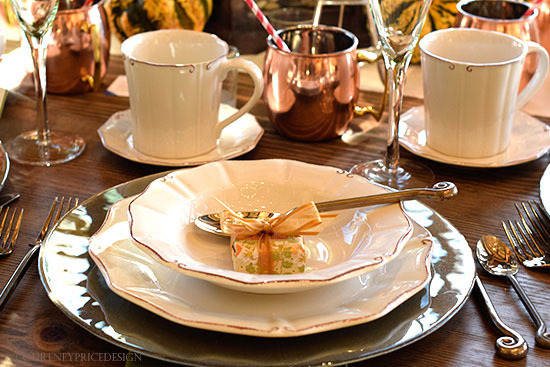 Tip: Something about the small gift for each guest will make everybody feel welcome.
Tip: The copper mule cups are on trend- if they factor into your menu, consider making them part of the table decor. They look fantastic on this table, helping to set the expectations of a good time ahead for arriving guests.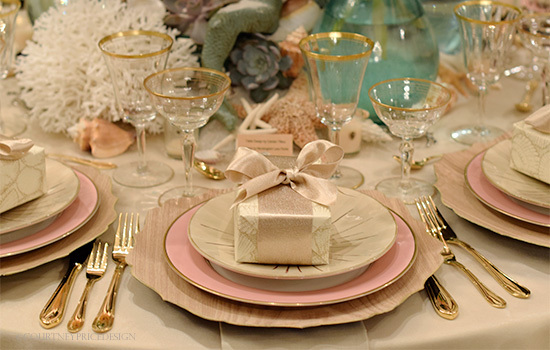 Tip: The gift can become the prominent part of the overall table design, as shown here.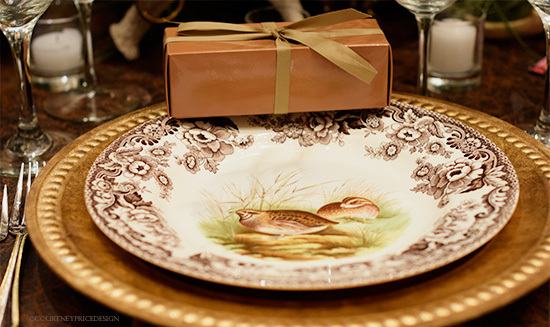 Tip: To offset the gift sends an entirely different message, a bit more subtle. In this case, also keeping the plate design from being covered.
Tip: Gifts with name tags offer a nice opportunity to assign seating.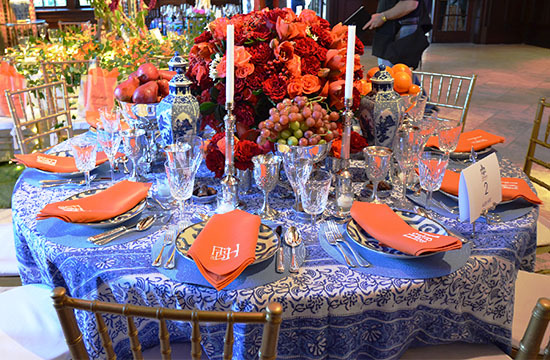 Tip: Whatever you love to collect the most, USE IT when you entertain. This beautiful table incorporates blue & white, Christolfe Silver, Leontine Linens napkins, and stunning flower and fruit arrangements by Dallas' Fleurt Flowers.
Tip: Don't be afraid of color. White linen napkins would have been nice, but the orange monogrammed napkins make this table design POP. Complementary contrast color schemes can be powerful.
Tip: Bold monograms make a beautiful statement...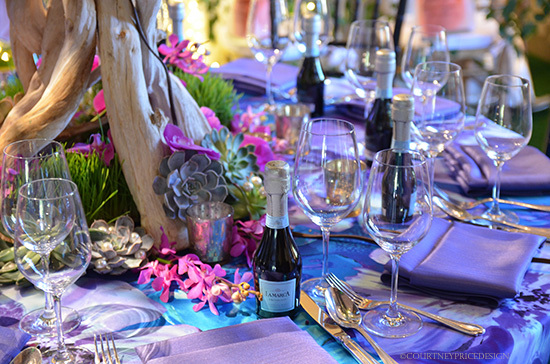 Tip: Try an analogous color scheme. This table had a bold, yet soothing feel to it. Have fun with color.
Tip: Experiment with flowers beyond the vase. Note how these orchids and succulents are just placed into the centerpiece and flat onto the table.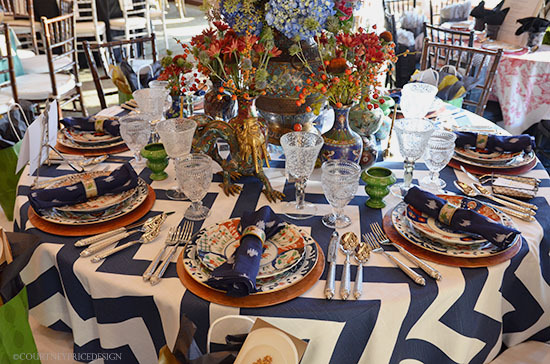 Tip: Anyone on pinterest knows that the chevron pattern is hot. Think beyond readymade tablecloths - have one made out of your favorite patterm. Bold and trendy patterns can liven up an otherwise traditional table.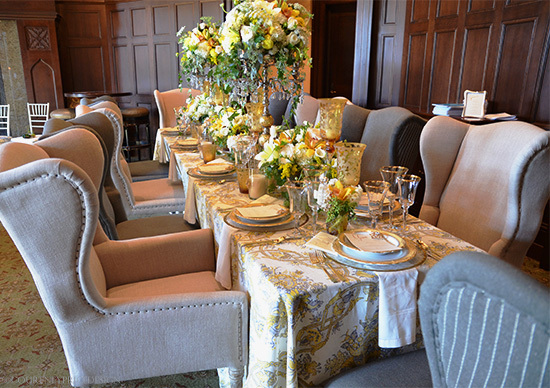 Tip: Experiment with different seating options, nobody ever said that every chair had to match- take a look around your home and see what might add interest to your table. At this table, every seat gets a "head of the table" chair, giving this meal a powerful vibe.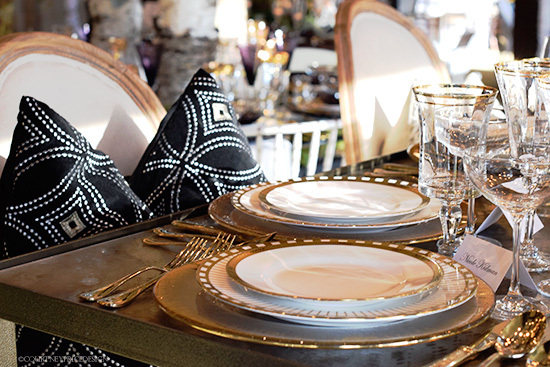 Tip: consider the comfort of your guests. If you know a guest has back issues, offer them a pillow for lumbar support.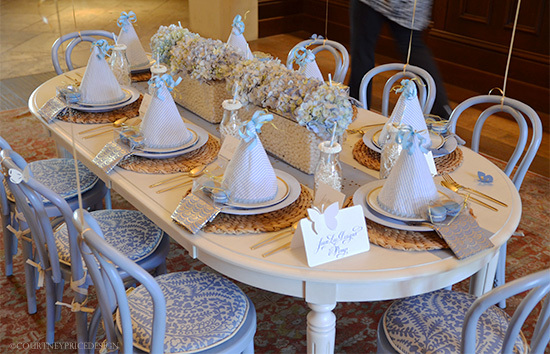 Tip: Give the young ones VIP status at your holiday parties. This charming table would make sitting at the adult table feel like the back in the day "card table" punishment- designed by a Dallas company named POMP, which specializes in children's events, making everybody want to be a kid again.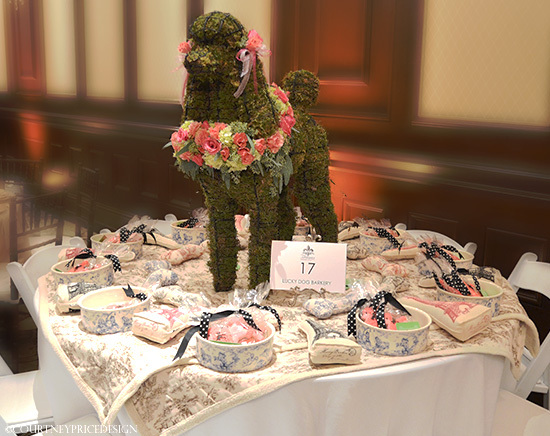 Tip: If you have a guest list of animal lovers coming over for the holidays, or entertain in a pet friendly environment, this table by Lucky Dog Barkery inspires lovely ways to remember the four legged children.
Tip: Topiaries aren't just for outdoors, they can make brilliant centerpieces for any surface (even a sideboard, entry table or chest elsewhere in the house).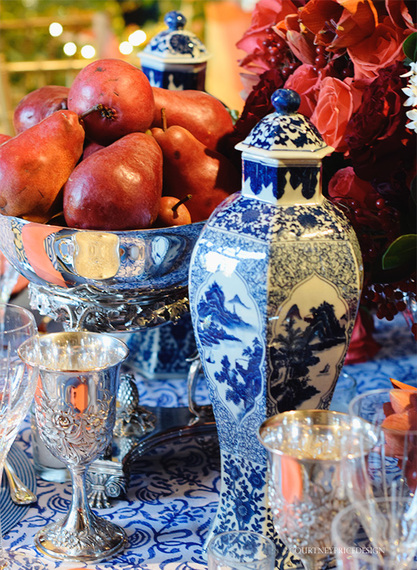 Tip: Seasonal Fruit and Vegetables create elegant design components. This table had different fruit around the table, at a level slightly lower than the centerpiece. The fruit transformed the table into a still life - by Dallas based Fleurt Flowers.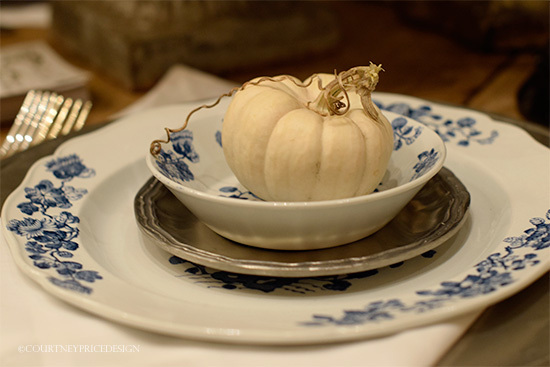 Tip: You know those fall gourds that people buy and then struggle to arrange into centerpieces? Sometimes less is more. Try decorating each place setting with one. These mini pumpkins are perfect for Thanksgiving. Not just for the centerpiece...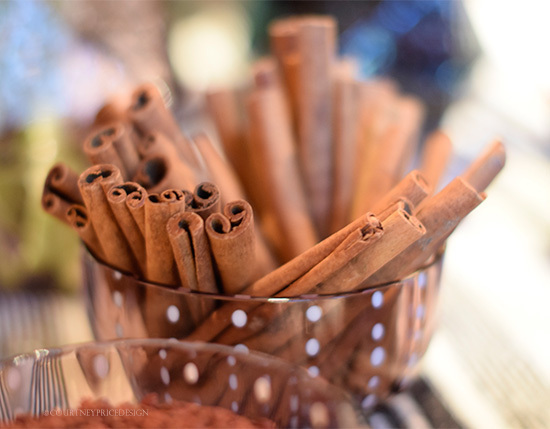 Tip: Use seasonal spices and put your beautiful dishes to work in creative ways. These dishes were casually placed around the table, giving this table scape a distinctly seasonal feel and holiday aroma. Fleurt Flowers again.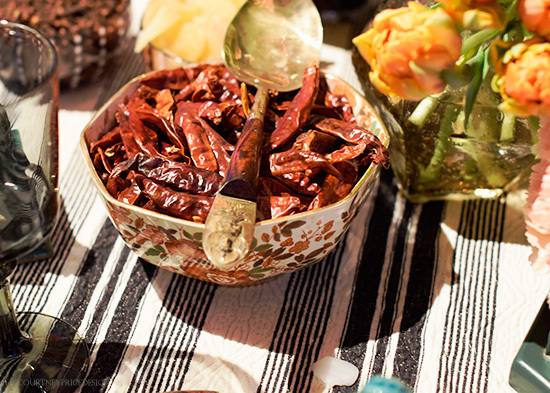 Tip: Think like a food stylist. What ingredients will be in your meal? Consider incorporating interesting ingredients or related regional elements into your table design. It will fuel the anticipation and conversation of your guests.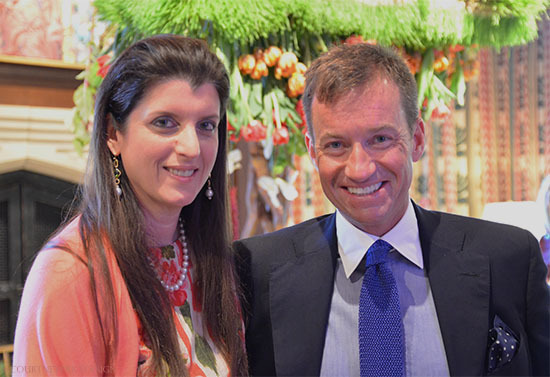 Claire Schlumberger Henry & Alex Hitz
The master of entertaining, Alex Hitz, was the Tablescapes Keynote Speaker this year - sharing his years of culture, fine food and entertaining with the audience. He left everybody with some sage pointers on being a good host:
ALEX'S 5 WAYS TO ENTERTAIN WELL:
1) Never skimp on anything. Whether you serve frozen pizza, fried chicken, or caviar, make sure it's the best of whatever it is. Everybody, especially finicky children who grow up to be foodies, can tell the difference.
2) When entertaining, make a schedule and stick to it. Serve dinner on time, and don't wait on anybody. Remember, if people are late, that's their problem, not yours. Just think of what all they've missed!
3) When you entertain, make an effort, a huge effort even. Sweat the small stuff. Take that extra step, and get all the details JUST right, BUT: do it BEFORE those guests arrive. Please do not be fussing around in the kitchen, making everybody nervous. Parties are first and foremost about the people, and THEN the food and everything else. Never stop smiling , because, nobody, trust me here, NOBODY wants to see you freaking out in a cold sweat, yelling or running around popping Xanax!
4) Don't be pretentious. Stay authentic and keep it simple, and of excellent quality. Simpler is always better. I guarantee if you do this, you'll be admired time after time for your fine hand as a host or hostess.
5) If all else fails, call up a great local restaurant and book a table.
Do you love food and entertaining? So Do I. Follow my blog for more of both: www.CourtneyPrice.com