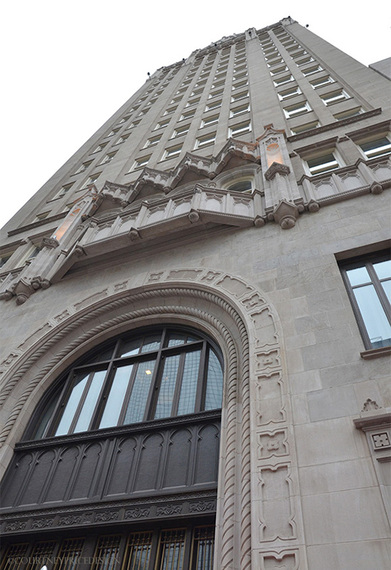 Every now and then, you encounter a hotel that is such a creative escape that it makes you rethink the "safe" measures you have taken in your home design and environment. To go check in to a detail oriented creative escape makes for a nice shift of the mind, activating your own creative genius by way of clever surroundings. For this very reason, I have a fascination of what interesting boutique hotels have to offer. It inspires me to stay outside of the box in residential design. The Joule Hotel is pretty incredible in this way, owned by Headington Companies, it is a noteworthy Dallas destination that is full of creative surprises and inspiration. Located in the heart of downtown Dallas on the same block as the nation's first ever Neiman Marcus, this hotel offers enough to make guests consider never leaving: impressive art, fashion, food, technology, the award winning ESPA Spa, boutique shopping, and contemporary sleek design. Designers and home owners, if you are ever faced with a creative block regarding how to design your own home, check into the Joule for an instant infusion of the now and the future. Spoiler alert: You may not want to leave.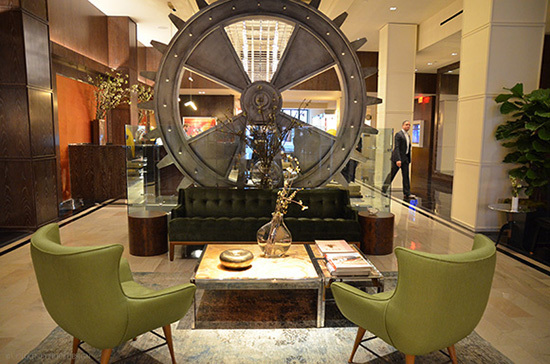 The lobby invites guests to sip coffee or cocktails, meet over the huge lobby table, shop, or take in the hip multi-media art installations.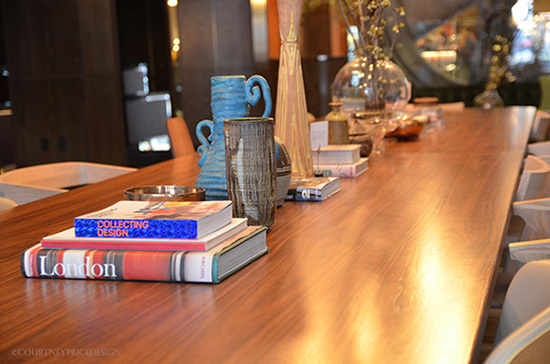 Just inside the front door is an enormous reading table that invites a browse through beautiful books from the lobby Taschen bookstore. Guests might also find a Taschen book or two in their rooms. The bookstore is the only Taschen store in Dallas, and it is super chic, worth a visit.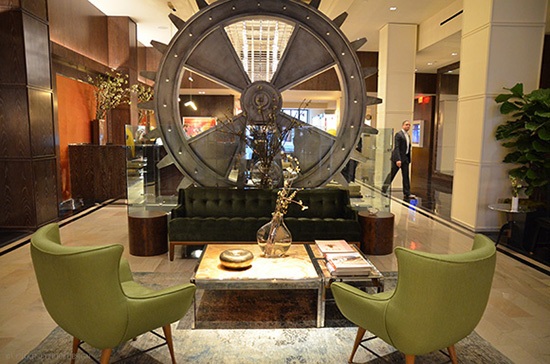 Everything about the design is urban cool, new tech creative. Note the mac lineup. The lobby experience transports visitors immediately into the zone of what is possible.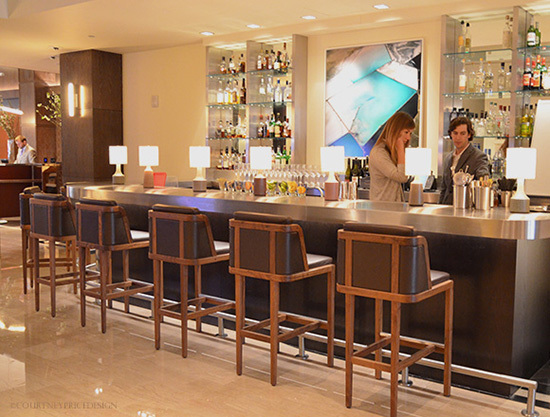 The lobby bar creates a sleek welcome that inspires quite a few design ideas... guests are free to enjoy their drinks or coffees in multiple seating areas that invite a relaxation.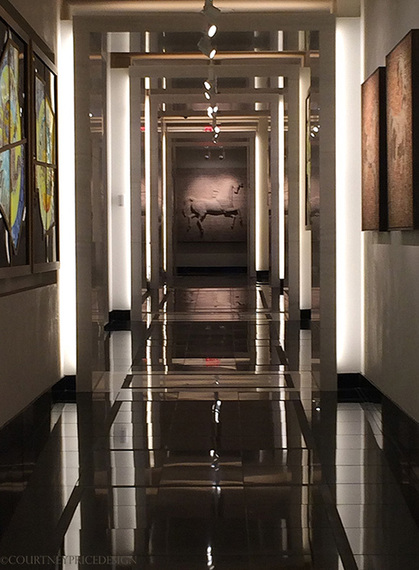 This hallway feels more like a runway, connecting the original hotel building to the second tower, where 32 additional guest rooms, 21 premier guest rooms, 8 deluxe suites and 3 ultra luxe penthouse units have been created. Designer Adam D. Tihany continued the modern luxurious vibe with these glossy surfaces and well planned lighting.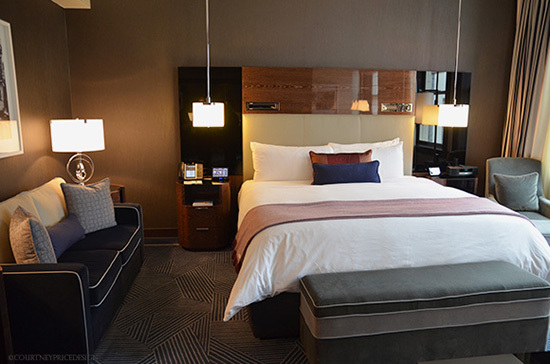 The hotel rooms are handsome hip, efficient and luxurious all in one. Select books from the chic Taschen bookstore are placed in the rooms for guests to peruse, what a sophisticated touch of culture for a hotel. Given the small number of Taschen bookstores that exist, it is pretty spectacular that guests would have the coolest bookstore in Dallas just an elevator ride away from their rooms. Contemporary clean lines and crisp linens meet leading edge technology with bedside controls for -everything- temperature control, window treatments, lighting, TV, even apple TV.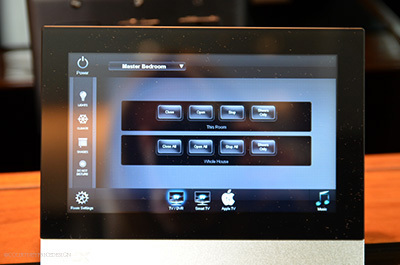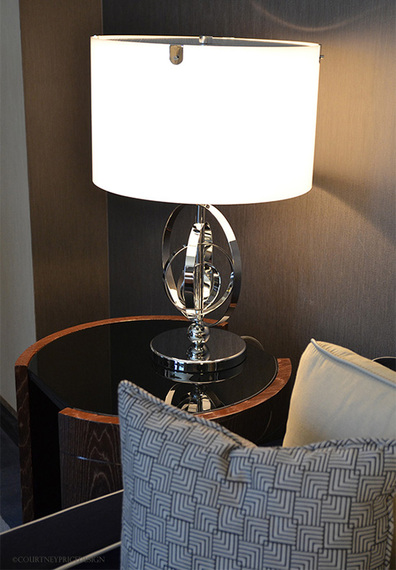 Clean line design with Deco accents, and efficient use of space inspire consideration of how we use our space back home. These rooms feel very Manhattan, very big city, very sophisticated.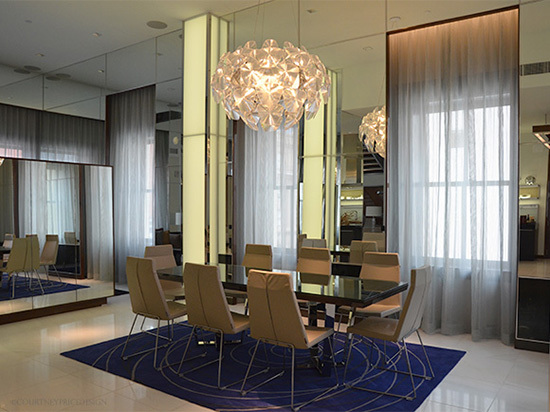 And then there are the suites, going all out creative contemporary.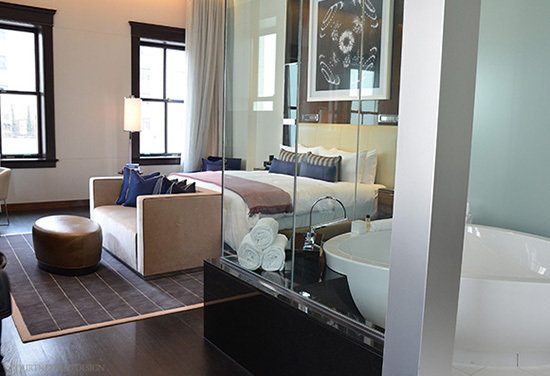 This is another room in the same suite, fully automated by remote. The partially glass walled bathroom is brilliant, spatially and conceptually. Makes you think about the room transitions in your own home...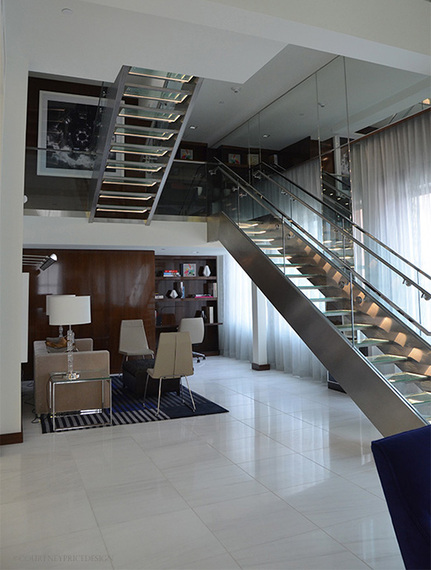 ...or the transitions between floors. Look at this brilliant glass staircase (still in the same suite) and the clever uses of what might have been awkward space.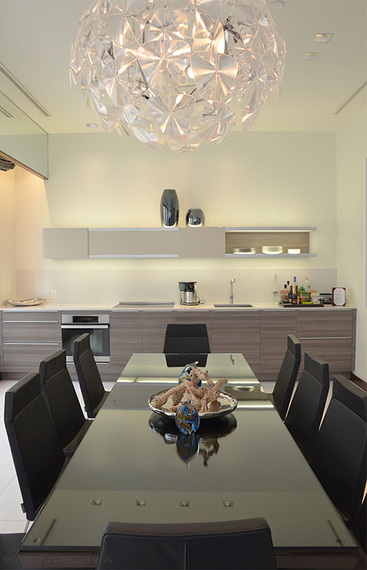 The clean lines of another kitchen suite. Again, very metropolitan. Design by Adam D. Tihany. Yes, he is amazing.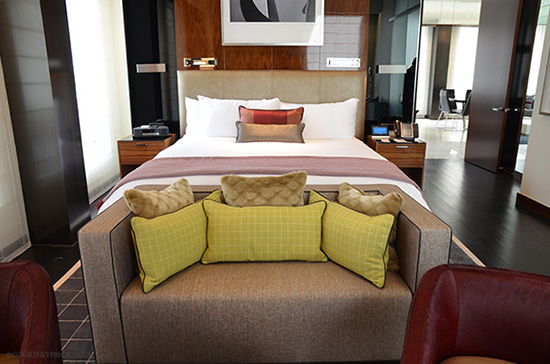 This suite bedroom comes with an enormous terrace. The glossy deco furniture and well-considered, recessed lighting result in a well designed, noticeable lack of clutter.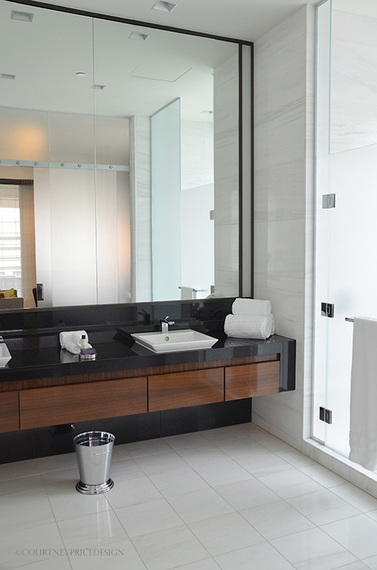 Beautifully designed bathrooms...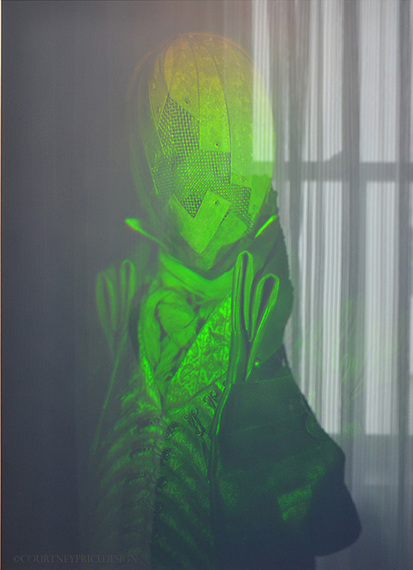 The Joule Hotel houses a MUSEUM LEVEL ART COLLECTION, acquired by The Headington Companies. Thanks to owner and art collector Tim Headington, local oil and real-estate magnate and film financier,fabulous art is everywhere. Collection includes works by Richard Phillips, Adam Fuss, Ellsworth Kelly, Tony Cragg, Los Carpinteros, Leandro Erlich, Noam Rappaport, Andrew Kuo, Anthony Pearson, Bram Tihany and Tony Tasset. The above is one of various hologram series installed in various suites offer the opportunity stop for a triple take that might pull you right in to these 3-D marvels. Pieces like this might inspire more whimsical art choices for the home.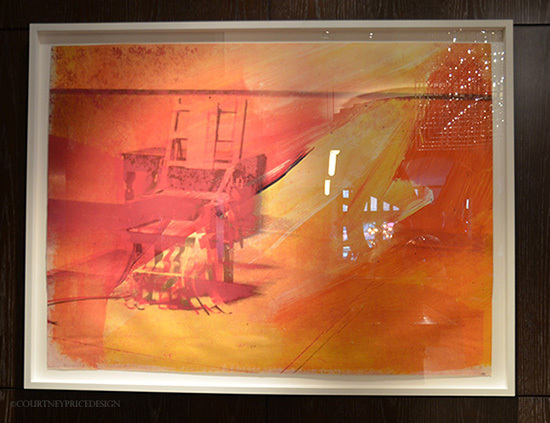 This colorful Andy Warhol, "the Electric Chair" resides in the lobby near checkin.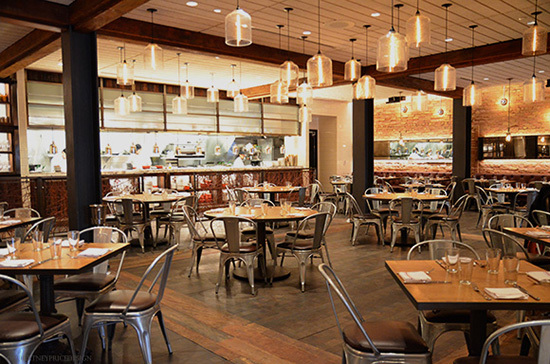 CBD Provisions, a modern Texas brasserie, is adjacent to the hotel. Regional wines, beers and local ingredients find their way onto the menu of this highly rated restaurant. Acclaimed bartenders Chad Soloman and Christy Pope, and executive chef Michael Sindoni offer a beautifully presented contemporary eating experience that will make you want to come back to keep trying more.
The Joule Hotel offers a rooftop glass pavilion event space, with retractable roof. This exterior glass elevator goes from ground level to roof, offering city views for event guests while not slowing down guest room elevators. (the shovel was there for landscaping the day I visited....). There is also a glass walled pool area atop another roof area which offers more city views. Everything about this hotel is designed for sophisticates, the details are pure aphrodisiac for creativity. Designer alert: Something tells me that the travelers who would be drawn to these types of details might have the same high expectations of their home or work environments. If they don't before their Joule Hotel stay, they are highly likely to after experiencing the impact of clever design on personal creativity. A voyage into this high level of creative fantasy makes The Joule a hip way to recharge your creative battery- highly recommended.
If you enjoyed this post, please share it on twitter, Facebook, G+ and Pinterest.