A rapt Chinese crowd stares up at a theater-sized screen mounted on the facade of a children's department store. It is night, 11:30pm on August 8, at a designated outdoor viewing station by Subway Line 10. On the sidewalk several people sit on camping chairs. Others recline on blankets in the parking lot. Some straddle bikes, but most stand for hours, their eyes glued to the Opening Ceremony of the 2008 Olympic Games. As Chinese President Hu Jintao steps on stage to announce the official opening, the crowd erupts into cheers.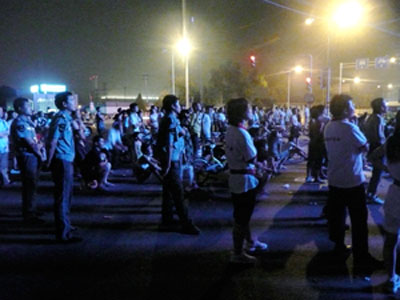 These people likely represent the 90 percent of Beijingers who told the Pew Global Attitudes Project that, "The Olympics are important to me personally" and the 96 percent who believe the Olympics will be a success.
Although most Western media coverage has focused on the opening ceremony's grandeur, its political significance, and lately, its scandals , this portrait of a populace passionately applauding its country reflects a resolute pride that will last long after the games are gone.
Recent disclosures of dubbed voices and simulated fireworks sequences broadcast on television haven't alarmed locals much. A few Chinese students said these were serious problems, but most people I talked to remained upbeat.
"The goal was to make people excited," said a Chinese staffer at the International Broadcast Center. "As long as it reached the goal I don't care if it was lasers or fireworks."
A BOCOG official who until my interview hadn't heard of the controversy said, "No one ever said the fireworks were real. We just thought they were. They should tell us after the ceremony, but not before, because the performance was a secret."
"So what? Lots of things are fake," a translation student said.
Two Chinese women denied the claim, saying, "That's impossible. We have the technological capability to make it work. Don't worry, it was real."
These controversies will certainly pass, and when they do the symbolic rather than the sensational moments will remain with the Chinese.
For example, a friend viewing the ceremony at Ditan Park reported that the local crowd cheered most for Japan and Taiwan ("Chinese Taipei" here), perhaps a gesture of friendship toward people with whom China has often been at odds.
At the outdoor viewing station, people shouted in sync "Jiayou Zhongguo!" (Go China!) when soldiers raised the Olympic flag to fly alongside China's own.
The torch lighting was also inspirational. A security guard at my hotel said it "challenged traditional ideas and encouraged exploration of personal limits." This message resonates beyond athletic achievement by encouraging independent thinking and innovation -- qualities crucial for an advanced China.
Surprisingly the drumming sequences, which my friends and I found amazing, did little to impress some Chinese audiences. Several visitors to the Olympic Green said, "That scene was nothing new. Zhang Yimou is known for using masses of performers in his work," citing Zhang's 2006 epic The Curse of the Golden Flower as an example.
Others wished the ceremony had catered more to foreigners, saying, "I thought it was too Chinese," and "I worry you couldn't understand the historical and cultural references."
But let's rewind to August 8.
On Beijing's back streets, small crowds gather around old black and white TVs set up outside cigarette shops, their fun spilling onto the sidewalk. Cars park on bridges, and the guards at my hotel head to the nearest open roof. Walking home from the subway station, I pass groups of animated students with Chinese flags painted on their faces. They are riding high on the opening ceremony, and, despite what I now know, I am too.