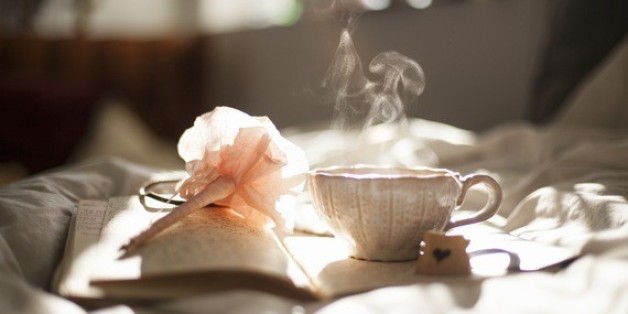 My oldest child was almost 7 when I decided to become a selfish mom. A handful of things brought me to this decision, but the first major one was that I had just given birth to my third child and first daughter. There was a different feel and energy to this birth, we were both female and I instantly felt more aware of my femininity as well as hers. I started to really recognize all of my hang-ups and unresolved health and body issues. I was overweight and wanted to set a really great, healthy example for her. I didn't want to show her how to grow up, not knowing how to eat well and take care of her body.
I also realized that I was thinly veiling the fact that I was miserable. I had a really great, loving family, but as far as I was concerned about myself, I was not one bit excited or jazzed up about my life at all. My job sucked and I had no idea what I wanted to be when I grew up (ahem, I was already there), I didn't make enough money, I had zero spirituality in my life, I didn't spend time with friends or do anything that was fun or exciting. I really was just working and taking care of my family and home.
I was the perfect example of a Martyr Mom -- a mom that exists just for her family, one who puts her interests and needs aside because there just isn't enough time in the day to do it all.
I didn't like where my life currently was or where it was headed so I started doing some research. I had a lot of time to read and browse the web during the midnight feedings and diaper changes with my daughter. During this time, I came across so many amazing resources about health and wellness. Documentaries, books, websites, articles, you name it. I had never really looked into this topic before, so this was a whole new, fascinating world for me. The things I discovered about the food industry and healthcare in our country were shocking and lit a fire inside of me. I started having really interesting and meaningful conversations with others that had made similar discoveries and were just as moved by what they had found.
What I learned, too is that your health doesn't just depend on what you eat or how often you exercise. These things are very important, but they're actually just two small pieces of a much larger pie. Your satisfaction with your career, your education, your friends, spirituality, creativity, family, playtime (yes, playtime as adults-how cool!) and finances all play a part in how good you feel. It pays to enjoy your life. Each little area of your life affects how healthy and happy you are. And it is very much worth your time to cultivate these areas.
Now, imagine this: you're on your way home from a really great afternoon with your closest, most fun and uplifting friends. You just spent a few hours talking about the best concert you've ever been to, or how you just adore collecting vintage lunch boxes or what your dream vacation spot is and what you'd do while there. Maybe you did this while going on a hike on a gorgeous sunny fall day or while attending a creative workshop. You go home and greet your family and you are just so buzzing with happiness because you spent time on yourself. You did something for no other reason than because you wanted to, and it brought you joy.
Your kids can feel and definitely react to your great mood. You greet them with such warmth and enthusiasm because your cup is full. You have plenty of positivity to spill over and share. This in turn makes them feel good, because they love you and are happy to see you so happy. Many days of seeing Mom like this lead to many days of your family feeling good, which goes on from there to the people they interact with. They also learn, (and this may be your biggest motivator to heed my advice here) from the most influential woman in their lives how to be happy themselves by the example that you're showing them over and over. What mom doesn't want their children to be happy, and more importantly, to have the skills to be able to create their own happiness?
So how do we stay on track with this? Well, I think the very best thing we can do is hold ourselves accountable and make plans. Schedule in dates with yourself, with friends, your significant other etc. Also, schedule in times for menu creating, exercise and downtime, too. Enlist a friend to help hold you accountable, it can be very helpful. Talk weekly over the phone or even through email or texting to see how you've taken time for yourselves. You can brainstorm new ideas together, too.
Once you begin spending more time on yourself, you'll see just how great it is for your family, and you'll probably want to continue. So being a Selfish Mom is actually a very good thing for everyone. Your family will grow and flourish and so will you. If this is new for you, take baby steps. But remember to take them. Get some self-care momentum going and it'll get easier and easier for you.