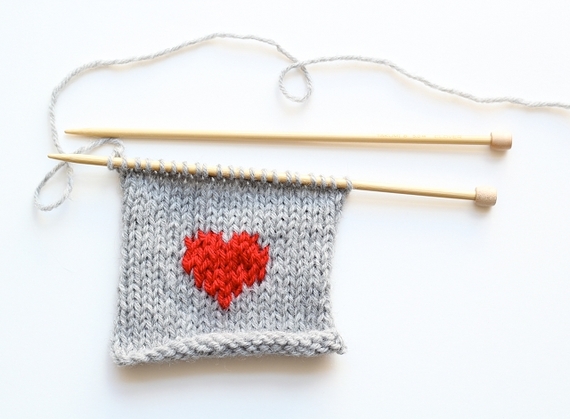 While every day can be filled with frustration, you are by nature a creative animal, and something as simple as crafting can improve your mindstate and heart health as well as foster calm and even stem the anxiety that comes with daily disappointments.
A knitter, working off a taxing day at the office, turns a ball of yarn into a cozy scarf. A sewer takes a bed sheet burnt in a dryer fire and transforms it into a shift dress (true story). Remember third grade art class? You were probably all smiles. Here are scientific reasons why you should consider crafting more for your personal well being.
Hem your Heart
In early 2014, Craftsy conducted an online survey: 93 percent of responders said crafting helps them manage stress and will even help keep their minds sharp as they age. OK, chances are the folks who answered that survey already had positive thoughts about crafting. However, scientific research backs up those responses.
"When we are involved in [creativity], we feel that we are living more fully than during the rest of life," said psychologist Mihaly Csikszentmihalyi in a 2004 TED talk. "You know that what you need to do is possible ... and sense of time disappears. You forget yourself. You feel part of something larger."
Un-stitch Your stress
This sense of forgetting time and daily machinations while crafting occurs because our nervous system can only process a finite amount of information at once. Focusing on a repetitive task, such as knitting, gives us the sense that our troubles have drifted away. And, as with meditation, we're likely to "awaken" from crafting with a sense of rejuvenation and peace.
The authors of the 2007 paper "The neurological basis of occupation" wrote that artistic activities like drawing or painting could serve as a way to regulate emotions without buying and suffering the side effects of a pharmaceutical pill.
A Cozy Calm
The "warm and fuzzies" don't go away once the activity is done. According to a study published in The British Journal of Occupational Therapy, seeing the fruit of our creativity can hit you with dopamine again, giving off that feeling of rejuvenation and accomplishment. Hanging your quilts up on the walls therefore not only makes them affordable décor, they also serve as reminders that you finished something and that you enjoyed doing it.
Sharpen Your Mind
Arts and crafts aren't just to keep kids occupied at school. Using our hands and body to craft stimulates different areas of the brain, improving reasoning skills and the brain's processing speed up to 10 years after the activity.
A newly published clinical trial funded by the National Institutes of Health (NIH) has shown the lasting positive effects of cognitive training against the neurodegenerative effects of aging. Crafting may improve the brain's neuroplasticity, allowing us to keep learning longer, faster.
Thanks to this evidence, and the resurgence of crafting's popularity due in part to a slow economy, crafts are finally getting their due. They've even got their own awards ceremony called The Craftys (CraftFoxes is helping to launch it).
See more about it in the video below. Then throw in your vote for your favorite crafter--even if it's yourself. Just by crafting a little more you'll already be a winner.
The above image is courtesy of One Sheepish Girl.