Spring has likely made you giddy and creative, not to mention eager to de-clutter. Redecorating on a budget, though, is tricky. Who wants to an interior decorator (or banker) to make an old house new?
Don't despair: Sometimes redecorating is less about new things and more about re-imagining new uses for well-loved items, like Grandma's doilies or the CD cases that held the soundtracks to your childhood. Below is a list of refashioning ideas to inspire you.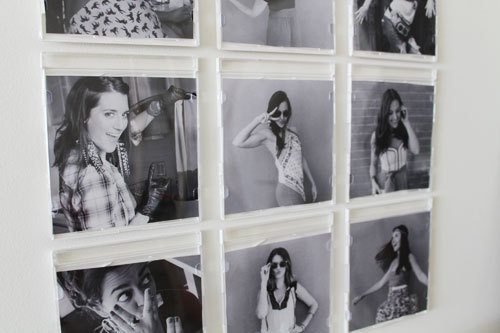 Repurposed CD Case Collage
Music has a way of unleashing a flood of memories for our ears and eyes. Some of us still have Nirvana albums lying around because "Smells Like Teen Spirit" was our '90s anthem. (All right, Britney Spears is also my soundtrack to the '90s. Don't judge.) To de-clutter and redecorate, start by ripping all your CDs onto your computer, yet keep nine or more of those clear plastic cases. Print out your favorite photos to make a statement photo collage. Be sure to check out Brit+Co to see more ways to repurpose CD cases.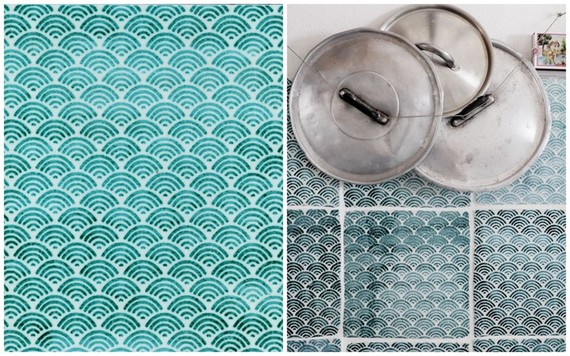 Decoupage kitchen wall tiles
When I first rented into my current place, the wall tiles behind the kitchen stove screamed '70s -- and not in the trendy retro way, but in the sickly yellow with garden flowers way. Rather than investing in new tiles (like the breathtaking lavastone tiles by Made A Mano above), I cut tile-sized squares from scrapbook paper and decoupaged them onto the glazed tiles. Mod Podge will do the trick, but for bathroom tiles you'll want something that can tolerate a humid environment. Earth Safe Finishes has a VOC-free sealant that does just that but can be scraped off of glazed tiles when it comes time to move out.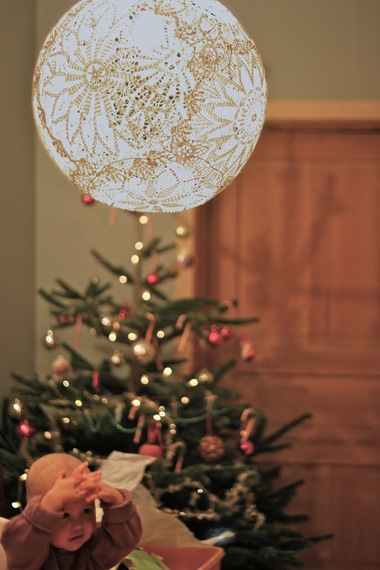 Vintage Dᅢᄅcor with Doilies
If you have no use for grandma's doilies but get teary-eyed thinking about them collecting dust in the attic, try turning them into a lamp shade. You'll need a balloon and decoupage goo to make the doilies stay in a spherical shape. When it's dry, pop the balloon, plug in a lamp fitting, and commence the ooh-ing and ahh-ing. Stop by Craftfoxes for more projects with doilies and vintage decorating ideas.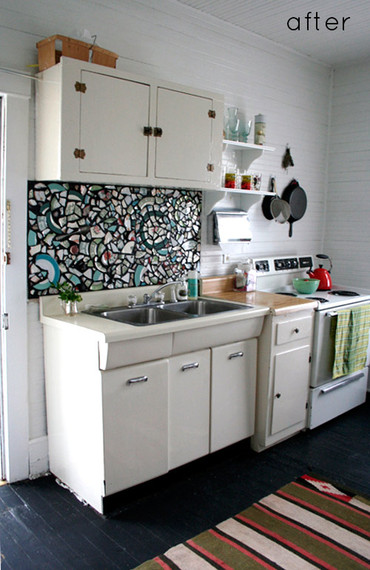 Kitchen Mosaic Backsplash
We all on occasion feel like breaking things. Well, for this project, go nuts. Stash all the china and clay you break over the course of a year in a box. When the box is full, start your mosaic. See the Design*Sponge post for more details.
Psst! Remember the music you ripped onto your computer? Cut up a few of the CDs for this mosaic!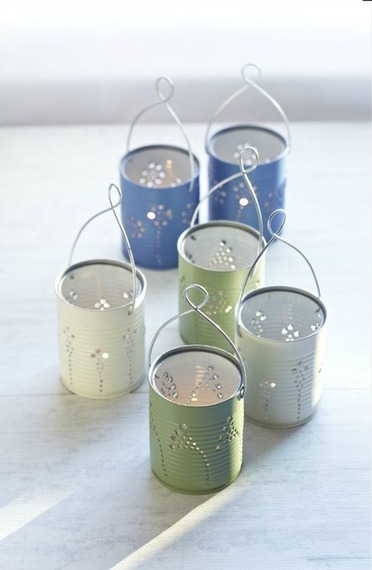 Tin Can Lights
Speaking of lamps and lighting, you can design your own tin can porch lanterns with household hardware tools and empty cans of coconut milk. Place a tealight candle inside and arrange them on your front steps to guide guests to your door. See the full instructions at Craftfoxes.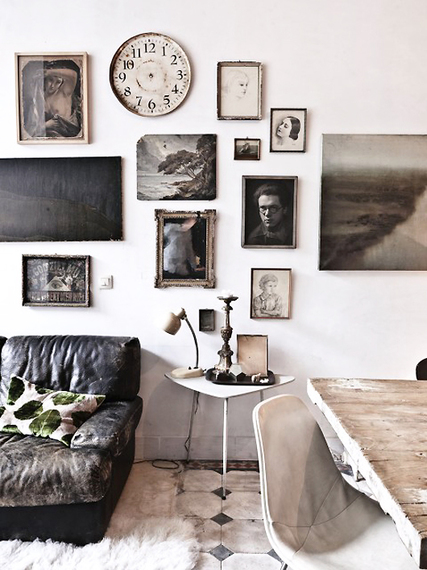 Photo Cluster How-To
Ever wanted to consolidate the wall art strewn about your house into one eclectic yet sophisticated cluster? While Wioleta Kelley's blog is in Polish, she's made a handy visual template to help you arrange your framed photos and artwork into a stunning gallery, like this one featured in Milk. She's also given helpful hints on hanging items in tricky areas like kitchens and stairways. Try arranging your CD photo cluster according to her patterns for a stunning home interior transformation.