Last week the New York Times published Part 1 of an article 100 Things Restaurant Staffers Should Never Do by Bruce Buschel. Today he posted Part 2. It's a great list, and one can only hope servers, hosts, chefs, and owners are printing it and posting it on the kitchen wall.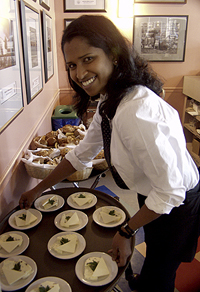 Buschel has compiled a great litany of pet peeves we all have from the obvious "(12) Do not touch the rim of a water glass. Or any other glass" to the less obvious "(42) Do not compliment a guest's attire or hairdo or makeup. You are insulting someone else."
Readers have chimed in with their advice. More than 1000 comments have been posted so far. Methinks the Times has struck a nerve! Clearly this is a contentious relationship.
Now it's time to turn the tables. What are the 100 Things Diners Should Never Do? Tell us in the comments section below.
--------------------------------
Unless otherwise noted, all text and photos are Copyright (c) 2009 By Craig "Meathead" Goldwyn, and all rights are reserved. For more of my writing and recipes, please visit AmazingRibs.com.