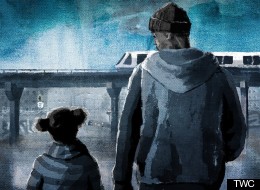 "Maybe, if I can not (expletive) up for thirty days. That's how long Oprah said it takes to make a habit" - Michael B. Jordan, as Oscar Grant
I was 22 years old in the early nineties. Back then, the movies Boyz In The Hood and Menace To Society shook me (and a lot of other viewers) to the core because my world at the time was so very far from that kind of senseless violence and cruel non-Darwinian selection. The news reporting would cite terrifying statistics about the life expectancy of African American males, aged 18-25. Though it would seem that I was free of much of those risk factors, I was relieved to have escaped the odds suffered by so many of my peers. As something closer to an adult, now 41, I realize that I wasn't as free of those risks as I thought. Young people, almost regardless of their background, usually aren't yet equipped with the judgment and foresight to gauge the ramifications of their choices or actions. If people could be measured by the tally of their choices and actions, one may realize that making it out of that threatened demographic is sometimes also pure luck.
Oscar Grant was 22 years old when he was killed by a transit officer on a BART station platform in Oakland. Ambiguities in the case and it's decision weren't made any clearer by the cell phone camera recordings made by the many witnesses across the platform. Director, Ryan Coogler, with his Sundance winning debut film, Fruitvale Station, paints a remarkable portrait of the final hours of Mr. Grant's short life. The film is made up of lots of little moments, a mosaic of the colors that made him a real person. Moments like the casual exchange with an older white man, a regular guy, whose pregnant wife desperately needs to use the bathroom of a closed convenience store. After just earlier convincing the store owner to let his own girlfriend in, Oscar (Michael B. Jordan) confides to the older man, "we almost had the same problem." Moments like the argument that combusts between he and his mother (Octavia Spencer) when she visits him at the juvenile detention center. Moments like his four year-old daughter, Tatiana (Ariana Neal) asking after his death, "where's Daddy?" This is a breathtaking and sad film. The more the audience peers into the life of Oscar and his authentically Californian family, the more they realize that the man on whom the story is based, was a real and breathing man; not a cause célèbre for the twenty-four hour news cycle.
Quite often, in real life stories such as this, the narratives hang a halo on the head of the victim. To create a character that is flawed, yet believable; some may call that acting. What to call the performances brought forth by the players in this film, however, is nothing less than sublime. Michael B. Jordan, in his first turn in a leading role, is stupendous. It isn't the first time that he's shown talent and promise, but it may be the first time he has shown mastery. This is an actor we should be anxious to watch fill screens for many celebrated years to come. Octavia Spencer, a Best Supporting Actress Oscar winner, once again proves her prodigious gift. She gives so much in her carriage, and even the pauses between lines, she reflects the weight of the many mothers who've lost children to tragedy. She gives them honor. Melonie Diaz, a young veteran whom we simply haven't seen enough of, plays a superb role as Oscar's girlfriend, Sophina. Tasked with raising his child, trying to keep him on the straight and narrow, and just being a young woman with real world worries, Diaz embodies the struggle of young adulthood in urban America. Ariana Neal plays as a daughter whose simple curiosity and love for her father can't yet reveal to her that she's the truest victim in the story. She's wonderful. Two other pivotal roles, those of the BART officers involved, Officer Mehserle, the shooter, and Officer Ingram, played by Kevin Durand and Chad Michael Murray, respectively, aren't nearly as textured. They are, however, convincing, and provide the context that defines the "Us vs. Them" dynamic for many young people in our society. This isn't a shortcoming, though. The film isn't about them.
The early '90s were important for me, not because I was coming into my own, as a young man, but because the films and directors that were making the biggest impression on me were of the then new vanguard of African American film. Audiences were treated to stories and characters pretty much unknown to middle America. There was a realism introduced that helped to further the conversation on race in America, and helped many people learn the gulf that divides us, isn't that much of a gulf, at all. High regard needs to be given to Ryan Coogler, as part of a contemporary new wave, is once again advancing that story, for this generation. It is no accident that Fruitvale Station was so fêted at this year's Sundance Festival, winning the Audience and Grand Jury Awards, as well as an early acquisition by The Weinstein Company. Game recognizes game. When asked if he'd prepared for the fame and accolade that will result from this film's wide release, Coogler demurred, "I don't think about awards. I just want people to see the film".
Fruitvale Station, directed by Ryan Coogler and starring Michael B. Jordan, Melonie Diaz and Octavia Spencer opens July 12th in New York and Los Angeles, and July 26th nationwide.