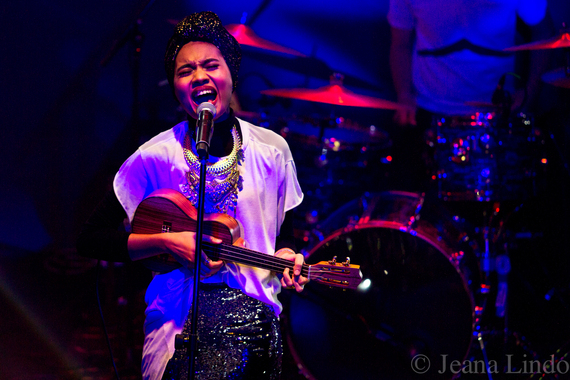 The Lincoln Tunnel connects New York City to New Jersey by a 1.5 mile passage under the Hudson River. It enters Manhattan in Midtown on the West Side, and since 1937 it has served as a punishment for motorists wishing to enter the city through that gateway. "You wanna come to New York so bad? Take an hour of this!" Driving from Philadelphia to New York meant that I would have to endure this self-flagellation, and I did so willingly and knowingly for one reason: Yuna was appearing in concert.
I won't claim to have been a fan from the start. My familiarity came more by way of simple curiosity. At a time when most retailers were clearing the shelves of physical CD products, one ubiquitous coffee seller was actively promoting her, with copies placed in clear view among its thousands of locations. My curiosity stemmed from the fact that, on the surface, Yuna didn't appear to be a mainstream pop star. A native of Malaysia and wearing a hijab in an era when Western media tends to be openly hostile to the Islamic faith, Yuna always believed that, as a musician, she could stand on the same stage as any other -- unfettered by national or cultural boundaries. She proved it this recentlyk at New York's Stage 48 armed with grace, humor and, by the end of the show, a ukulele.
Here is the scene: Stage 48, a performance venue with the type of modern design touches one would expect to see in a trendy hotel lounge is filled to about 85 percent percent capacity with an eclectic mix of young music fans. The complexion of this crowd is as multi-hued as demographers have promised us 2050 will be, but it's thirty-five years ahead of time. I mention this future because it too was standing on the stage with Yuna. The increasingly globalized world we're living in certainly includes the pop music scene, and perhaps Yuna is amongst the best of it. Her style of music -- a melange of folk, jazz inflected R&B and a decidedly electronica backbeat makes this a world classed EDM for the adult listener. If Sade had been produced by Trevor Horn or Daniel Lanois, with a decided nod to the East, we might have heard something like this. Yuna's relaxed delivery, her waist undulating with the highly danceable bass lines and accented hi-hats, create the perfect spectacle for the couple on their third date, as well as the groups of women enjoying a girls' night out. Living in NY is hard, but access to this kind of performance makes it well worth it.
Yuna: Where I'm Coming From from Craig Carpenter on Vimeo.
Touring on her second domestically released album, Nocturnal, the singer, at one point asks the audience how many in attendance had already purchased the album - using the occasion as a gentle reminder that there were copies of the CD on sale at the merchandise table. This was unnecessary, however, as it seemed most of the crowd not only owned the album, but was fully prepared to sing along word for word, which they enthusiastically did. Definitive highlights of her performance at Stage 48 were the immediately memorable songs, "Fallin'" and "Mountains", both of which are included on her new offering. The former uses what sounds like a looped gamelan-sounding instrument, which then opens into a more traditional sounding R&B groove. Her ability to fuse the musical influences from her part of the world with those of American mainstream music is uncanny and welcome. "Come Back" was perhaps the most crowd rousing song, with it's light melodic refrain and march-step rhythm. This is fun, anthemic music, devoid of gimmickry: just good, well thought out music that makes people dance. Most of the time, that's why I listen to music- because feeling good is better than not. She saved her biggest hit, "Live your Life" for her encore - which she playfully teased into. She knows her audience and rewards their fealty simply by giving them what they paid for - abundantly. As more evidence that Yuna has earned her way into the mainstream, Nocturnal was guided by a body of producers, including the likes of Robin Hannibal of Quadron, and Chad Hugo of The Neptunes, both legitimate purveyors of modern cool - the type of producers who are dominating the new R&B. She has seemingly tapped the zeitgeist of contemporary pop, speaking to young girls in middle America, as well as in Southeast Asia. There was a day when the term "world music" relegated product to the dusty corner shelves at the back of the record store. Not now. The world is hers.