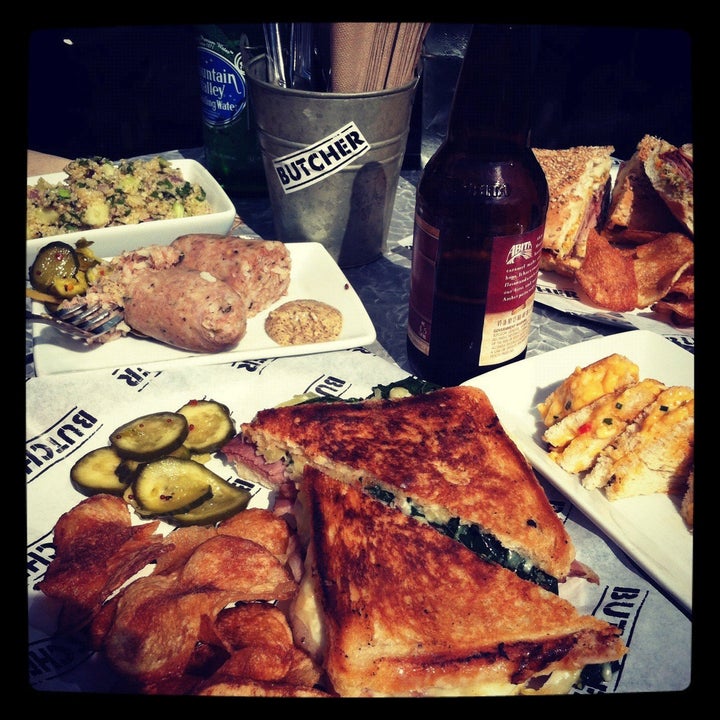 Arrived at Commander's Palace in New Orleans at 7:30 a.m. to get my ingredients for Boudin & Beer, and organized and packed on the truck to head to The Foundry, where the event was being held. Bob Carter of Carter's Kitchen, my fellow Charleston chef, and his sous chef, Christian Watson, were also using Commander's as their home base. Tory McPhail, the executive chef at Commander's, and his entire team could not have been more gracious and accommodating in helping us visiting chefs and I am very grateful for that.
I confirmed with Tory that I would be back at 1 p.m. to get my hot food ready to go, and during my break in the kitchen, I went to Cochon Butcher for lunch. Andrea Reusing from Lantern in Chapel Hill and her brother were in line behind me and we sat together -- it's always nice to have fun, unexpected dining companions. I ordered the pimento sliders and the buckboard bacon melt with collards, and Andrea and her brother had the boudin and the muffaletta. I washed my food down with an Abita Amber then set off for Commander's to finish prepping and get ready for the second half of the day.
Once we were back at the restaurant, we packed up my food as well as the dish that Commander's was serving at Boudin & Beer: 1,200 deviled eggs with pulled roast beef -- quite an undertaking! With Tory, his two sous chefs -- Robey and Carl -- and Colin and Mary from the front of the house at Commander's and all the food piled into a truck and a jeep, we head across town.
We arrived at the The Foundry around 2:15 p.m. after a stop to buy some Budweiser -- or kitchen water, as I like to call it. We unloaded and got our stations set up and then the Commander's team and I walked over to Lucy's Retired Surfer Bar for a beer. I was told the bar is usually at least four or five deep with people spilling out onto the street, so we were quite lucky to grab a table. We went back to the event site and I finalized my set-up, wandered around to see what everyone else was up to and then signed the event poster and took the group photo. 6:30 p.m. arrived and it was time to put my head down and get to work.
Boudin & Beer is a food-and-music festival celebrating all things New Orleans and benefits the Emeril Lagasse Foundation, which supports children's development programs, life skills initiatives, culinary training and cultural enrichment throughout the Southern Gulf region. Each chef is asked to prepare a boudin of their own and I did a "pork and beans" with a Charleston spin. Instead of beans, I used the Lowcountry staple of peanuts and added burnt bacon ends; my boudin was a combination of pork, beef and chicken breasts and liver, smoked over hickory. I put it all together in a maple-brown sugar-molasses barbecue sauce, and it was my rendition on the little smokie.
I didn't bring anyone from Cypress with me but was lucky that Colin from Commander's and Jenna, an intern from a local culinary school, volunteered to help me with plating and describing the dish. I had 700 portions so definitely needed the help! We were very busy, which is a blessing... and curse... because it means I couldn't wander around and try the other dishes.
I was able to sneak some boudin and dumplings from my event neighbor Kristin Butterworth from Windsor Court. I also tried some bratwurst, sauerkraut, mustard and pretzel and then an alligator boudin which was quite tasty. When things starting slowing down around 9:45 p.m., I put out some of the charcuterie and served that for a bit before things wrapped up around 10:30 p.m. It was an amazing event -- the crowds, my fellow chefs and the energy. It was my first year participating and it was an unforgettable experience.
We packed up, headed to Commander's to unload and clean up before I swung by the hotel to change for the after-party. I walked to Cochon -- any opportunity to walk is always welcome when I am road trip eating -- and walked into a restaurant with an ice luge, a fridge filled with Old English 40s and endless 7 oz. Miller High Lifes. Needless to say, people were ready to celebrate a long day's work and a very successful event.
The team at Cochon pulled out all the stops and prepared a beautiful display of chef driven food -- food you could sit back and enjoy, but you had to work for a bit: burgers, wings, cheese, crackers, whole crab and a taco station with a roasted pig centerpiece. They had moved all the tables and chairs out of the restaurant, so we had a big, open space, which was particularly conducive to the karaoke. I didn't partake myself, but surely enjoyed listening to Ed Lee and Carey Bringle (who was wearing a silver cape). I grabbed a cab around 2:30 a.m. and went back to the hotel to crash.
I slept in, checked out and drove to Crabby Jack's for an overstuffed fried shrimp po' boy and sweet tea. The po' boy bread was particularly impressive. There's a great old bakery in New Orleans called the Leidenheimer Baking Company that provides beautiful bread for Crabby Jack's, Commander's and many others. Although I was very satisfied, there were a few more things I had to have, so I had ordered a three-piece Jacques-Imo's fried chicken and jambalaya to go. Neither are exactly the easiest thing to eat on the road, but both were delicious and worth the effort.
I arrived in Atlanta around 9 p.m. and was staying with my friends Gwen and Roger, who produce the fantastic blog, Bunkycooks. A quick turnaround and then we were off to Leon's Full Service in Decatur where we put our name down for a table. Headed over to Cakes and Ales for our first dinner and we ordered the potato gnocchi with puttanesca sauce and pecorino, an antipasti with burrata and roasted peppers and an apple and roasted squash salad with grapes, radish, kale, farro, aged balsamic vinegar and pecans. It was a delicious start before heading back to Leon's for a charcuterie plate and the cheddarwurst paired with some fantastic craft beers.
I had posted a couple photos on Instagram tagging Colin Miles, the charcuterie man at Leon's, and he happened to be next door at The Brick. I had brought him a few types of charcuterie to taste (saucisson and picante) and bartered them for some pork rolls, tasso, peach and Szechuan peppercorn salami and summer sausage. He was also nice enough to give us a behind-the-scenes tour of his charcuterie program. He is making product for both Leon's and Pura Vida Tapas and has some really interesting spicy salamis for the latter. It is always great to see what other people are doing with their charcuterie programs; it is inspiring and I always learn something.
Next up was a tour of the Brick Store beer rooms. They have five different rooms for storing beer, one of which is for aging kegs. The building is an old bank with unique vaults and is like a bunker. I am pretty sure that it would be the first place I'd want to be if the apocalypse was approaching.
After two delicious dinners and a charcuterie and beer tour, we headed back to the house and tasted some of the bourbons from Roger's prized collection. It was the perfect nightcap to a great night on the town and I think I fell asleep before my head hit the pillow at 3:15 a.m.
I needed to fuel up for the final leg of my drive back to Charleston, and Gwen made biscuits to pair with her fabulous tomato jam, and I fried up some eggs and Benton's bacon. After a few cups of coffee, I turned my clock back an hour (forgetting I was still on Central time) and then hit the road an hour late. I pulled into my driveway at 6:55 p.m. It was an unforgettable trip, but at the end of it all, the best location is always home with your family.
There are countless people to thank for their graciousness, hospitality and gifts of food along the way, so I will just say a giant THANK YOU to you all. It was an honor to participate in both Sunday Supper South and Boudin & Beer, and I was inspired and exhilarated to cook alongside all the amazing chefs. Driving always gives my mind some time to relax and clear my head, and I find that a well-rested mind leaves me completely invigorated to get back into the kitchen and back to work.
PHOTO GALLERY
A Chef's Road Trip