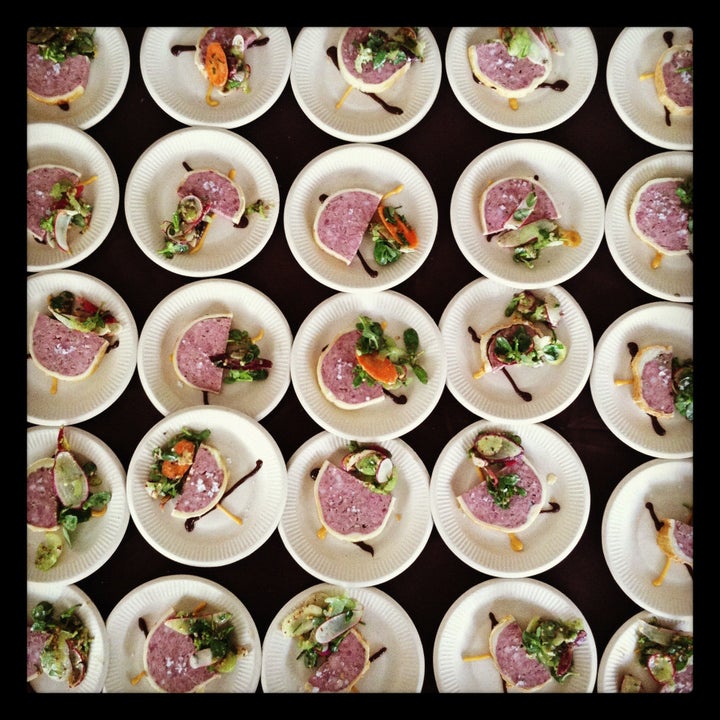 Friday, November 16
I met Bob Cook, my sous chef, at the restaurant, and we finished the last bit of prep for the Manchester Farm quail pᅢᄁtᅢᄅ en croute we were going to serve at Music To Your Mouth at Palmetto Bluff. We packed up the food -- and the Maker's Mark -- and then hit the road. I had sent a tweet out for hidden gem lunches between Charleston and Beaufort but didn't get much back from people. Bob and I decided to stop at The Original Ms. Rose's, a relatively new place in West Ashley, just over the bridge from downtown Charleston.
We ordered dirty rice fritters with honey mustard and Jalapeno-cheddar cracklins to start. Bob got the double burger with fries -- and beef fat mayo for dipping -- and I got the smoked meatloaf sandwich with horseradish slaw and BBQ sauce on ciabatta and the fried chicken with Tabasco honey (I wanted to leave there with leftovers). The highlight was the New Orleans BBQ shrimp with toasted bread (you'll want to ask for extra bread), which was heavy on the Worcestershire, thyme, chili and butter. The kitchen very nicely sent out a plate of jerked smoked chicken wings, which were also very tasty. We couldn't leave without trying dessert, and the cherry float cake with cherry mousse, Cheerwine cake, magic shell, cherry compote, orange syrup and almond brittle was the perfect end to a roadtrip lunch.
We left lunch and headed straight to Lady's Island where we met up with Frank Robert, oysterman extraordinaire. He is growing oysters from seed, which means you get single oysters, similar to a West Coast oyster (most of the oysters here in South Carolina are clustered). As they grow, he filters them and then groups them by size so they eat and grow at the same rate. He and his crew offered us a behind-the-scenes tour, and they really have the system down pat. Seeing what they do and how they do it was absolutely fascinating. It is a fully sustainable operation, and they are cultivating wild oysters from selective breeding to produce the high quality of a local oyster.
After our stop on Lady's Island, we headed to Palmetto Bluff for Music To Your Mouth, which is an annual food, wine and music festival in Bluffton, S.C., which celebrates the chefs and food of the South. We checked in, got the keys to our cottage and the keys to our golf cart and then relaxed for a bit before heading to a BBQ event that night. When I arrived and there were trays of Pappy Van Winkle being passed around, I knew it was going to be a great evening.
I was still stuffed from lunch so tried very little of the BBQ, but still had a great time chatting with several of the other participating chefs including Rob McDaniel, Chris Hastings and Hugh Acheson. Different bars were serving different specialty cocktails, and Julian Van Winkle also had some barrel proof bourbon in his pocket, which was, as you might expect, phenomenal. Ran into more friends at the after party and headed back to the cottage at a somewhat reasonable hour to get a good night's sleep before the main event. I finished the leftover fried chicken (which I didn't share) and hung out with my wife, Colleen, and David Carrier from Sea Island before heading to bed.
Saturday, November 17
I woke up feeling great bright and early on Saturday morning (although some people needed a bit of ibuprofen...). We packed the truck and headed over to the event site to set up. I had prepared around 650 portions of the Manchester Farm quail pᅢᄁtᅢᄅ en croute and was very excited to serve it and see what everyone else had brought. The caliber of wine and beer at the event was absurd, including a special Maker's Mark, my favorite. And the quality of food matched and absolutely blew me away. Everything was very well thought out and executive. Johannes served a foie gras and venison croquette and Kevin Gillespie, who was my neighbor at the event, served an outstanding grilled quail with collards and tomato, reduced down with coffee, over 38-hour grits. He and I traded cookbooks, which is a great way to barter. I spoke with Alan Benton, bacon man extraordinaire, for a few minutes and overall just really enjoyed all the great personalities milling about.
When the event wrapped up, we packed up our station and went back to the cottage for a rest and a RC Cola and Moonpie snack. Revived, we headed out to the oyster roast which was, hands down, the true spectacle of the weekend. Set up about four miles out in the middle of the woods, we drove up to blue, pink and purple lights and were greeted by a pig bourbon ice luge engraved with "Kiss the pig." It was a grandiose May River oyster roast. The Lowcountry boil had whole blue crab, sausage, shrimp, corn, potatoes and clam, and it was great. Oyster tables were turning out freshly shucked oysters and the BBQ table had mac and cheese, roast pork, cornbread, fixins and pig paella. Five or six fires were burning around the space and were set in old sugarcane bowls that were formally used to cook down the cane syrup. We drank and ate our fill and headed back to the cottage for a bit more debauchery before heading to bed.

Sunday, November 18
We started the day with a great brunch at Buffalo's before hitting the road for Charleston. Once back, I did some stuff around the house before meeting Rob McDaniel and his wife at Husk Bar for some fancy bourbon drinks including an old fashioned for me and a cask-barrel aged Manhattan for Rob. We split the ham plate and the burger before meeting up with chef Beau Vestal from New Rivers in Providence, R.I. to head to Cypress for dinner number two.
I went a bit overboard with the ordering at Cypress and since Beau and his wife already ate, it was only three of us having dinner. I ordered enough food for about eight people: the full charcuterie and cured meat gamut, two rounds of tuna oysters, Lady Island oysters on the half shell, the dry aged ribeye for two, shrimp gnocchi, ricotta gnocchi and the guinea hen along with a round of Lillet cocktails. After dinner and a tour of the charcuterie room and the kitchen, it was off to bed after a wonderful weekend.
Sunday, December 2 and Monday, December 3
I was very excited to head up to Bermuda Run, N.C. for the second annual Carolina Meat Conference. I stopped in Florence on the way to see Gra Moore at his Carolina Heritage Farms in Pamplico, S.C., where he raises pastured heritage hogs, chicken and turkey. It is cotton season in the South, and it was fascinating to be there during the harvest. Some fields were already stripped; there were huge bales of pressed cotton, and it looked like the fields were covered in dryer lint. Gra has the most beautiful and tasty heritage breeds: guinea hogs, spotted Poland Chinas, Red Waddles. I said my goodbyes and packed the pig for Bermuda Run.
There was a welcome dinner at Snook's BBQ that night and the lovely staff there was hugely accommodating and let me store the pig in their walk-in. I woke up the next morning, picked up the pig from Snook's and brought it to the refrigerated truck at Winmock Barn, where the event was held. I sat in on a butchery demo by Tanya Cauthen and her husband from Belmont Butchery in Richmond, V.A. She did a spectacular fully boned-out chicken. Next was a demo by Justin and Katie Meddis of Rose's Meat Market and Sweet Shop in Durham, N.C. He does the meats and she does the sweets at the store; he led a great class on home butchery. The third demo I sat in on was by Tyler Cook from the Chop Shop in Asheville where he demystified at-home sausage ratios.
Next, it was time for me to lead a class on working with the Department of Health when curing meat. Tyler was also on the panel along with three health inspectors from the USDA, the NC Health Department and the county. I spoke about dry, cured meats and how to get started with a program. I also set up a slicing station so people could taste some of my salami and other charcuterie. The last stop of the afternoon was to watch Adam Tiberio and Kari Underly break down an entire beef carcass in 45 minutes -- truly spectacular work.
The "Snout To Tail" dinner that evening was put on by Blind Pig -- a supper club out of Asheville -- and it was amazing. We started with a charcuterie plate including whipped pork butter with bread and cornbread, then moved onto BBQ, mixed beans, collards with hamhock and offal hash. The keynote speaker was Temple Grandin, and her speech about humane slaughtering practices was great. After the dinner, I headed back to the hotel for a beer and a dip in the swimming pool.
Tuesday, December 4
I had asked Adam Tiberio to join me in my second class and break down the guinea hog while I talked about cuts and how to cure and use product to make other product. The class went about an hour over its scheduled time, but no one left, which I took as a good sign. I find that the best way to learn is by watching someone better, and seeing Adam and Kari break down an email is a true learning experience. We wrapped up the class -- which was the last of the event -- and then it was time for me to travel back to Charleston. It was a very fun weekend and I am so happy I could participate. I made some great connections and learned a lot, which always leaves me inspired and ready to get back in the kitchen.
PHOTO GALLERY
Shots from a Chef's Life