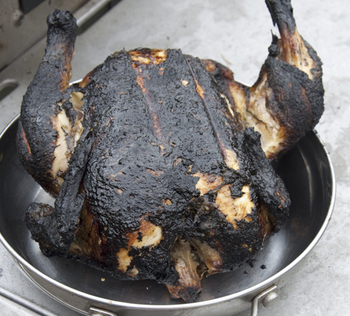 "Give a man a chicken and he will turn it into a black lump. Teach a man to grill a chicken and he will gloat all night." Meathead
Dad's chicken look like this? Doesn't have to. Cooking outdoors is different than cooking indoors. But there is help. There are a number of good books that can rescue him (and you).
Below are some of my favorite books about barbecue, grilling, and cooking. Click the title to see the current price on Amazon. Click here for a complete list of all of the barbecue books on Amazon. Click here for more of my favorite food and cooking books.
PHOTO GALLERY
The Best Barbecue and Food Books for Dad
----------------------------
Full Disclosure. If you click a link to Amazon in this article and make a purchase, the author gets a small referral fee. It has zero impact on the price you pay or on his product recommendations.
Copyright (c) 2010 By Meathead, and all rights are reserved. For more of Meathead's writing, photos, and recipes, please visit his website AmazingRibs.com, friend him on Facebook, or follow him on Twitter.