As we awaken from the worst winter hangover in memory, our thoughts turn to flower blossoms, chirping birds, and replacing that rusty old grill and smoker.
To help you find your next pride and joy, my associates and I at AmazingRibs.com have named our Top 10 Best Value Charcoal Grills, Gas Grills, and Backyard Smokers. We maintain a database of ratings and reviews of more than 300 outdoor cookers, and for the record, we do not sell grills, smokers, or anything else.
Related Articles
Charcoal grill vs. gas grill throwdown! The fight between charcoal purists and gas grill hotheads has been raging for decades. Let's settle this once and for all.
What fuel is right for you? The pros and cons of logs, wood pellets, charcoal, gas, and electric.
How to buy a grill. So many grills, so many sizes, so many options. Here's a list of tips for when you go shopping for grills.
Buying guide to gas grills. Nothing beats gassers for convenience and ease of use.
How to buy a smoker. A checklist of things to look for before you make your selection.
Buying guide to charcoal grills. Still the champ when it comes to flavor and still the best way to sear a steak.
Eggs, kamados, and ceramics. These charcoal fueled devices are superb smokers, bread bakers, and pizza ovens, but we have some cautionary notes before you buy.
Pellet smokers. These state of the art wood burning smokers have precision thermostat temperature controls.
Gas smokers. No messy charcoal, steady temps, good flavor, and cheap.
Electric smokers. Set it and forget it simplicity. Alas, flavor is inferior.
Offset smokers. How to set them up and modify them. And please don't buy the cheap ones.
Digital thermometer guide. You just cannot trust the dial thermometers on any grill or smoker no matter what it costs.
Stainless steel. Is it a good choice for your new grill or smoker?
Best BBQ accessories & gadgets. Tools and toys that make you a better outdoor cook.
Designing an outdoor kitchen. How to plan an outdoor cooking space.
This year, of the 30 selections, 17 were made substantially in the U.S., China produced seven, four hail from Canada, and one each come from Denmark and Indonesia. 12 are under $500, and several are under $300, but in each of the three categories we have selected one luxury model in case your idea of a great value is "money is no object."
Weber dominated the list as it usually does with six selections because their machines are so well engineered, built to last, and carry reliable warranties. Several newcomers have cracked the lineup, among them the amazing Pit Barrel Cooker, a fine smoker for only $269 including delivery to your door from the plant in Colorado.
Some categories, like kamados and pellet smokers are growing rapidly. Kamados are usually egg shaped and well insulated, with many made from ceramics. They excel at smoking and winter cooking. Pellet smokers are another hot item. They burn wood pellets made from compressed hardwood sawdust from saw mills and most have thermostat controls, just like your kitchen oven. They are often called grills, but they really are smokers.
Each year the gas grill manufacturers up the ante with new features. More and more are adding special high heat sear burners in order to create the high temps needed to properly crisp steaks as well as side burners for cooking your side dishes or keeping sauces warm, and rotisserie burners in the rear.
Max Good, my Director of Equipment Reviews & Keeper of the Flame, laments that most manufacturers continue to include cheap bimetal dial thermometers mounted in the top of the lid. "The temp in the lid is often much different from the temp on the cooking surface, so mounting temperature indicators there, I hesitate to call them thermometers, doesn't do you much good unless you plan to eat the lid. We think it is time for them to start installing digital thermometers on the cooking surface". He recommends that you budget for a good digital oven thermometer and a separate digital food thermometer. I also rate and reviews thermometers.
How we select our Top 10 Best Values
We rate and review as objectively as possible, measuring temperatures, slamming lids, turning dials, studying warranties, and kicking casters, but inevitably intangibles such as look and feel have to be considered. All the selections have won an AmazingRibs.com Best Value Award, and we consider them among the best of breed in their price category. Although value is a primary concern, we have included one luxurious dream cooker in each category because value is relative to the size of your bank account. They are listed in order of manufacturer's suggested retail price (MSRP), but actual prices are often lower depending on the store and time of year. Please click the red links to read our complete detailed review and find links to suppliers, many of whom sell well below MSRP.
The 2014 AmazingRibs.com Top 10 Best Value Charcoal Grills
1) Weber One-Touch Gold 22.5" Charcoal Grill $159
2) Portable Kitchen Grill (a.k.a. PK Grill) $300
3) Weber Performer Platinum Charcoal Grill $349
4) Char-Broil CB940X Charcoal Grill $399
5) Dancook 1900 Charcoal Grill $450 (below)
6) Meadow Creek PR36 $725
7) Napoleon Mirage PRO605CSS Charcoal Grill $999
8) The Good-One Open Range $1,099
9) Hasty-Bake Gourmet 256 Dual Finish Charcoal Grill $1,399
10) Grillworks 36 $4,575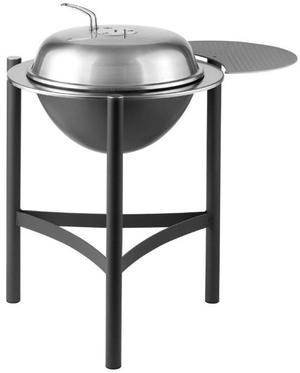 Click here for a summary of each grill, a picture, and links to our in depth detailed reviews of each grill as well as links to places that sell them, many of whom sell well below MSRP.
Most charcoal grills are relatively inexpensive, usually have very few moving parts to break, and the best are versatile: They can sear steaks, roast turkeys, and smoke ribs. They just require a little more skill than gas because you have to control the temperature with airflow instead of a dial or touchpad. You may get your hands dirty with charcoal and you do have to clean the ash out, but we'll let you in on a secret: You're supposed to clean your gas grill too.
We love our gas grills, but the fact remains that most backyard gas grills just can't generate the direct radiant heat needed to sear steaks and burgers to an all over rich brown. On the other hand, a $20 charcoal hibachi can, and the subtle flavor from coal is an added bonus. Click here to read more about the pros and cons of charcoal vs. gas.
A good charcoal grill should have a solid firebox, dampers for air control, a snug lid, and tight construction to prevent unwanted oxygen from leaking in and overriding the dampers. The most important feature is the ability to set it up so there is a hot direct heat side and a not-so-hot convection heat side, called a 2-zone setup. It is essential if you hope to do more than burn hot dogs and burgers. Some other key features are easy access to the charcoal and easy ash removal.
We know a lot of readers are passionate about their pellet cookers and kamados, especially owners of Big Green Eggs who are religious in their devotion. We think they are better at smoking than grilling and searing, and because they cannot easily be set up with two heat zones, they are reviewed in the smoker category, not in the grill category. I expect your irate comments, and I know how angry Egg owners can get, but we believe fervently that 2-zone cooking is a technique essential for good grilling. We have extensive experience with a wide range of cookers and we are confident in this decision.
The 2014 AmazingRibs.com Top 10 Value Gas Grills
1) Broil-Mate 155364 Gas Grill $240
2) Broil King Signet 20 $399
3) Char-Broil TRU-Infrared Commercial 3-Burner $399
4) Weber Spirit E-310 3-Burner $599
5) Saber Cast 500 P-Burner $799
6) Weber Genesis EP-330 3-Burner $999
7) Modern Home Products WNK4 $1,044 (below)
8) Napoleon Prestige P500RSIB $1,400
9) Weber Summit E/S 470 4-Burner $2,149
10) Kalamazoo K750 Hybrid Fire Grill $17,195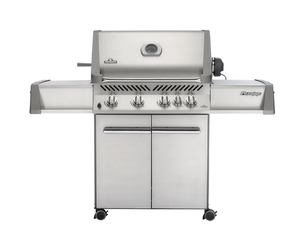 Click here for a summary of each grill, a picture, and links to our in depth detailed reviews of each grill as well as links to places that sell them, many of whom sell well below MSRP.
We love Weber gas grills and they have always enjoyed several listings in our Top 10 Values list because they are built so well, come with great warranties, and Weber is renowned for its tech support and huge inventory of parts going back many years. This year they again secured three spots with their three lines. But competitors are turning up the heat. Check out our picks from lesser known Broil King, Napoleon, and Saber. All produce high quality grills with great warranties and customer service and all are worthy of your consideration.
Of all the accessories, the one we think is most important is sear burners, special burners that get hot enough to brown a steak better than normal burners. Many feature smoke boxes, and gas grills, with a little practice, can produce lovely smoked meals, but they require extensive ventilation so smoking is not their strength.
Watch out though because cheap manufacturers often include bells and whistles like cut-rate sear burners, side burners, and rotisseries to entice you to buy their flimsy, low quality junkers built with low grade stainless steel held together with crumby fasteners that will rust and break apart after a couple seasons.
When it comes to gas grills, bigger is better. We recommend you go for at least three burners so you can cook with a 2-zone setup. And regardless of the price you pay, the dial thermometers attached to the hoods are poor quality. It is not unusual for them to be off by 50°F. We strongly recommend that your budget include a good digital thermometer with a probe that can be placed on the cooking surface.
For other things to look for when you are shopping, read our article on understanding gas grills, with an explanation of how infrared burners work, ignition systems, and how different types of gas grills cook. It also explains that you should not pay attention to BTU ratings on the specs because they can be misleading, and how you can calculate "flux", a much more useful number which we provide in our reviews.
The 2014 AmazingRibs.com Top 10 Value Backyard Smokers
1) Char-Broil Vertical Gas Smoker $200
2) Pit Barrel Cooker $269 (below)
3) Camp Chef Smoke Vault 24" $344
4) Weber Smokey Mountain Cooker 18.5" $349
5) Camp Chef Pellet Smoker DLX $834
6) Primo Oval Junior $832
7) Backwoods Smoker Chubby $970
8) MAK 1 Star General Pellet Grill $1,600
9) Horizon 20" RD Special Marshal $1,825
10) Komodo Kamado Big Bad 32 $5,910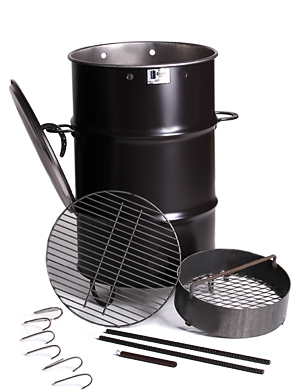 Click here for a summary of each smoker, a picture, and links to our in depth detailed reviews of each grill as well as links to places that sell them, many of whom sell well below MSRP.
The biggest news on our 2014 list of Best Value Backyard Smokers is the new Pit Barrel Cooker. This charcoal burning, 30-gallon steel drum is not only macho looking, but the clever design makes it one of the more impressive cookers we've tested, especially at only $269 including delivery to your door from the plant in Colorado. We loved working with it and many readers who have bought it are mad in love with it. It runs a little hotter than we normally like, but the food is superb and there is almost no fussing with it once you fire it up.
The fastest growing categories are pellet smokers and kamados. Pellet smokers burn hardwood sawdust that has been compressed into pellets. An impressive newcomer to our list this year is the feature rich Camp Chef DLX Pellet Smoker. Camp Chef also broke our lineup with a gas smoker, their Smoke Vault. Snobs snort at gas smokers, but we're here to tell you that many top BBQ restaurants use big gas smokers, and the small ones are really inexpensive, easy to set and walk away, and the product will make you a hero.
Kamados are usually egg shaped and well insulated, traditionally made from ceramics, but more and more are being made from steel. They are especially good at cold weather cooking. We are fond of the oval shaped Primo because it can be set up in 2 zones.
With a high quality modern barbecue smoker you no longer need to hover over your machine for hours, constantly monitoring the temp, fiddling with the dampers, shoveling coal, adding wood chips, and spritzing your meat with a mist of secret moisturizer. A good smoker means that you can win the battle against creosote, soot, and ash. With a good smoker you can get your food on the table on time and not fear that it is over-cooked or under-cooked.
Sharp-eyed readers may note that there are no electric smokers on the list. We know owners of electrics are rabid in their devotion, that electrics are easy to use, and that the food they make is very good, but we think the flavor is less exciting than the flavor from devices that generate heat by combustion of charcoal, wood, or gas. We expect invective from this decision, so let us have it.
All text and photos are Copyright (c) 2014 By Meathead, and all rights are reserved. For more of Meathead's writing, photos, recipes, and barbecue tips & technique, please visit his website AmazingRibs.com and subscribe to his email newsletter, Smoke Signals.
Follow Meathead on Facebook: http://www.facebook.com/AmazingRibs