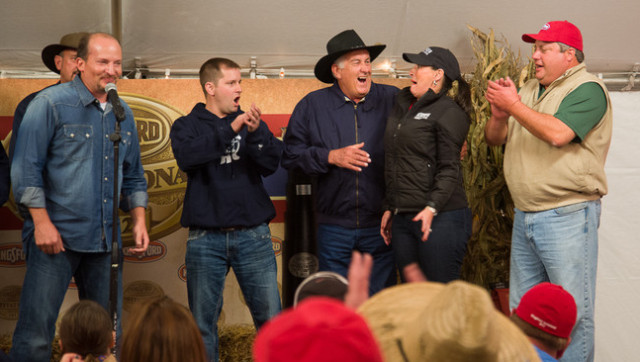 On November 10, Kingsford Charcoal broke new ground in the rapidly growing world of competition barbecue and wrote a check for $50,000 to the winner of the first annual Kingsford Invitational, a showdown designed to unify the title and name one pitmaster the best in the world.
It wasn't even close. Out of five categories, four were won by one team. The winner? Not the usual big burly guy. There was lipstick on that pig.
Normally there are scores of teams, sometimes 100 or more in each of the 700 plus barbecue competitions held each year in the US. They compete on different circuits with different rules. But in this event there were only eight teams, each the winner of the most prestigious competitions in the nation, representing all the major circuits.
The event, held in Belle, MO, was a clever idea, sort of an end of season playoff with the top teams going head to head with a panel of elite judges. In normal barbecue cookoffs, all the entries in a category are divided between many panels of six judges each. Most panels have a mix of really experienced judges, less experienced, and rookies. Some judges are only familiar with one regional style of barbecue and unfamiliar with the styles cooked by teams from across the country. Some are easily impressed, and some are curmudgeons, so the low score is discarded.
But the biggest problem of the big judgings is that there is no head to head tasteoff. If there are 10 panels tasting ribs, the high score wins, but it may in fact not be the best of all, it just may have been tasted by a generous panel. At the new Kingsford Invitational, all eight samples were served to one very experienced panel, head to head.
The event also used a simpler scoring system that Yours Truly helped design. Without getting into detail about comparison testing methodologies, the major change was that the judges gave each sample a single score. In most barbecue judgings they give a score for appearance, another for taste, and another for tenderness/texture, each is weighted differently by a computer, and then totaled. The problem with this method, as proven in judgings of wine and dairy, is that when judges are asked to do this, and then asked to rank the samples, the two don't always match. If they are asked to simply give only one number, the score and ranking come closer to matching. The standard method is like rating a concert by scoring each instrument separately and adding them up. Or evaluating a painting by scoring the colors separately. It is really the overall impression that matters. Sometimes the sum is better, or worse, than the parts.
The competitors were formidable, and, as a judge, I can say that the meats they turned in were extremely hard to score since they were almost all very high quality.
The main meats
The teams were judged on the usual four categories reviewed in events sanctioned by the Kansas City Barbeque Society (KCBS): Pork, pork ribs, chicken, beef brisket. For this event, a one-bite free-for-all limited to five ingredients category was added as a tiebreaker, with a $5,000 prize.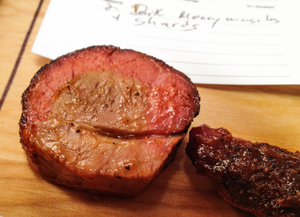 Pork. For pork, all but one team turned in meat from the Boston Butt, the upper half of the shoulder surrounding the shoulder blade. This cut is very flavorful, juicy, and tender when cooked low and slow for hours. They all removed the multifidus dorsi, better known as "Money Muscle", cut it into slices, and served them as small tender disks. They then included thick shards of other muscles in their turn-in boxes, and a few added shreds of pulled pork. For more on the money muscle and cooking Boston Butt, click here.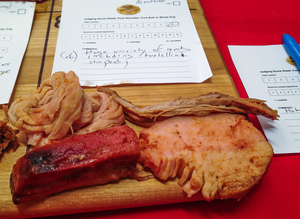 The eighth team wowed the panelists by turning in five vastly different pieces of meat, a round slice of pale white loin meat, a pink hunk from the ham, a packet of long dark fibers from the shoulder, slivers of dark crust from the shoulder, and the coup de grace, a long bundle of threads muscles pulled from the belly, the part from which bacon is cut, twirled into a rope, and then coiled into a rosette. Unlike the others, this entry was not coated with thick sweet sauce, and each muscle was cooked perfectly. It was obvious that this pitmaster had roasted a whole hog, 150-200 pounds, the most difficult challenge in barbecue.
This cook, it turned out, competes on the Memphis Barbecue Network (MBN) competition circuit, where they only cook whole hog, whole pork shoulder, and pork ribs. The trick of whole hog is to get the entire animal done properly at the same time, not an easy task after about 24 hours of cooking at 225 to 250F. It was at or near the top of all the scorecards.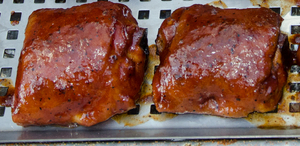 Chicken. All the teams cooked chicken thighs because dark meat is more forgiving, a few added breast meat, and one even placed wings in their turn-in box along with thighs. The style for cooking chicken that in vogue nowadays is to chop the ends off the thigh bone, peel back the skin, scrape off the fat, place the skin back on, trim and fold the loose ends underneath, poach them in butter and BBQ sauce in a pan on a smoker, and then submerge each perfect plump symmetrical little pillow in sweet red sauce. For the record, I didn't get a good picture in the judging tent so the picture above is from the pit of Todd Johns, from Plowboys BBQ, a team from Kansas City.
Ribs. For ribs, one team turned in baby back ribs, and the rest turned in St. Louis Cut spare ribs, the center cut from the rib cage, and all were coated with a sweet red barbecue sauce glaze. For more on cooking ribs, click here.
Brisket. For beef brisket, most teams turned in a nice neat thin slice of the lean flat portion and little cubes of dark "burnt ends" from the fattier point end of this large hunk of steer breast. For more on cooking beef brisket, click here.
One Bite Challenge
The previous day, Kingsford had the teams cook a "One Bite Challenge", a small dish that could be eaten with one or two bites using anything they wanted, but contained no more than five ingredients. The winner was awarded a $5,000 check. The limit of five ingredients was easily skirted by using things like a bottled sauce and spice mixes as one ingredient.
There were small portobellos stuffed with blue cheese, a risky choice since many people hate blue cheese (nicely done, but not worth a $5,000 payday); large portobellos stuffed with sausage, tomato sauce, roasted red peppers, and shredded cheese (pizza-like and fun, but there were some odd clashes going on); bacon wrapped scallops with reduced balsamic (too sweet for scallops); breaded pan fried walleye on toasted English muffin coated with sour cherry jam (jam is not a nice thing to do to fish); grilled ribeyes (seasoned and cooked beautifully inside, but pale on the outside because the were not seared); grilled beef tenderloins on a potato pancake (meh); pan seared beef tenderloins with an herbed butter (pan seared on a grill in a grilling competition?).
The winner, by a mile, was peeled shrimp, with a strip of cream cheese down its back, a pickled jalapeno slice, wrapped in bacon, grilled, and painted with Thai sweet chile sauce. Click here for Melissa Cookston's Prize Winning Grilled Bacon Wrapped Stuffed Shrimp.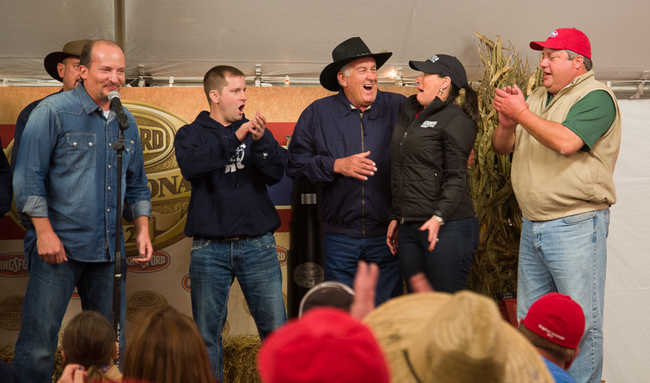 The winner: Melissa Cookston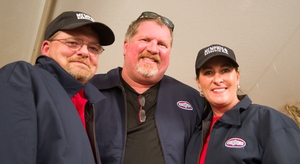 And the winner was
Melissa Cookston of Yazoo's Delta Q
based in Nesbitt, MS, just a few miles south of Memphis. She got there by winning the huge
Memphis In May
competition, where she has won the whole hog category an unheard of three years in a row. She teamed with her husband, Pete, and their business partner, John Wheeler, all owners of the
Memphis Barbecue Company restaurant
. She won all categories except chicken. Anybody want to argue who the top pitmaster in the world is?
I really didn't want to make a big deal of the gender of the winner, but it is really hard to ignore the fact that, in a fast growing sport (can we call this a sport?), where there are only a handful of female competitors, most of whom rarely finish in the money, Cookston is almost always among the top finishers, and in this case, she was woman on top.
But I suppose this should come as no real surprise. According to Harvard Professor of Biological Anthropology, Richard Wrangham, in his excellent book Catching Fire, How Cooking Made Us Human, homo erectus probably discovered cooking 1.8 million years ago. While the men were the hunters, the women were the pitmasters. So things may have come full circle.
Cookston was born in Ruleville, MS, "A greasy spot in the road" in the Mississippi Delta, home of countless blues musicians and barbecue cooks. She and her Mom would make the 115 mile drive to Memphis occasionally, and she fell in love with the ribs at a joint named Gridley's.
Years later she took a job as a bartender/manager at a restaurant in Memphis where she met, and hated, her boss. It took her a year after she left the place to soften up and date him. He took her to a barbecue competition. She had always loved barbecue, but had no idea how fascinating a competition could be.
She went home and fired up Betsy, her barrel grill, and married her ex-nemesis. In 1997, when she entered her first cookoff "There were no fancy expensive smokers like the teams use nowadays" she says. Everybody used barrels. She won her first championship in 2001 and eventually upgraded to smokers made by Backwoods, one that sells for about $6,000 and another that goes for about $9,000 (they make some very nice backyard units for much less -- I have their Party model). Cookston remembers the day she sold Betsy. As she was being driven away a hubcap popped off and rolled down the driveway, smashing into a tree. She now regrets letting Betsy go and thinks the hubcap meant Betsy was unhappy too.
Cookston uses thermometers to check meat temps during the cook, but eschews them when it counts, when it is time to take the meat off. "I know by feel. My fingertips tell me when the meat is ready." She samples all her meats before turn-in but pays more attention to texture and moisture than taste. " I have my head in a pit so much that I can't smell and taste smoke much anymore."
At one time she was competing in 20 or 30 events a year, but she has scaled back to about four since she opened the restaurant in December 2011. She will be opening a second one in Fayetteville, NC, in December, and hope to open another four or five in 2013.
She sold her home in order to raise money for the restaurant, but it has been a huge success although she confesses to having nightmares about opening the doors and nobody would show up, she says "I'm like Sally Field. When the place fills up I feel like shouting 'They really like me!'" She is shopping for a new home now.
Pete joins her for many of her contests. "Pete is shy and pushed me to the forefront and respected my ideas even though he was more skilled than I was in the beginning. We don't even have to communicate verbally when we cook." They now have a 14 year old daughter who is the five time Mississippi hamburger champion, winning her first at age 6.
I asked her what to order when I visit her restaurant, and without hesitation she said "baby back ribs, potato salad, red beans & rice, turnip greens, mac & cheese, and cornbread. We do them all right. The ribs are the best. We soak the dried beans ourselves, none of the canned stuff. The recipes are family recipes that I've fine tuned."
The biggest surprise for her in the Kingsford Invitational? "There were so many other great teams, all of whom cook chicken and brisket regularly on the KCBS circuit, I was just hoping for a good showing." I guess first place in pork, ribs, brisket, and the one bit challenge, four of the five categories classifies as a good showing. "I still can't believe I won brisket! That was just crazy".
By the way, Cookston teaches barbecue classes occasionally.
The other teams
Justin McGlaun and his wife Kate of Lucky's Q from Denver, IA. His invite came because he won the
Sam's Club National BBQ Tour
. This is a series of regional elimination contests which paid $50,000 to the winner of the finals, held in Bentonville, AR. It was his marvelous chicken first place entry that kept the overall winner from a clean sweep. His team finished tied for second.
Jeff Vanderlinde of Shiggin' and Grinnin' from Delano, MN. To get an invite he had to outcook 540 teams in the Open division of the American Royal World Series of Barbecue in Kansas City, MO. His team finished tied for second.
Johnny "The Godfather" Trigg and his wife Trish of Smokin' Triggers from Alvarado, TX. To be invited, he won the BBQ Pitmaster's competition, on the Destination America Network. Since he began competing he has won 63 cookoffs, and is the only one to win the Jack Daniels World Championship Invitational Barbecue twice.
Scott Nelson, his wife Katy, and their five children, of Pig Skin BBQ from Rockwell, IA. They were the winners of the Jack Daniel's World Championship Invitational Barbecue in Lynchburg, TN.
Mike "MikeyZ" Zemenick of Motley Que Crew, winner of the Houston Livestock & Rodeo World Championship Bar-B-Que Contest. When the team was started in 2003, one of the original members was Guy Fieri of the Food Network. He still joins them occasionally, but not for this event.
Doug Casten of Smoker's Purgatory from Des Moines, IA, the winner of the Great Lenexa BBQ Battle in Lenexa, KS.
Tommy Houston of Checkered Pig BBQ from Martinsville, VA, winners of the Kingsford $40k Challenge at the Hog Happenin' in Lincolnton, NC.
The judges
Far more important than the innovative scoring system was the fact that the judges were very experienced and knowledgeable from different regions of the nation. They were:
Ardie Davis, author of five books on barbecue and grilling, including one that lives in my glove compartment "America's Best BBQ: 100 Recipes from America's Best Smokehouses, Pits, Shacks, Rib Joints, Roadhouses, and Restaurants." It names their favorite hangouts and has reciped from each. I asked Davis how many times he had judged and he lost count after he passed 350.
Amy Mills, of Boston, co-author of "Peace, Love and Barbecue", with her BBQ champion father Mike Mills. It is one of the best books every written on the subject. She is also a consultant to many restaurants, and has served as a judge for "Best in Smoke" on the Food Network.
Brad Orrison, founder and owner of one of the nation's most popular and well respected ribshacks, The Shed BBQ & Blues Joint in Ocean Springs, MS. Orrison also competes in a handful of events every year, and appeared in the "Best of Smoke" Competition on the Food Network. Orrison is a man with a sense of humor and was the glue of the panel.
Harry Soo of Diamond Bar, CA, may be the hottest all round cook on the circuit under the name Slap Yo Daddy BBQ, winning more than 20 competitions in his five years on the circuit. Most impressive, he cooks on a single $300 Weber Smokey Mountain while most teams use more than one smoker, some of which sell for up to $10,000.
Tuffy "The Professor" Stone, a classically trained former French chef, and owner of three Q Barbeque restaurants in VA. His Cool Smoke competition team has won 30 championships. Stone is probably best known as one of the three judges on Destination America's "BBQ Pitmasters" television competition.
Meathead Goldwyn, that's me, and my claim to fame is that I run the world's most popular BBQ website, by far, AmazingRibs.com, and I write for HuffPost.
Kirk Newbound served as alternate judge and filled in for me in the One-Bite Challenge because I am allergic to shrimp and had to recuse myself. But I did get to taste all the others. Newbound works at the Kingsford charcoal plant in Belle, MO, and he is the captain of the Silence of the Hams competition barbecue team.
Wrapup
The goals of the Kingsford people were mostly met. I think Cookston can fairly claim to be World Champion.
This was the most difficult competition I have ever judged. Almost all the entries were well above normal, as one might expect. There were only a few that I scored below average.
When it was over, I calculated that each judge had tasted about 2 pounds of meat in about three hours! At one point another judge and I had to spit out entries we had tasted. Common behavior in wine tastings, but rarely done in barbecue competitions. I didn't eat again til supper time the following day.
The whole shebang was taped by a massive television crew for Discovery Network's new Destination America channel and will probably air as a documentary in March.
Click here to learn more about barbecue competitions and who organizes them.
Click here to join me in following another competition cook through a cookoff.
All text and photos are Copyright (c) 2012 By Meathead, and all rights are reserved. For more of Meathead's writing, photos, recipes, and barbecue tips & technique, please visit his website AmazingRibs.com and subscribe to his email newsletter, Smoke Signals.
Friend Meathead on Facebook: http://www.facebook.com/AmazingRibs