Cybersecurity has been in the news quite a bit lately. No one is immune to attacks, not even Facebook or Apple, or major news organizations like the Wall Street Journal or New York Times. The latter just published a piece on how China's army may be involved in cyber attacks.
Twitter has had its fair share of security issues. On Feb. 1, it announced in a blog post that user information may have been compromised for 250,000 users and it was resetting all of those passwords.
Yesterday, on President's Day, the Twitter account for @BurgerKing was compromised. The hacker began posting inappropriate messages and erroneous tweets, like the fact Burger King had been sold to competitor McDonald's.
As HuffPost's Ethan Klapper noted, it took an hour and 15 minutes before Twitter suspended the account. Burger King later issued an apology.
Today, it happened again. This time @Jeep was the high-profile, verified Twitter account targeted. It was taken over, inappropriate messages were posted, and it said it was sold to Cadillac. The brand said it quickly became aware of the issue and was working to resolve it.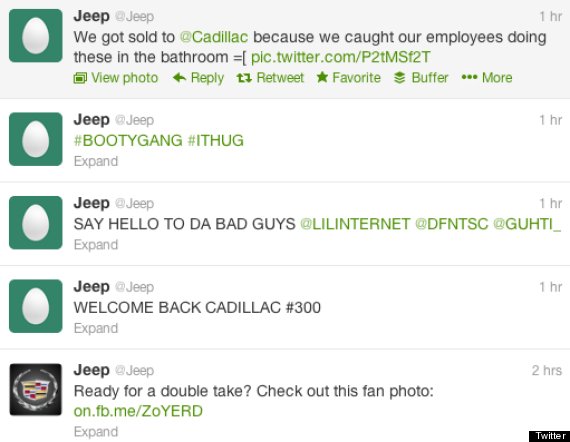 It is unclear if the two incidents are related, but they may be. Messages during the hackings were similar in nature. If another high-profile account is taken over tomorrow, three days in a row, we'll know something is really up.
Twitter has been quiet on the hackings so far. They have not published any new blog posts addressing the latest security lapses. In the past, the social network has directed users to these posts if they need assistance: "My Account Has Been Compromised," "Compromised/Hacked And I Can't Log In!" and "Keeping Your Account Secure."
Some have called for two-step authentication as a way to prevent such attacks. Google and Facebook already offers that feature. (I use it. It's great.) In addition to a password, it requires an additional code be entered to gain access to an account, sent directly to a device in your possession like your mobile phone.
Among those who are chatting about two-step authentication is Reuters Social Media Editor Anthony De Rosa, who tweeted:
Two step authentication would make it pretty difficult to hack @burgerking or anyone else

-- Anthony De Rosa (@AntDeRosa) February 18, 2013
It's not a new suggestion. After suffering from phishing attempts, Mike Loukides wrote for O'Reilly Radar in September, "There's a real moral to the story. What if Twitter, like Google and Facebook (and unlike Apple or Amazon) supported two-factor authentication? We'd have a much different picture."
But ZDNet's Michael Lee writes it's not that simple. Some of the latest hacking attempts go against Twitter's own infrastructure and servers, and two-step authentication won't prevent them, OneID founder Steve Kirsch told ZDNet.
Regardless of the solution, Twitter has to take action and release a statement on the recent hackings soon. Especially before a third high-profile hacking takes place and further psychologically impacts users already nervous about the prospect.
Twitter is not alone in suffering from hackings, but given the focus of real-time publishing on the site and the fact there are prominent accounts with large followings, time is sensitive on this matter.