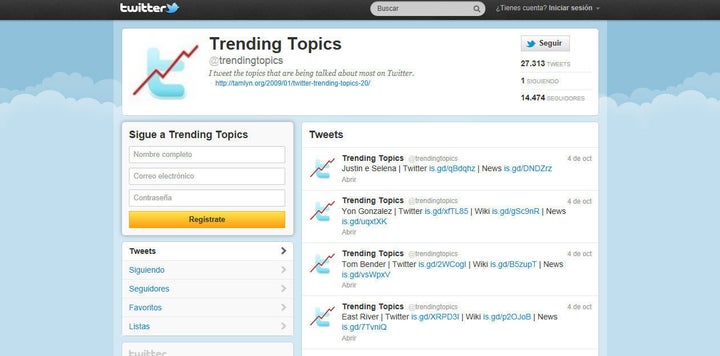 There's nothing quite like seeing something you're tweeting about or interested in pop up under the list of Twitter's trending topics.
"#(insert topic here) is trending nationwide!!" you might tweet, excitedly.
It's easy to think of Twitter Trends as a barometer of what's dominating discussion right now at watercoolers throughout the entire United States of America, and where the majority of opinions stand. But a new Pew study says that just because something is spreading through the social network's echo chamber doesn't mean it's representative of the American public. In fact, it's not.
"While this provides an interesting look into how communities of interest respond to different circumstances, it does not reliably correlate with the overall reaction of adults nationwide," Pew writes in a summary of the study, which looked at Twitter reactions during the 2012 presidential campaign in comparison to nationwide surveys.
Politically, Pew found the conversation on Twitter is sometimes more liberal, but other times more conservative. Twitter was found to skew more negative than the general public as a whole. "Often it is the overall negativity that stands out," the study concluded.
Of course, these days, the media can get overly excited about what's trending, despite the danger of the "bubble" that exists on social media. CNN's Doug Gross notes it's often the source of "digital man-on-the-street" interviews. The Pew study serves as a reminder that Twitter is just a sliver of our population. Yes, you can get some opinions, but those are hardly insightful on larger trends.
A previous study found that only 16 percent of American adults are on Twitter, compared to 67 percent on Facebook. Even more revealing, Pew has said only 3 percent of Americans regularly tweet or retweet. For more perspective, 10,000 Words blogger Kevin Loker rounded up statistics on who actually uses Twitter.
Trends are determined by an algorithm and are tailored for you based on who you follow and your location. This algorithm identifies topics that are immediately popular, rather than topics that have been popular for a while or on a daily basis, to help you discover the hottest emerging topics of discussion on Twitter that matter most to you.
The key phrasing there -- "the hottest emerging topics of discussion on Twitter" -- on Twitter. It's easy to make assumptions because it's trending on Twitter it's a bigger deal than it really is.
Then there's the question of why a topic dominates Twitter in the first place. Sometimes, other people are talking about it, so you do too. Influencers may tweet about it, leading to a flurry of retweets. It's also common for critics to be more vocal, and again Pew did find Twitter reactions were often more negative than general public reactions.
Are you surprised by the findings? Will this change how you view Twitter and opinions?