How do you stand out in a country populated by more than 1.3 billion people? Blend in.
Chinese artist Liu Bolin's ticket to fame has been, quite ironically, his ability to disappear. Since 2005 Liu has performed his stunning invisibility act worldwide.
That explains the amount of greasy goop Liu applies onto his face and hands before they're painted to match carefully chosen backgrounds. "Vaseline and gel provide a sort of protection. The toxins from the paint are taking their toll."
We visited Liu Bolin in his studio located just outside the 798 Art District in Beijing.
For this particular piece, Austrian Magazines, he's shaved down his standing time to just two hours - his trusty assistants paint the clothes ahead a few days and later add on finishing touches. Longer shoots can take more than 10 hours.
"These magazine works are more difficult to execute than most of the outdoor scenes. They require finer details - like the lowercase and uppercase text, and writing in another language. If we hadn't prepped the clothes, it'd take 3 days to stand for this one. I'd probably fall over," he jokes.

While his work mainly explores the concept of the individual and, more provocatively, its relation to Communist China, he sometimes feels misinterpreted. He refers to two works in particular, where the 40-year-old is hidden away in the backdrops of beverages and instant noodles.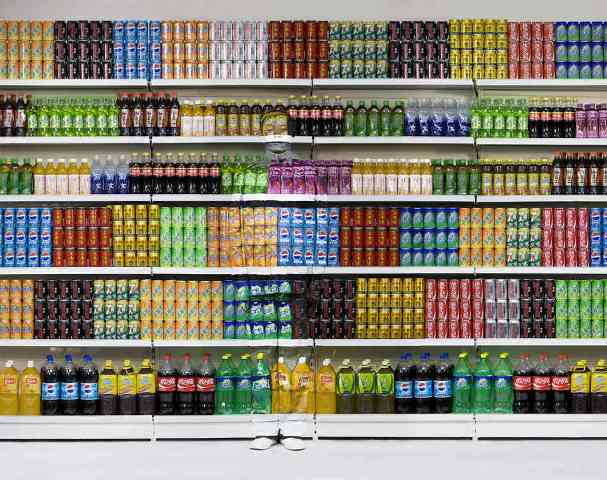 Hiding in the City No. 96 Supermarket No. 3, 2011, Courtesy of Liu Bolin Art Studio

"People see a lot of colors and packaging and immediately think that it's pop art. They think, Liu Bolin, he's trying to be like Andy Warhol. But, that's just not the case."
"When I go into a Chinese supermarket," Liu explains, "I really don't know what's safe to drink. The same goes for instant noodles. There's been a lot of news reporting about factories adding harmful substances to bottled beverages and to instant noodle soups. We face a lot of food safety scares in China."
Liu seems well up for a new adventure. Recently he teamed up with Valentino and the launch of the brand's new camouflage collection. There are also hints of another upcoming act. He won't spill all - but watch for large scale objects he'll disappear shot from the air.
Text by Stephy Chung for Crane.tv
Crane.tv App now available for iPhone and iPad devices from the Apple Store