After working for a decade as an internationally renowned model, Ellen von Unwerth has become one of the world's most notable fashion photographers. Adored by the fashion industry for her provocative and playful work and listed as one of Time magazine's 100 Fashion Icons, von Unwerth has worked on shoots for style bibles from Vogue to Vanity Fair and shot major campaigns for designers such as Guess, Dior and Lacoste. Crane.tv catches up with the German photographer at Michael Hoppen Gallery where she is exhibiting her new work, "Do Not Disturb!". She tells us about the project, the transition from being a model to a photographer and why she loves photographing women.
Guy Bourdin, Toscani, Arthur Elgort and Helmut Newton are among the top fashion photographers who shot Ellen von Unwerth whilst she was a model. After a successful ten year career - that was not particularly enjoy -- she discovered a new passion when a photographer boyfriend offered her a Nikon camera. Quickly moving behind the lens, she explained how her own experience as a model influenced the way she worked: "What I'm doing now is I'm asking my models to do exactly the opposite of what I was asked to do. I was always asked not to move, to hold still. I hated it! I always wanted to have fun and be silly in front of the camera."
Her new work stages femmes fatales in highly stylized and brightly coloured images. The starting point of the project was the set, California's landmark Madonna Inn hotel, renowned for its unique garish and kitsch nature. Ellen had already photographed Stephanie Seymour there 15 years ago and dreamt about reshooting at the same site. After casting a wide range of people in Los Angeles, from models and actors to burlesque dancers, Ellen spent two weeks shooting in the hotel. She tells us about the idea behind the series. "The rooms are very special; every room is different so I thought it would be nice to create a whole little world for each person, almost like a movie."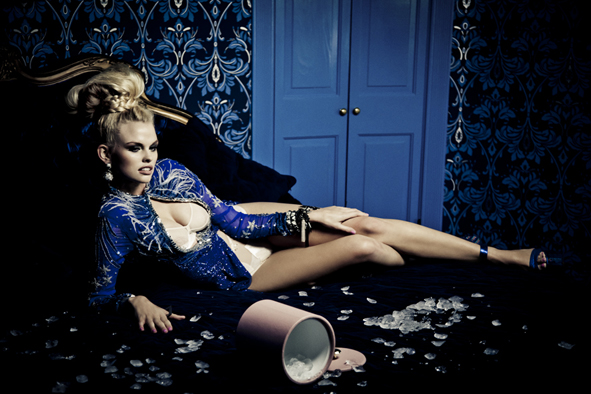 Having immortalised some of the world's most beautiful women on films and known for always making them powerful, sexy, joyful, sometimes wild and provocative through her images, Ellen finally tells us about her special relationship with women as models. "I love taking pictures of women. I shoot women who inspire me, who have lots of personality, who have character and who are...fun, free, and not scared to show their sensuality. I just love to make them look gorgeous and beautiful, and empower them."
Text by Paul Rappaport for Crane.tv
Crane.tv App now available for Nokia devices from the OVI Store