Lawrence Schiller has had a fascinating life. Not many people can claim to have won an Oscar, seven Emmys, written five bestsellers, travelled the world, been to the brink of collapse and reinvented themselves and, most famously, spent years photographing the enigma that was Marilyn Monroe. But Schiller can, and so much more for that matter. He is one of four photographers still alive to have photographed the actress. Crane.tv sat down with the man behind the stories at the launch of his new book for Taschen, Marilyn & Me, released to mark 50 years since Monroe's untimely death in 1962. "It was actually fifty years ago to this day that I took these photos," Schiller informs us pensively. "Maybe it was fate."
"I remember looking at Marilyn's cover for Time magazine when I was in college and thinking, 'wow, maybe one day I'll get to photograph that woman.' Then, as luck would have it I received an assignment from Look magazine to photograph an actress on the set of a film called Let's Make Love. And it was Marilyn Monroe," he recalls. "At first she walked past me like I didn't exist. I was scared. She was unapproachable. She was Marilyn Monroe! But when her press agent finally brought her over, she introduced herself to me. I didn't know what to say so just came out with 'Hi, I'm the big bad wolf.' Marilyn looked at me and said 'well, you're a little young to be that bad aren't you? I'm sure you'll grow up to be much badder.' And that was Marilyn.'
Two years passed before Schiller worked with Marilyn again, this time on the set of her ill-fated and final film Something's Got to Give, which was never released in her lifetime. It was clear to Schiller that Marilyn's life was beginning to unravel. 'Marilyn was fighting a lot of demons in her life. In those two years she'd been in and out of a psychiatric unit only to be rescued by Joe DiMaggio, she'd made The Misfits with Clark Gable and Monty Cliff, after which Clark Gable died of a heart attack and everybody blamed her for his death. I was there when she drank too much Dom Perignon, took too many pills", he remembers. "She was never taken seriously for her acting. Marilyn was being paid $100,000 for Something's Got to Give, and at the same time Liz Taylor was getting $1m for Cleopatra, and Marilyn wanted to prove to the studio that she was as valuable as any other actress. She would have traded in all her sexuality to be Simone Signoret or Vanessa Redgrave. All she wanted was to be taken seriously. And that's how these famous photos came about. It was Marilyn's idea to jump into the swimming pool on the set of Something's Got to Give and emerge without a bathing suit. She said that when the pictures were published she didn't want to see Liz Taylor in any of the same magazines -- she was trying to push her out. I looked at her and said, 'Marilyn, you're already famous, now you're going to make me famous."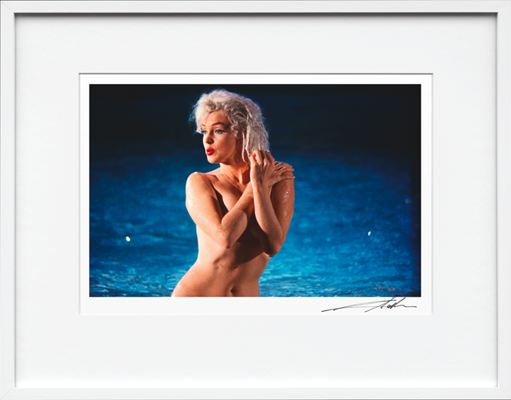 But Monroe's jollity was short lived. Within two months she would be dead. "The last time I saw Marilyn was on the morning of her death, we were negotiating a cover for Playboy", Schiller remembers. "The thing about Marilyn was that she was always looking for a safe harbour, somewhere to run to and escape and she often found that at night. The tragedy was that this time she ran into the night and never came out."
Schiller gave up photography in 1976 and turned his hand to film making, directing and writing -- his documentary, The Man Who Skied Down Everest, won an Oscar, and he's currently working on his autobiography, The Lies I Told To Get to the Truth, out next year. "When you've lived like I have, and had five children, you learn not to cry over spilt milk, you move on and enjoy your life but I do think that Marilyn Monroe will be a legend that will be remembered for a long, long time."
Text by Holly Fraser for Crane.tv
Crane.tv App now available for Nokia devices from the OVI Store