For this year's Design Miami, Swarovski Crystal Palace commissioned Asif Khan to create 'Parhelia' a large-scale work measuring nearly 20-feet high and composed of more than 1.3 million Swarovski crystals. Taking the ironic form of a house, Khan drew on his practice as an architect and interest in the optical phenomenon of aurora borealis to cleverly fuse nature and architecture in his latest piece. We caught up with him in Miami for an exclusive chat about his collaboration with Swarovski, how he differentiated himself from other great talents they have worked with and why nature and architecture make such a good partnership.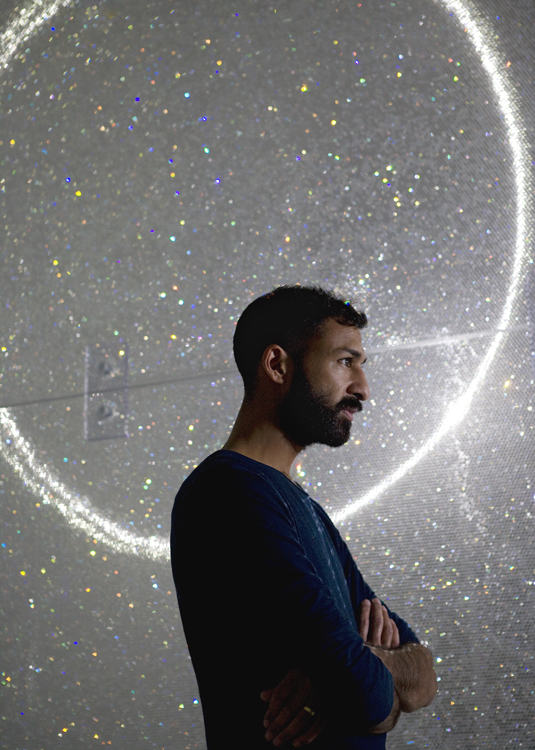 What's the atmosphere like at Design Miami this year?
It's busy as usual and there are a lot of great projects to see. When you're in Miami it's a bit of a state of mind, it's such a wonderful city it's difficult to not enjoy being here.

Tell us a bit about your collaboration with Swarovski Crystal Palace for Design Miami 2012?

'Parhelia' is an experiment that begins at the crossroads of architecture and nature. The structure contains over 1.3 million crystals which work together with an LED light feature to create a dramatic façade. Visitors can go inside the structure where there is an infinitely reflected crystalline interior. To contrast with this we cut a hole in the roof of the exhibition space that allows natural light to interact with the crystals. Depending on what time of day you visit, the whole exhibit differs creating a really dynamic and vibrant experience.
People are reacting in an amazing way, meeting each other inside the structure, and the mix of natural light with the familiar (the piece is shaped like a house) adds a welcoming effect to the grandeur of the crystals. It's almost like being welcomed into someone's home.

Why do you think nature is such a big influence on architecture at moment?
I think it always has been. There is definitely a desire in me to return to a pure way of connecting with nature through architecture. Within nature we find such a wealth of possibilities to be inspired by. I find that people have a very innate response to architecture if you can take advantage of those pre-existing relationships with nature. We spend a lot of time in buildings so they should make us feel good.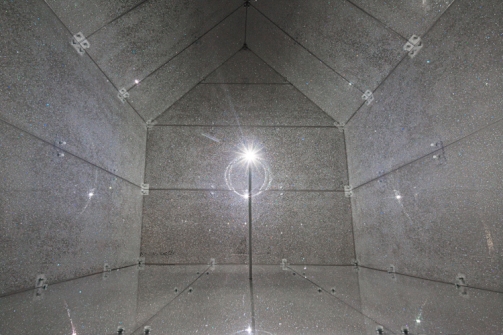 How did you prepare for the way the crystals would interact with the light?
I have been following a research-based approach to design on all of my recent projects and this was no different. I collaborated with Manchester University UK where we built the world's first indoor ice halo so I could experiment with how my final piece would look. I then visited the Swarovski headquarters and went through all the prototypes and materials they had to find the perfect combination that would, in the simplest and most economical way, create the effect I was looking for. It was actually quite a reductive process, using only 2 varieties of crystals, so that light became the real star of the piece.

Swarovski have collaborated with so many fantastic artists over the years including Ross Lovegrove, Greg Lynn and Troika, to name a few. How did you differentiate yourself?
I looked at every single project they had done in the last past 15 years and I realised that I probably couldn't do a better chandelier or a better object - they'd done pretty much everything and it's all beautiful. I wanted to create something original so I shifted focus to creating an inhabitable structure, bringing Swarovski into my world and into the world of architecture. I wanted to create a new identity for them and by letting the crystals reflect nature and natural light I think we moved past simply objectifying the materials to looking at the effect they can create.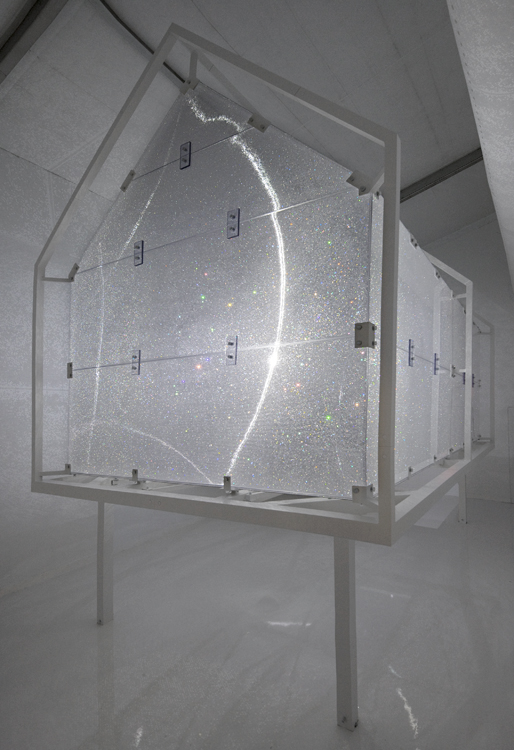 Text by Natalie Hassell for Crane.tv
Crane.tv App now available for iPhone and iPad devices from the Apple Store